Match Rate Plus Review: Merchant account leads

Match Rate Plus went into prelaunch around late 2010 and officially launched in early 2012. The company operates out of Florida in the US and is headed up by CEO Clay Fishman and company President, Dowe Kaufman.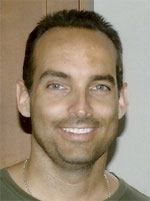 According to his LinkedIn profile, Fishman (photo right) has worked (and still does) as a Deputy for the Collier County's Deputy Office since 2006. Prior to this he was a Business Analyst for the berry wholesaler "Naturipe". Fishman doesn't appear to have been involved in the MLM industry prior to the launch of Match Rate Plus.
Dowe Kaufman also seems to have no prior experience in MLM. Kaufman's company bio claims he has
over eight years of experience in the electronic payment processing industry (and has) built multiple independent sales organizations (with) a successful portfolio of over 500 hundred merchants processing over $100 million annually.

He also co-founded courtpay.org, which is an online system that processes payments for stateand local government entities (and has) served as the National Sales Manager for the largest serviceprovider of Elavon, the world's second-largest processing switch provider.
Read on for a full review of the Match Rate Plus MLM business opportunity.
The Match Rate Plus Product Line
Match Rate Plus don't have any retailable products or services themselves. What they do offer through their affiliate program though is the use of North American Bancard's merchant services.
North American Bancard are a merchant service provider who provide businesses the ability to accept debit and credit cards in payment for goods and services.
The Wikipedia entry for North American Bancard states:
North American Bancard (NAB) is a registered merchant services provider and is ISO of Global Payments Inc. with VISA and MasterCard for HSBC Bank USA, N.A., Buffalo, NY and Wells Fargo Bank, N.A., Walnut Creek, CA.

Founded in 1992 by CEO/President Marc Gardner, it is headquartered in Troy, Michigan. Its corporate office employs roughly 500 people. As a merchant services provider, NAB's payment solutions include: credit, debit, EBT, check conversion and guarantee, ATM, gift and loyalty cards, and online payment solutions.

The company currently processes over $12 billion per year in electronic transactions for over 125,000 merchants in all 50 states.
North American Bancard are a third-party company and aside from having Match Rate Plus participate as an independent affiliate in their existing affiliate program, have no connection to Match Rate Plus as a business opportunity.
The Match Rate Plus Compensation Plan
The Match Rate Plus compensation plan rewards affiliates who successfully generate merchant leads for North American Bancard (NAB), who then manage to convert these leads into merchant service sales.
Merchant Acquisition Bonus
For every merchant lead you generate that NAB manage to convert into an activated merchant account, as the referring Match Rate Plus affiliate you are paid a $50 one-time commission.
Note that an "activated merchant account" is defined as a merchant account that has processed 'a total of $300 in total credit-card payment transactions'.
Merchant Account Coding
Active merchant accounts that generate monthly commissions for affiliates are "coded" using three pay grades.
Pay Grade 1 = 5%
Pay Grade 2 = 7.5%
Pay Grade 3 = 5% + an additional one-time $50 bonus
These pay grades offer a specific percentage commission, which can only be claimed by an affiliate if they at that Pay Grade.
Eg. If a Pay Grade 1 qualified affiliate refers an active merchant account, they receive the Pay Grade 1 commission of 5%. The Pay Grade 2 and 3 commissions are still paid out, however they are allocated to the first upline affiliates who are qualified at the applicable Pay Grade.
In the above example if the upline affiliate is qualified at Pay Grade 3, they'll receive the Pay Grade 2 and 3 commissions paid out each month (7.5% + 5% + $50 bonus). If however they were only qualified at Pay Grade 2, they'd only receive the Pay Grade 2 commission each month (7.5%) and the system would continue to search upline for a qualified Pay Grade 3 affiliate (who would then only earn the Pay Grade 3 commission of 5% + $50 bonus).
Once coded to affiliates, merchant account commissions are set in stone and are not changed, regardless of whether or not the referring affiliate's Pay Grade changes in the future.
Merchant Account Commissions
Merchant account commissions are paid out monthly and are separated into three pay grades, with each pay grade offering a slightly different commission payout.
These commission payouts are percentage based and are calculated from the monthly merchant account activity of merchant accounts you've referred to NAB.
The first five active merchant accounts you generate for NAB will be classified as 'Pay Grade 1', paying you out a 5% commission on the monthly activity of these accounts.
At six successfully referred active merchant accounts an affiliate is upgraded to 'Pay Grade 2' 12.5% commission on the monthly activity of these accounts. Note that this is not applied retrospectively and only applies to merchant accounts generated at a Pay Grade 2 level (6 accounts and onwards).
At twenty one successfully referred active merchant accounts an affiliate is upgraded to 'Pay Grade 3' status and paid out a 17.5% commission on the monthly activity of these accounts. Again, this commission rate is not applied retrospectively and only applies to merchant account generated at a Pay Grade 3 level (21 accounts and onwards).
Pay Grade 3 Fast Track
As above, Pay Grade 3 can be achieved by referring 21 active merchant accounts to NAB. An affiliate can "fast track" their qualification for Pay Grade 3 status however by generating only five active merchant accounts and personally recruiting five new Match Rate Plus affiliates.
Pay Grade 3 Performance Bonus
In addition to the commissions outlined above, qualified Pay Grade 3 affiliates also earn a 10% performance bonus on the monthly earnings of any personally recruited affiliates (including those recruited prior to achieving Pay Grade 3 status).
Note that the Pay Grade 3 Performance Bonus only includes monthly commissions generated from merchant account volume.
Joining Match Rate Plus
Membership to Match Rate Plus is free.
Conclusion
Despite not personally offering merchant account services themselves, through their affiliate agreement with North American Bancard the company does effectively provide a genuine service.
Whereas usually third-party services offered are seen as a red flag, commissions wise Match Rate Plus only pay out commissions on the acquisition of merchant accounts. Thus there is a valid service being offered here.
That said in not directly providing the service being sold here, Match Rate Plus is effectively at the mercy of NAB's own affiliate program. Whether or not a separate affiliate agreement exists to protect Match Rate Plus' interests is not specified by the company.
It goes without saying that a lack of any such agreement could drastically alter commissions paid out (if not the compensation plan itself), should NAB make changes to their affiliate program.
Marketing wise it's also worth considering that apart from the $50 activation bonus, commissions are always given out in percentages. The reason for this of course is that how much you are paid is dependent on how much volume a merchant account pushes through to NAB each month, but in terms of marketing Match Rate Plus this could prove to be a hurdle.
In generating potential merchant account leads, a Match Rate Plus affiliate is at a disadvantage in that they're unable to quote any figures to the lead. All they're able to do is pass on the number to NAB and hope it's enough to get the lead to call NAB and discuss the particulars of a merchant account.
Whether or not NAB charge standard rates for merchant accounts or vary it depending on volume (estimated or comparative of past volume) is unknown.
As an affiliate with your commissions tied into these fees, it potentially makes it difficult to market the Match Rate Plus opportunity to potential affiliates in that you can't quote them any reliable commission figures.
You can of course quote your own commissions but given that NAB establish these accounts behind closed doors, that's probably not all that useful for a prospective affiliate (other than providing an extremely vague ball-park figure of income potential as a Match Rate Plus affiliate).
Finally with NAB offering their own open affiliate program, it might be worth checking to see if their own rates compare with that of Match Rate Plus'. Apart from divulging that they pay 'up to $20 for every lead and a $50 bonus on approved merchant accounts' (which is where the $50 bonus Match Rate Plus pay out comes from), the specifics of any residual commissions paid out are not mentioned.
Match Rate Plus earn all their revenue as affiliates of NAB and then split these affiliate commissions with their own affiliates. Whether or not this is competitive with NAB's own affiliate program is definitely something I'd want to investigate as a potential Match Rate Plus affiliate.