iGetMania Review: GetEasy go from Ponzi bad to Ponzi worse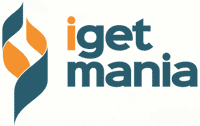 GetEasy took off in the wake of the regulatory shut down of TelexFree.
Seeking to scoop up disenfranchised investors who lost funds in the billion dollar Ponzi scheme, GetEasy successfully attracted a significant number of investors from Portugal, Spain and to a lesser extent, South America and greater Europe.
Following a few months of growth, as is typical in Ponzi schemes in their initial traction phase, things began to fall apart in GetEasy after it was announced police in Portugal were investigating the company.
The investigation was announced in October last year, with ROI payments grinding to a halt after the Bank of Portugal issued a warning the following month.
As I understand it, GetEasy was primarily laundering stolen investor funds through Portuguese banking channels. Following the Bank of Portugal's warning, GetEasy was left unable to secure legitimate banking channels to continue to pay off its investors.
That left GetEasy in limbo for a few months, with an announcement towards the end of last year revealing the company's plans to operate their own bank.
Details on the specifics of this plan are sketchy at best, with one claim made by GetEasy already debunked by a regulator in Luxembourg.
What we do know however is that these new plans are to be implemented under the brand iGetMania, with GetEasy hoping to elude regulatory suspicion under a new name (because it's apparently that easy to cover your tracks…).
Initially GetEasy announced their bank would be live in the first week or so of January, but that deadline came and went. We're still following that story but in the meantime the iGetMania compensation plan has been released.
So today we take a look at GetEasy 2.0. Is it still a global Ponzi scheme offering ridiculous returns, or is there something to GetEasy's investment bank plans?
Read on for a full review of the iGetMania MLM business opportunity.
The iGetMania Product Line
Whereas GetEasy sought to marry their Ponzi scheme to non-existent GPS tracker devices rented out to non-existent retail customers, music services and their own "GetCoin" virtual currency (see BehindMLM's GetEasy review), iGetMania continues the fraud with claims of investment in "technology projects", "health area" and "geo-locators and LED lamps".
Despite GetEasy's GPS tracker smoke and mirrors proven to be a fraud when the supplier company, whose name they borrowed, issued a statement saying they had nothing to do with GetEasy, iGetMania have adopted a similar approach.
The ruse this time around is that iGetMania are marketing products relating to health, technology and geo-locators (GPS trackers again) and LED lamps to retail customers.
As with GetEasy, one would imagine with a bit of digging it would be easy enough to debunk these claims. As with GetEasy, the customers purportedly purchasing iGetMania's offerings simply don't exist.
The iGetMania Compensation Plan
As with GetEasy, iGetMania sees affiliate invest funds with the company.
Investment ROIs
Where GetEasy saw affiliates make up to €1200 EUR in a single investment though, in iGetMania the stakes are raised with affiliates able to invest up to €200,000 EUR.
The investment amounts are offered via packs, with each pack corresponding to a certain amount of shares in GetEasy's compensaton plan:
Pack 1 (€200 EUR) – 1 share
Pack 2 (€1000 EUR) – 5 shares
Pack 3 (€3000 EUR) – 15 shares
Pack 4 (€10,000 EUR) – 50 shares
Pack 5 (€50,000 EUR) – 250 shares
Pack 6 (€200,000 EUR) – 1000 shares
You'll notice the cost of shares are linear, scaling up at a cost of €200 EUR per share.
Shares invested in by iGetMania affiliates are used to calculate how much of funds set aside by iGetMania they receive.
Each week iGetMania tally up the total amount of funds invested in by their affiliates. 10% of this is distributed via shares, pro-rata according to how many shares an affiliate currently holds.
Referral commissions are also paid out on investments in packs made by personally recruited affiliates, paid out as follows:
Pack 1 – €10 EUR
Pack 2 – €50 EUR
Pack 3 – €150 EUR
Pack 4 – €500 EUR
Pack 5 – €2500 EUR
Pack 6 – €10,000 EUR
Binary Commissions
Residual commissions are paid out to iGetMania affiliates via a binary compensation structure.
A binary compensation structure places an affiliate at the top of two binary teams, left and right.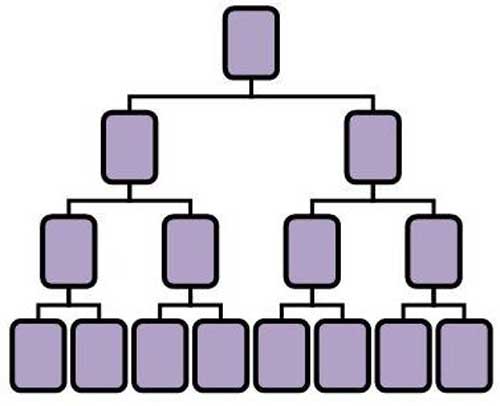 These teams expand out as new affiliates are recruited into iGetMania. These affiliates can be recruited directly, or via the recruiting efforts of an affiliates upline and downline.
Each position in the binary represents a position a recruited affiliate has invested in. Points are allocated to each filled position, determined by how much was invested in the binary position at the time:
Pack 1 – 40 points
Pack 2 – 200 points
Pack 3 – 600 points
Pack 4 – 2000 points
Pack 5 – 10,000 points
Pack 6 – 40,000 points
New points in the binary (corresponding to new investment) are tallied up, with affiliates paid 10% of the point balance of their weaker team (the binary side that generates less points).
Ie. If an affiliate's left team generates 5000 points and their right 10,000, the affiliate is paid 10% of 5000 (€500 EUR).
iGetMania don't specify how often points are tallied up, but presumably binary commissions follow the same schedule as the ROI payments (weekly).
Note that once points have been paid out on, they are discarded and not used for calculation over the next pay period.
An iGetMania affiliate can also increase the amount they earn on their weaker team's binary points, by meeting the following qualification criteria:
generate 800,000 points in the binary and have at least five Diamond ranked affiliates in your lesser binary team = an extra 1% of the volume generated by your lesser binary team
generate 800,000 points in the binary and have at least 5 Diamond ranked affiliates on either side of the binary = an extra 2% of the volume generated by your lesser binary team
Perfomance-based Bonuses
Performance-based bonuses are available to iGetMania affiliates, directly rewarding them for encouraging new affiliates they recruit to invest.
Performance-bonuses are tied into pack points, with affiliates rewarded upon generating certain point milestones:
Executive Platinum (160,000 points) – "travel to Europe"
Executive Diamond (800,000 points) – "luxury watch"
Executive White Diamond (2,500,000 points) – "Inter-continental travel for 1 week in 1st class"
Executive Black Diamond (16,000,000 points) – "Service car high range exclusivity agreement" (car loan???)
Note that affiliates at the Executive Black Diamond rank appear to be charged an additional €490 EUR a year fee to retain their account.
Joining iGetMania
Affiliate membership with iGetMania is tied into investment in at least one of their offered packs:
Pack 1 – €200 EUR
Pack 2 – €1000 EUR
Pack 3 – €3000 EUR
Pack 4 – €10,000 EUR
Pack 5 – €50,000 EUR
Pack 6 – €200,000 EUR
How much an affiliate invests in iGetMania directly affects their earnings potential through the iGetMania compensation plan.
Conclusion
As with GetEasy, all the talk of contracts with third-party suppliers of products and services by iGetMania is just puffery.
I know, hardly surprising when the same people are still running the scam but something that needs clarification regardless.
With iGetMania, all that appears to have changed is the name.
Affiliates are still offered ROIs paid out of newly invested affiliate funds, with recruitment incentives paid out as cash and via performance-based bonuses.
As with all Ponzi schemes, once new investment dries up, iGetMania will find itself unable to meet it's weekly ROI obligations.
Despite this though, the company openly advertises an expectation that a 100% ROI will be paid out within a year:

Rather modest for a Ponzi scheme, but I suppose they expect to make up the difference with the points based system.
Mathematically that would certainly seem to be the case, with the direct ROIs only paid out of 10% of invested funds. The rest is paid out via the binary and referral commissions.
All in all, changing GetEasy's name to iGetEasy is unlikely to fool regulators currently investigating the company. Ditto circumventing the financial restrictions currently in place thwarting the company's attempts to launder funds to its earlier investors.
If anything the iGetMania rebrand might hasten the regulatory noose currently in place, as those fraud detection measures are in place for good reason.