GetEasy: We are first legal investment-based MLM opp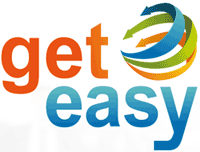 Launched in the wake of the Ponzi schemes BBOM and TelexFree, GetEasy targeted investors from the same countries BBOM and TelexFree had previously flourished in.
Having exhausted that market, the scheme soon spread its wings to greater South America and Europe – with the latest reports indicating GetEasy has now also main inroads into Asia (Malaysia and India) and Africa.
Problems for the company first arose when the front GetEasy used to justify the shuffling of new investor money to existing investors began to fall apart.
Probably the most damaging was the revelation that the tracker company GetEasy had long professed to source GPS trackers from, announcing they have nothing to do with the company:
TachoEASY AG has recently become aware of the fact, that the trade name TachoEASY was associated with the Geteasy Group.

We have received a large number of statements of actual consumer confusion. We were also approached by third parties and asked about our possible relation to Tachoeasy Iberica.

TachoEASY AG is not affiliated with these entities and demanded vis-à-vis Tachoeasy Iberica that they immediately cease and desist any and all use of the trade name and logo TachoEASY.

The products distributed by Tachoeasy Iberica are not the original products developed and sold by our company, the TacoEASY AG. Any statements to the contrary are false.
There have also been reports that music streaming service Pleimo, another GetEasy smoke and mirrors relationship, terminated their relationship with the company after GetEasy failed to pay them hundreds of thousands of dollars in fees.
Note that I myself wasn't able to confirm this but it has been widely reported in GetEasy affiliate circles, so perhaps take it with a grain of salt.
As the threads of the elaborate web GetEasy had spun to cover its Ponzi operations came undone,  regulatory problems also began to surface.
October saw "Polícia Judiciária (Portugal's primary law enforcement agency for criminal investigations), reveal they had launched an investigation into the company. In the following month the Bank of Portugal then warned investors that GetEasy were
not authorised, in Portuguese territory, to accept deposits or other repayable funds (nor to carry on any other financial activity subject to the supervision of Banco de Portugal).
Reports of GetEasy payment problems had already surfaced prior to the bank's warning and police investigation, with the lack of payment issue remaining unresolved to this day.
Around mid-December rumours of a new company name have emerged and hints at possible new smoke and mirrors contracts to mask the flow of new funds to existing investors abound.
Now, after broken promises and then mostly silence from GetEasy corporate, CEO Tiago Fontoura has made a series of New Years Eve announcements.
In a thirteen minute video uploaded to YouTube, Fontoura attempts to set the record straight.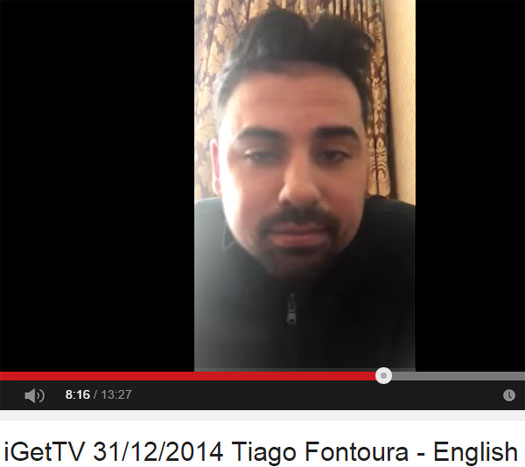 First order of business? Where is everyone's money and why hasn't GetEasy been paying its investors?
Fontoura explains,
[0:30] I'm here, why? So you know that in the last three months we had lot of problems with our company.

[1:03] What's happened, what's going on, what's wrong with the payments?

[1:16] The most part of the banks in Europe, the place where we receive money and pay money to you guys, are doing boycott against us.

They don't want to work with us.

Why? That's too much work.

Fifty thousand payments a week, that's too much.

The most part of the banks couldn't do this by automatically, just manually. That's impossible to do this.
Uh, impossible? The largest banks in Europe no doubt handle millions of transactions a day.
50,000 a week? That's not even going to register as a blip on their radar.
Well, it might if GetEasy's transactions red flags put in place to detect potential money laundering activity.
How curious, seemingly every bank in Portugal has blackballed GetEasy. It's almost as if there was a central bank operating behind the scenes that might have issued a warning regarding the company.
Oh wait… that's exactly what happened.
Yet there's no mention of the Bank of Portugal's announcement anywhere in Fontoura's 13 minute long video.
Fontoura continues,
[1:57] In following our name is not so good now. That's why the banks say "No, I don't want (to do business with you)".

We had contracts signed with some banks in the last forty-five days and, when the banks see how (much) work they will do to do the payments, they say "Ok no that's impossible".

And they deny it (the contract), everything.

That's why (it is so) difficult to pay you guys.
Whether Fontoura is being disingenuous or not I can't say, but he appears to have a wildly inaccurate grasp of how a bank works.
What he's describing there is standard due-diligence before any bank takes on a significant corporate client.
The warning issued by the Bank of Portugal, y'know, the one that says GetEasy are prohibited from accepting deposits in Portugal, means that legally no bank in Portugal can do business with GetEasy.
Forget about looking at the company's business model and realizing it's just one giant global Ponzi scheme.
In the likelihood that the Bank of Portugal's edict extends to greater Europe, Fontoura's next comments suggest that GetEasy has stashed their funds offshore.
[2:38] Eh Tiago, one more time, "Are you doing the payments?"

Yes, we are. But not so fast as we'd like to do.

We are doing the payments (at) the speed the banks allow (us) to do this. Not our speed, not your speed, the speed of the banks.

That's why it's not so fast as you'd like it.

But, don't worry guys, all your money will reach your bank account. Don't worry about that.

I don't know the time. If you last five days, ten days, one week, two weeks – I don't know.

I believe that we are going to do everything that we can to pay you.
Fontoura unfortunately does not disclose where GetEasy has deposited affiliate funds. Nor which banks the company is purportedly paying affiliates from.
At around the five-minute mark, Fontoura discloses why GetEasy has recently begun rebranding itself as "iGetMania":
[4:48] Eh Tiago, you put a new name, iGetMania, what is this?

You put the name, you don't talk anything – what is iGetMania?

So guys, you know that in the last three months we had a lot of problems with payments, with a lot of things.

And, we had two choices. One, we gave up okay. These people will finish us or, we will face this problem and solve everything.
Who "these people" might be was not immediately clear.
Anyway, Fontoura's master plan to "solve everything"?
[5:20] We choose the second choice. So we were looking (for) solutions for you guys and so what we did for you;

We built  a fund in (the) Cayman (Islands), the Ultra Crescent Fund… with assets of €400 million Euros.
Fontoura's solution brings two primary issues to the forefront.
The first is that, in the event of a regulatory shutdown or GetEasy collapsing due to a lack of new investment, fund recovery efforts just became a whole lot messier.
The Cayman Islands, a British Overseas Territory, are a known tax-haven with a history of involvement in harboring money laundering operations.
The second is the mention of this trust, Ultra Crescent Fund. With the GetEasy name poisoned, it's likely that the company is laundering money through their trust.
This leads on to GetEasy committing financial fraud by distributing Ponzi ROIs globally through unsuspecting banking channels under this newly formed trust name.
Furthermore if Fontoura is to be believed, €400 million Euros ($483 million USD) sees GetEasy fast approaching the likes of Zeek Rewards ($850 million) and TelexFree (one billion dollars), to rank as one of the largest MLM Ponzi schemes in history.
[6:04] When you buy a share of us (GetEasy), you are buying a share of €400 million Euros.

That's a guarantee that your money will never be lost.
Well yeah, until someone who invested before you withdraws it.
And good on Fontoura for dropping the facade and finally referring to deposits made with GetEasy as (share) investments.
Fontoura then goes on to claim GetEasy has opened other trust funds in Luxembourg, another known tax haven and Abu Dhabi (UAE). How much investor funds GetEasy has laundered into these accounts is not disclosed.
What Fontoura then refers to as "the best of all", are plans for GetEasy to open up their own investment bank.
[7:12] Our own investment private bank. It belongs to iGetMania.

Based in Dubai (and) authorized by the Central Bank of Dubai, the name (of the purported investment bank) is Emirates Malaysian Investment Bank.

We have our own bank.
How far along GetEasy's plans to open up a bank is unclear. When the time comes to explain to the Cenral Bank of Dubai where GetEasy sourced their seed funds for the bank, things will probably get interesting.
One thing is clear though, despite Fontoura professing to already have the bank, if they GetEasy indeed did establish a bank, they'd already be paying their affiliates through it.
Yet at the start of his video Fontoura clearly explains that GetEasy is still relying on other bank(s) to currently meet their ROI payment obligations.
[7:39] You, a new partner of Get Mania, have a share of a bank.
The video continues, with Fontoura outlining his masterplan to circumvent global financial and banking regulations:
[7:53] From the beginning of the first work day, or the second work day of January, in three, four, five days from now, no bank, no authority in the world may prevent or forbid our good work.
Again, I don't know if Fontoura is being deliberately disingenuous or if he's just parroting what he's been told to say (Fontoura spends much of the video reading notes scribbled on post-its), but there's an obvious disconnect between reality and Fontoura's banking fantasy.
Even if GetEasy launched their own bank (and that's a big "if"), that doesn't automatically mean they can proceed to continue to launder Ponzi funds globally.
Banks are regulated – and the same money laundering triggers GetEasy set off in Portugal will once again surface.
[8:23] We are the only one company, network (marketing) company, in the world that can promote investment.
Holy shit. There it is.
Invest in GetEasy, and they will legally take your money and use it to pay off existing investors. You yourself will then get paid when people invest after you. Tiago Fontoura guarantees it.
The hilarious bullshit continues, with Fontoura assuring GetEasy investors that come January 2015, they will legally be permitted to promote a Ponzi scheme.
[8:42] From the first or the second work day in January, you (can) talk about investment.

You are the only company in the world that (can) talk about investment. You (can) promote investment.

You are selling shares of our company. This company has assets, (a) real guarantee of €400 million Euros.

This company has a fund in Luxembourg, our own bank, investment bank… as I told you.
Fontoura closes out the video by thanking those who have invested with GetEasy thus far.
[9:56] You guys that were strong and are here until now, congratulations and thankyou very much.

You will be the best in the world. You will be the (most) important people of the network marketing (industry) of the world.

We are an investment company that uses network marketing to sell (investments).

You know the power of network marketing? You know the power of the license that we have about selling and promoting investment?

So guys, congratulations – you are the best, we are the best.

Be ready, because 2015 will be our year.
Fontoura's mention of "the first working days" of January suggests GetEasy's investment bank plans will go live sometime next week.
We'll keep you updated as best we can (be sure to check the comments below for updates from Portuguese speaking readers).
The GetEasy Ponzi train-wreck saga continues…
Update 31st July 2021 – The video referenced in this article has been marked private as of July 2021.
As such I've removed the previously available link to the video.