Luxembourg regulator calls out iGetMania fund lies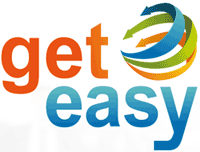 At the turn of the new year GetEasy CEO Tiago Fontoura got in front of a phone camera and told the world that GetEasy had established a trust fund in Luxembourg.
This company has a fund in Luxembourg, our own bank, investment bank… as I told you.
This was followed up by a clarification announcement from IFC Group, GetEasy's Ponzi partner in crime, again asserting the existence of the fund:
All our future members investment funds will be channeled through the proper fund structures. For this we have bought and created two Master Fund Vehicles in Luxembourg, already registered and in Bloomberg, and in Cayman, on the brink of being registered.
Additionally the newly release iGetMania compensation plan also directly refers to the fund, claiming it is authorised by the CSSF (Luxembourg's primary financial regulator):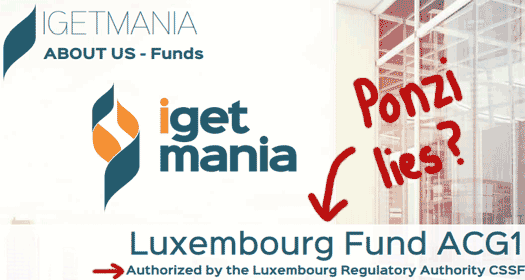 Despite these claims that the fund iGetMania has set up in Luxembourg is already registered, turns out that's not the case.
According to the CSSF, a registered fund doesn't even exist.
The Commission de Surveillance du Secteur Financier (CSSF) are the primary financial sector regulator in Luxembourg.
As per their website, the CSSF
supervises, regulates, authorises, informs, and, where appropriate, carries out on-site inspections and issues sanctions.

Moreover, it is in charge of promoting transparency, simplicity and fairness in the markets of financial products and services and is responsible for the enforcement of laws on financial consumer protection and on the fight against money laundering and terrorist financing.
In response to Fontoura and IFC Group's claims of a trust fund being established in Luxembourg, yesterday (January 21st) saw the CSSF issue the following warning:
WARNING

The Commission de Surveillance du Secteur Financier (CSSF) warns the public of the activities of an entity named iGetMania which claims to have established in Luxembourg an alleged investment fund named ACG1 regulated by the CSSF.

The CSSF informs the public that neither iGetMania nor ACG1 have been granted the required authorisation to provide financial services in or from Luxembourg and that they are not subject to the supervision of the CSSF.
If iGetMania have any business operations in Luxembourg, they are certainly not registered to do so. But that kind of happens when your gig is running a global Ponzi money laundering operation…
Fontoura and IFC Group also claim to have set up trust funds in the Cayman Islands and Abu Dhabi, along with being on the verge of registering their very own investment bank in the UAE.
Whether there's even the slightest shred of truth to either claim remains to be seen.