Go2Up Review: GetEasy chiefs launch reload scheme

The specific details surrounding the collapse of GetEasy late last year are still murky.
And against a backdrop of inaction from Portuguese regulators, sifting through what information is known is no easy task.
Portuguese police began investigating GetEasy back in October 2014. This marks the beginning of the GetEasy's decline, with the investigation followed up by a directive from the Bank of Portugal in November.
This directive, as I understand it, crippled GetEasy's EU banking channels. And what with most of their affiliate investors based out of Portugal, meant the bulk of the scheme's investors were no longer getting paid.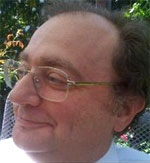 Enter Michael Herzog (right), who GetEasy management turned to in an effort to circumvent their regulatory issues.
Whether Herzog was involved prior to 2015 is unclear, but under his guidance the scheme announced plans to run itself as an investment bank.
Under continued pressure from investors who continued to experience non-payment, this is around the time cracks in GetEasy management began to appear.
Unable to continue using the GetEasy name, Herzog and his crackpot team devised a name-change to iGetMania. By simply changing the name of the scheme, Herzog and friends hoped they would be once-again free to conduct business in Portugal and the rest of Europe.
Cue promises of a new era in banking, announcements about bogus trusts being set up and a general lack of activity, by mid February GetEasy had well and truly collapsed.
CEO Tiago Fontoura blamed the collapse on Michael Herzog. Herzog in turned blamed Gildevan Ribiero, a GetEasy insider, claiming he had blocked access to and made off with the GetEasy investor database.
And that's where we left off.
Tiago Fontoura and Michael Herzog disappeared into the night, and to this day GetEasy investors have remained in the dark.
My personal take on the situation is that either Fontoura and friends or Herzog and friends made off with however many millions remained in GetEasy's bank accounts.
That's what fuelled the management rift and further prevented the scheme from moving forward (with non-EU banking channels).
The lack of action from Portuguese regulators confirms this, as surely they'd have moved to freeze any available funds had they of pulled the trigger on the scheme.
Not to mention GetEasy's management and insiders, every last one of them, remain free to continue to scam people in their native Portugal.
Aware of the value of the GetEasy investor database, the race to further milk those that lost funds in the scheme is now on.
In any event, fast forward to today and Michael Herzog hasn't been seen or heard from in public since GetEasy's collapse.
Tiago Fontoura and GetEasy insiders Pedro Godinho, Fernando Aragao and Edgar Fontoura however, are gearing up to launch a new scheme, Go2Up.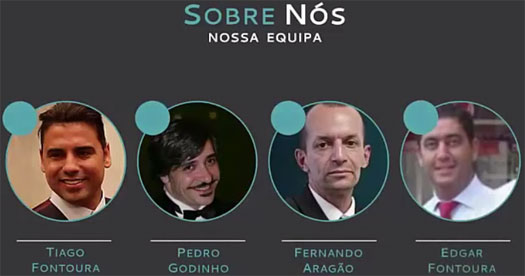 Read on for a full review of the Go2Up MLM business opportunity.
The Go2Up Product Line
Go2Up's product appears to be some sort of social network mobile app.
This app unfortunately appears to have very little, if anything to do with the Go2Up MLM business opportunity.
The Go2Up Compensation Plan
The Go2Up compensation plan sees affiliates sign up and then get paid to recruit others who do the same.
There are four Go2Up affiliate packs available:
Start – €100 EUR
Initiate – €600 EUR
Master – €1200 EUR
Pro – €3000 EUR
Capped Earnings
How much a Go2Up affiliate can earn each day is capped as per their affiliate rank.
How this cap is applied is not totally clear, as the Go2Up compensation plan states that affiliates can earn "€x + €x / day".
I take this to mean binary commissions are counted independent of all other commissions, but I can't say for sure.
Anyway, as per the Go2Up compensation plan material, affiliate earnings are capped as follows:
Rookie (generate 0 to 10,000 binary points) = €100 + €100 a day
Start (generate 10,001 to 20,000 binary points) = €250 + €250 a day
Director (generate 20,001 to 40,000 binary points) = €500 + €500 a day
Supervisor (generate 40,001 to 200,000 binary points) = €1000 + €1000 a day
Manager (generate 200,001 to 1,000,000 binary points) = €2500 + €2500 a day
Earl (generate 1,000,001 to 5,000,000 binary points) – €7500 + €7500 a day
Duke (generate 5,000,001 to 25,000,000 binary points) – €12,500 + €12,500 a day
Crown (generate 25,000,001 or more binary points) – €20,000 + €20,000 a day
Recruitment Commissions
Go2Up affiliates are directly compensated for recruiting new affiliates.
How much of a recruitment commission is paid out depends on how much a newly recruited affiliate spends on their membership pack:
Start – €5 EUR
Initiate – €30 EUR
Master – €60 EUR
Pro – €150 EUR
These commissions are paid out via a 2-up compensation structure, which sees all Go2Up affiliate pass-up their first two recruitment commission to their upline (the affiliate who recruited them).
In turn, any affiliates they recruit must pass up their first two recruitment commissions as well. This includes any affiliates they recruit and so on.
Residual Commissions
Residual commissions in Go2Up are paid via a binary compensation structure.
A binary compensation structure places an affiliate at the top of a binary team, split into two sides: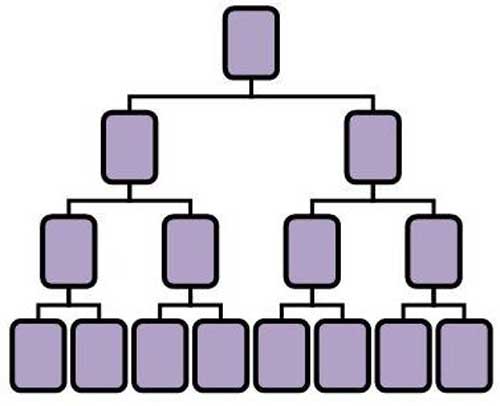 Positions in the binary represent recruited affiliates, either recruited directly or via the recruitment efforts of others.
Commissions are paid out based on volume generated in the two binary sides, with volume generated when a new affiliate is recruited and placed in the binary.
Binary volume is tracked via points, with how many points generated per affiliate recruited determined by how much a newly recruited affiliate spent on their membership pack:
Start – 20 points
Initiate – 120 points
Master – 240 points
Pro – 660 points
At the end of the pay period (not currently known), Go2Up tally up how many points have been generated on either side of the binary.
Once the totals are calculated, an affiliate is paid 50% of the volume generated by the weaker binary side (the side with less volume).
Note that 1 point is equal to €1 EUR.
Go2Profit Pool
The Go2Profit pool is made up of company-wide revenue generated from the sale of affiliate packs (recruitment of new affiliates).
A floating percentage of this volume, "calculated pro rata according to the (total amount of) investment made", is then shared back among Go2Up Master and Pro affiliates.
Joining Go2Up
Affiliate membership with Go2Up is tied to the purchase of an affiliate pack, with there being four affiliate packs available:
Start – €100
Initiate – €600
Master – €1200
Pro – €3000
The primary difference between these packs is income potential through the Go2Up compensation plan.
Conclusion
Having witnessed the collapse of a Ponzi scheme firsthand, this time around GetEasy management have opted for a more subtle pyramid scheme approach.
Whereas GetEasy saw GPS trackers attached to the scheme, now it's a social network mobile app. And if I had to guess, I'd say it's probably been hastily put together over the past few weeks, solely so that Go2Up has something to launch their compensation plan with.
The Go2Up compensation plan sees affiliates pay a fee and then recruit others who do the same. The inclusion of the mobile app is neither here nor there, existing solely so that Go2Up affiliates can claim they have a product (much like the GetEasy trackers).
The reality of the Go2Up business model is you pay a fee, and then encourage people to join the company by also paying a fee. The more in fees they pay, the more you get as a commission – both directly and residually.
As an incentive to buy in at the higher packs, only Master and Pro affiliates share in the Go2Profit pool, which shuffles 10% of all affiliate fees around to those who signed up with the more expensive packs.
Total earnings are also initially capped, with an affiliate only able to increase their commission cap via affiliate recruitment (which generates binary points).
Naturally in order to optimize points generated per affiliate recruited, the onus is going to be on getting new recruits to pay either €1200 or €3000 for Master or Pro membership respectively.
As with all pyramid schemes, once new affiliate recruitment slows down the scheme collapses.
Historically reload schemes last far shorter than their predecessors, so expect Go2Up to slow down much sooner than GetEasy did.
Showered with promises of making back what they lost in GetEasy, no doubt a sizeable portion of the GetEasy faithful will dance to the tune Taigo Fontoura and the mustache man (Pedro Godinho) play for them.
I feel obliged to mention that the individuals behind Go2Up are already on the regulatory radar in Portugal, but unfortunately I've yet to see anything that suggests will be an issue for them.
The Bank of Portugal aside, Portuguese regulators appear completely unable to deal with the tidal wave of MLM fraud that has swept the nation these past few years.
The Bank of Portugal cannot go at it alone, as they appear only to be able to issue directives. Granted these do seem to have the power to cripple the financial channels of such schemes, but by the time they are issued, as was the case with GetEasy, it's simply far too late.
As we saw with GetEasy, I imagine once Go2Up affiliate recruitment dies down, Fontoura and Godinho will either squabble among themselves and depart, or bring someone new on for them to be able to place the blame on shortly thereafter.
You've seen these scammers play out a Ponzi collapse, the collapse of their newest scam isn't going to be any different.