OmegaPro trots out scam ambassador Steven Seagal

Unable to rest on the legitimacy of their fraudulent business models, Ponzi schemes often push legitimacy via association.
The basic idea is you associate your scam with seemingly legitimate people or companies. This is done to detract attention away from fraud.
It also presents in marketing as "but surely X wouldn't be involved if Y was a scam?"
OmegaPro's recent Global Convention was a great example of this.
In attendance at OmegaPro's event, was none other than serial MLM scam ambassador Steven Seagal.
If you're wondering what's up with the Sheiks, OmegaPro is based out of Dubai.
This is no coincidence; operating out of the MLM scam capital of the world has its perks. Moreso if you bend over for the right people.
Seagal's presence at the event doesn't appear to extend beyond wowing OmegaPro investors.
Or as OmegaPro put it, Seagal posing for photos "gave us even more energy to do what we do best".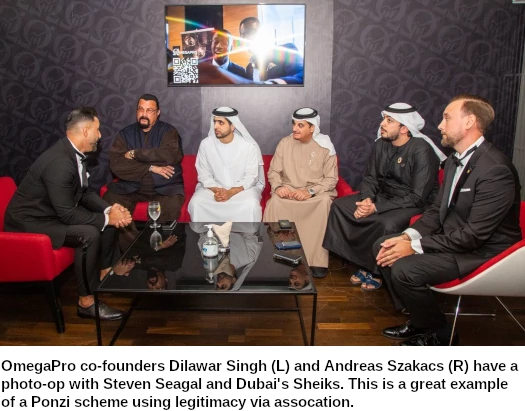 OmegaPro is Seagal's third entanglement with MLM Ponzi schemes.
In 2018 Seagal surfaced as Brand Ambassador for the Bitcoiin Ponzi scheme.
US authorities filed criminal charges against Bitcoiin's founder last year. In 2020 Seagal paid $330,448 to settle Bitcoiin fraud charges filed by the SEC.
A year after he repped Bitcoiin, Seagal turned up to promote Skyway Capital.
Seagal's appearance in a Skyway Capital promo vid saw him rant, among other things, about illuminati aliens.
Skyway Capital is a long-running Russian MLM Ponzi scheme.
Someone else at OmegaPro's event who should know better is Eric Worre.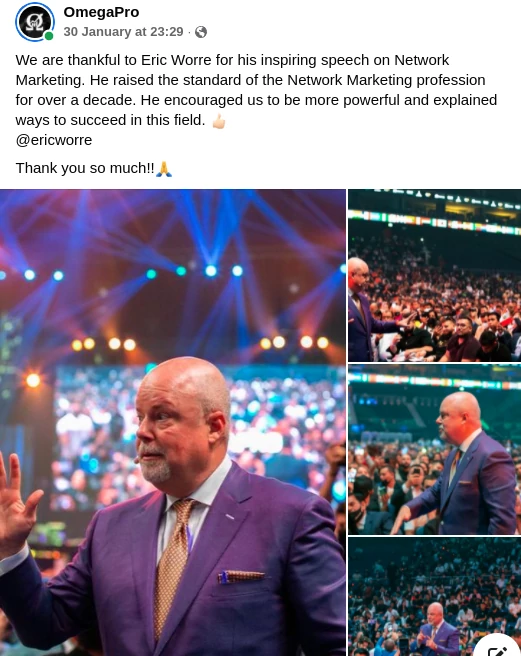 As opposed to Seagal's passive appearance, Worre got up on stage and gave an "inspiring speech on Network Marketing".
He encouraged us to be more powerful and explained ways to succeed in this field.
Worre runs Network Marketing Pro.
For over a decade, Network Marketing Pro has been raising the standard of the Network Marketing profession.
We're not sure how speaking at Ponzi scheme events in scam-friendly jurisdictions fits that narrative.
Here at BehindMLM we routinely shoot down legitimacy via association attempts. If your business model is rotten to the core, who you pay to appear wherever doesn't change that.
OmegaPro is a simple 200% ROI "crypto trading" Ponzi scheme. Heading up the scam are co-owners Andreas Szakacs, Mike Sims and Dilawar Singh.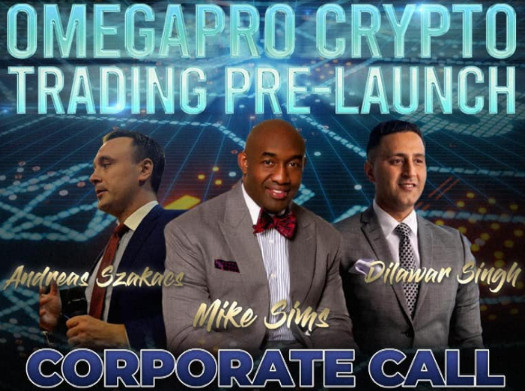 Regulatory fraud warnings against OmegaPro have been issued in Colombia, Spain, France, Peru, Belgium and Chile.