Steven Seagal fined for not disclosing Bitcoiin Ponzi payment

In early 2018 Bitcoiin, not to be confused with bitcoin, launched its B2G pump and dump altcoin scheme.
In an attempt to differentiate themselves from the plethora of MLM shitcoin Ponzi schemes out there, Bitcoiin employed Steven Seagal as its Brand Ambassador.
On Wednesday, the SEC announced it had issued Seagal with a formal cease and desist.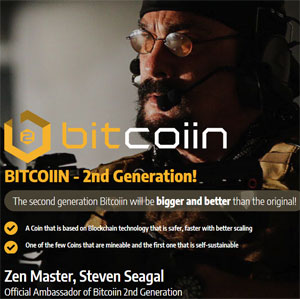 Bitcoiin itself was an unremarkable MLM Ponzi scheme.
BehindMLM published it's Bitcoiin review in February 2018.
In March 2018 three significant events happened:
New Jersey issued Bitcoiin with a securities fraud cease and desist on March 7th
Tennesee issued a Bitcoiin securities fraud warning on March 23rd
Bitcoiin collapsed on March 27th
To date nobody has been held accountable for Bitcoiin's collapse. Losses have been pegged at over $75 million dollars.
The SEC allege Seagal failed to disclose he was paid to promote Bitcoiin's B2G ICO.
Seagal promoted Bitcoiin to his Twitter and Facebook followers.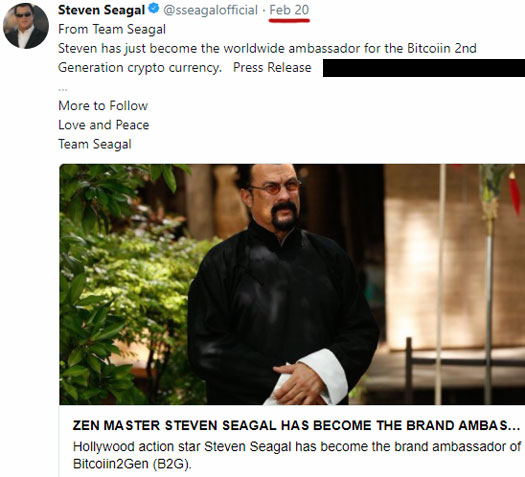 He did this in exchange for $250,000 in cash and $750,000 worth of B2G tokens.
Of the $250,000 promised however, Seagal ultimately only received $157,000.
Turns out in addition to their investors, Bitcoiin's admins weren't above scamming their shills either.
Rather than defend the SEC's allegations of securities fraud, Steven Seagal opted to settle for
$157,000 in disgorgement;
$16,448 in prejudgment interest; and
another $157,000 paid as a civil fine.
Seagal is also prohibited from endorsing securities offerings of any kind for three years.
Last July Seagal emerged as the new celebrity spokesperson Skyway Capital.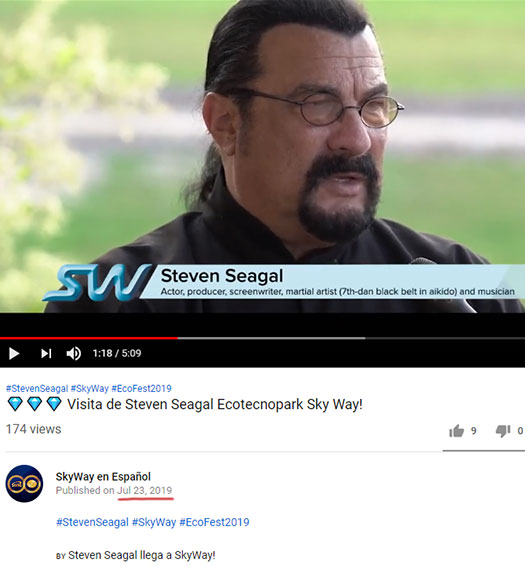 At the time Skyway Capital was busy promoting CryptoUnits… another, you guessed it, MLM shitcoin Ponzi scheme.
Skyway Capital has since evolved from CryptoUnits. The fraudulent investment scheme continued under NEEW, however Skyway just recently announced it was exit-scamming NEEW investors.
Seagal's Skyway promo video is still on the company's official YouTube channel. Whether he's still endorsing the company however is unclear.
Update 20th August 2022 – Steven Seagal's Skyway Ponzi promo video has been marked private.
This article originally contained a link to the video but, as a result of Skyway taking the video down, I've disable the link.