DFRF Enterprises RICO lawsuit filed in Massachusetts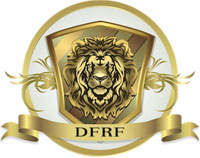 Over the past six months I've received numerous requests to review DFRF Enterprises.
For the most part, these requests have been sent in from readers expressing concerns that friends and family members are investing thousands of dollars with the company.
These are by and large people who already lost large sums of money investing in TelexFree, Wings Network and other scams specifically targeting the Brazilian community in Massachusetts.
Upon perusing the DFRF Enterprises website, I ascertained that the scheme solicits investment from its affiliates, under the guise of asset and wealth management, asset finance, wealth structuring and investment banking.
To encourage affiliates to invest funds, DFRF Enterprises openly advertise ROIs of 15% a month:

Quite obviously, DFRF Enterprises are simply shuffling new investor funds to pay off existing investors. Provide enough fluff about legitimate banking services and run a simple Ponzi on the backend.
So why isn't there a review of DFRF Enterprises on BehindMLM?
Well the problem is the scheme only offers a single-level 10% referral commission. That's a HYIP (high-yield investment program) and not MLM.
I have a busy enough time trying to keep up with the MLM industry. Expanding that coverage to HYIPs (which, unlike MLM opportunities, are universally scams) would put far too much on my plate.
That and the blog is called BehindMLM for a reason…
In any event, I'm covering a newly filed RICO lawsuit against DFRF Enterprises in an attempt to meet those concerned about the scam halfway.
If for nothing else than to bring greater awareness to those who have previously invested in the well-known Brazilian MLM scams over the past year, who now find themselves involved an even more nefarious scheme.
The lawsuit in question was filed by Evans J. Carter, in the Middlesex Superior Court of Massachusetts.
Carter, a lawyer based in the town of Farmingham, claims DFRF Enterprises is 'yet another example of Framingham's growing reputation as "the world headquarters" for pyramid schemes'.
DFRF Enterprises was launched in mid-2014, shortly after the SEC shut down TelexFree.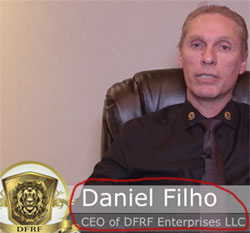 The scheme is owned and operated by Daniel Fernandes Rojo Filho (right), with the lawsuit alleging
Filho has been in trouble before for operating another pyramid scheme in Florida that has since been shut down.

U.S. District Court records show a man with Filho's name was among the defendants ordered to forfeit dozens of accounts containing millions of dollars, as well as luxury cars and hundreds of gold bars, in connection with a reported Ponzi scheme targeted by federal investigators in Florida in 2009.
Carter is representing two individuals, who claim to have invested $80,000 and $100,000 into DFRF, on the promise of an advertised 15% a month ROI.
In a DFRF promotional video on YouTube, Filho tells viewers they "can participate with a minimum deposit of $10,000".
Unfortunately their lawsuit appears to have been filed, not because DFRF was a Ponzi scheme, but because they stopped paying Carter's clients their promised 15% a month ROI.
According to the lawsuit, DFRF promised Carter's clients, two Gloucester men who put $80,000 and $100,000 each into the company, annual returns of up to 15 percent on their investments.

"But DFRF's business income was grossly inadequate to satisfy payments promised to members."
Or in other words, the Ponzi scheme collapsed after affiliate investment slowed down. Whatever token legitimate business activity might have been taking place obviously couldn't cover the Ponzi liabilities racked up.
The lawsuit alleges DFRF Enterprises took in "tens of millions of dollars" from investors in Massachusetts. It cites 'nine counts, including fraud, unjust enrichment, civil conspiracy and violation of the federal RICO Act.'
I'd be willing to bet that Carter's clients had been previously involved in at least one of the Brazlian scams targeting the area this past year. If not TelexFree or Wings Network, then one of the others.
And I'd also be pretty confident in stating they knew exactly what DFRF Enterprises was when they invested…
Does excuse DFRF Enterprises fraud? No, of course not. But it does put a damper on the case.
I mean, if new suckers continued to jump on board and funded Carter's clients promised 15% ROI, till they were in profit, would they have filed a RICO lawsuit then?
I doubt it.
What we have here is a mess of a community that, for reasons known only unto themselves, continue to plough millions of dollars into scam after scam after scam.
I really don't know when the Brazilian community of Massachusetts are going to get it. Or maybe they do and just don't care (unless they don't get paid, in which case lawsuits like this get filed).
Carter meanwhile seems to be enjoying the business these scams bring to the area, with a Metro West Daily article claiming he 'also represented alleged victims in' TelexFree and Wings Network cases.
I'm guessing the idea here, only now that DFRF Enterprises has collapsed and there's no money left, is to make enough noise to hopefully get regulators on board.
That though might be easier said than done.
Brian McNiff, a spokesman for Secretary of State William Galvin, whose office ordered the shutdowns of TelexFREE and Wings last year, said the office had nothing to say on DFRF on Monday.
Basically you've got a community who scam eachother. If Carter's clients truly wished to know where their money went, it's likely with their neighbors and/or members of their community who introduced them to the scam.
Obviously the kitty's run dry or they'd still be getting paid.
Due to the single-level commission structure of DFRF's business model, this probably isn't a case I'm going to fall too closely.
My question to the Brazilian community of Massachusetts though is: "What's it going to take for you to stop investing in all of these obvious scams?"
TelexFree, Wings Network, UniverTeam, GetEasy, iGetMania, iFreeX, VixConcept… the list goes on and on and on. And I'm sure before the year is out we'll see even more scams surface that Brazilians in Massachusetts can't wait to invest in fast enough.
Anyway, best of luck to Carter and his clients with their lawsuit. By the time a Ponzi scheme collapses your money is long-gone but if the Filho is still in Massachusetts, perhaps you might get some answers at least.
Update 25th May 2015 – On April 29th Plaintiffs Jose Silva and Carlos Santos filed a Notice of Voluntary Dismissal. Why the case was dropped is mystery.