Daniel Filho arrest warrant issued on wire fraud charge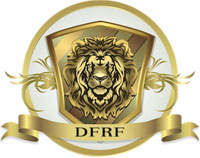 Initially it was thought the SEC complaint filed against Daniel Filho on July 3rd was the first regulatory action taken against DFRF Enterprises.
Turns out over a week prior a criminal case was also filed.
A request for an arrest warrant filed by the FBI in Massachusetts on June 25th reveals Filho is charged with a lone count of wire fraud.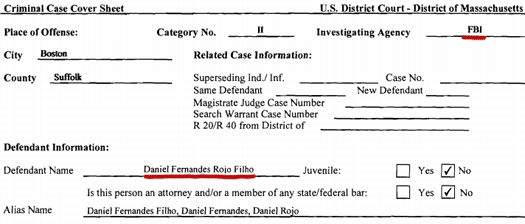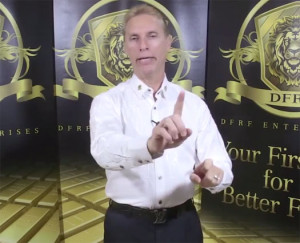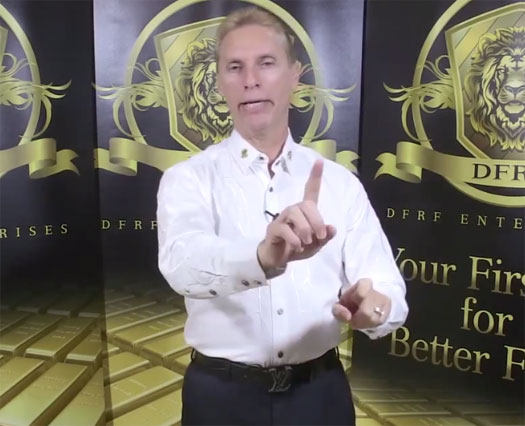 An accompanying affidavit filed by an FBI Special Agent specifically identifies the title Filho (right) is accused of violating.
Title 18 of the United States Code, Section 1343, makes it a crime for anyone who has devised or intended to devise a scheme or artifice to defraud, or obtained money or property by means of false or fraudulent pretenses, representations, or promises to transmit or cause to transmit by means of wire, radio, or television communications in interstate commerce, any writings, signs, signals, pictures, or sounds for the purpose of executing such scheme or artifice.

Having so said, I make this affidavit in support of a criminal complaint charging Daniel Fernandes Rojo Filho, a/k/a Daniel Fernandes Filho, a/k/a Daniel Fernandes, a/k/a Daniel Rojo, age 47, of Orlando, Florida with wire fraud, in violation of Title 18, United States Code, Section 1343.
The allegations in the FBI criminal case against Filho reading much the same as the SEC's civil case:
Beginning in or about June 2014, and continuing through in or about the present, Filho fraudulently obtained money and property by offering individuals the chance to invest money in DFRF.

Among other things, Filho and others acting at his direction falsely represented that DFRF owned and operated gold mines in Africa and South America, that any investors' money was 100% insured, and investors could withdraw their principal investments at any time.

Filho never invested the money as promised; instead, Filho used the money for other purposes, including his own personal and other business expenses.
Specific Filho porky pies called out in the FBI case related to false claims about DFRF Enterprises' purported mining projects, Swiss banking and investment insurance.
Geosol, the company in Brazil that Filho and others working at his direction said had verified the value ofDFRF's gold deposits in Brazil, never did any such thing.

In fact, Geosol posted a notice on its corporate website warning that it has never provided services to DFRF Enterprises.

DFRF has never sent any "member" money (or money of any kind) to PST in Switzerland. Moreover, PST-according to Swiss authorities-is not authorized to conduct banking activities in Switzerland.

Bank records reviewed to date indicate that no money has been paid to any entity by the name of Accedium, the company that allegedly insured investments in DFRF. In a December 8,2014 DFRF video, which was posted.
And of course Filho's own fraudulent conduct:
The checks that Filho and others working at his direction caused to be written in the amounts ofthe "members'" initial, principal "investments" were drawn on accounts with insufficient funds and/or accounts that had been closed.

As a result, the investors were unable to cash their respective checks.

It was also part of the fraudulent scheme that Filho willfully ignored that the "members" who were giving DFRF money in reliance on Filho's representations were not qualified under securities laws and regulations to make such investments in private companies.

Those laws and regulations generally require such individuals to have a net worth in excess of $1 million or earn more than $200,000 per year in income.

At least two individuals who eventually paid money to "invest" in DFRF discussed this matter with Filho prior to investing.

One investor told Filho that none of the investors appeared to be qualified. Another investor told Filho that she, herself, did not meet the qualification outlined in the DFRF Private Placement Memorandum.

Filho told that investor in response that he would accept whatever amount of money she was able to invest.
Of note is the above strongly suggests the FBI has the cooperation of at least one witness.
In or about December 2014, an individual who had invested approximately $50,000 in DFRF in reliance on the representations of Filho and others working at his direction (hereinafter "Investor A"), was not receiving the payments that he/she had been promised.

Investor A traveled from Massachusetts to Florida in an attempt to get some of his/her money, and met with Filho in person at DFRF's office in Orlando.

Filho took out a checkbook, wrote Investor A a check in the amount of $10,000, and handed it to him/her.

After returning to Massachusetts, Investor A subsequently tried to cash the check at a bank; however, Investor A was informed that the check was not good and would not clear.
I suspect there are likely many more investor witnesses to be produced should the case ultimately go to trial.
It was also part of the fraudulent scheme that Filho recycled some of the money received from "members" – which accounted for nearly all of the money in DFRF's account – to pay to certain "members" what Filho and others working at his direction represented to be "interest" payments from DFRF's mining operations.
BehindMLM first claimed as much back in February, when we covered a RICO lawsuit filed against Filho and DFRF.
On or about May 15,2015, shortly before Eastern Bank closed one of DFRF's accounts because of what it believed to be suspicious activity, Filho caused $1.8 million to be wired in interstate commerce from that account to a DFRF account at Citibank, which account Filho also controlled.

An analysis of DFRF's bank accounts shows that Filho and DFRF have received approximately $12,000,000 from investors since approximately June 2014.

The bank account records further show that money was not transmitted to PST in Switzerland to be invested, as Filho and others working at his direction had represented, nor was it invested at all.

Instead, bank account records show that the money was used for other business and personal expenses.
Of note are two co-conspirators cited by the FBI special agent, identified only as Co-Conspirator 1 and Co-Conspirator 2.
A person identified herein as Co-Conspirator 1 ("CC-l") is the person listed on the PST's registration information filed with the Swiss government, and he also represented himself to be the president and director of PST in some of the DFRF promotional videos posted on the internet.

However, CC-l is actually Filho's partner in DFRF.

CC-l is a signatory on multiple DFRF bank accounts and an analysis of DFRF's bank accounts show payments totaling over $600,000 made to CC-l himself.

In a December 8,2014 DFRF video, which was posted on the internet, an individual identified herein as Co-Conspirator 2 ("CC-2")
was identified as an "insurance executive," and described as "the person responsible for the insurance company."

In a subsequent DFRF video, posted on the internet on December 10,2014, Filho represented that DFRF obtained its Accedium insurance through CC-2. CC-2's license to sell insurance, however, was revoked in 1996.
Back in May an individual who identified himself as Darren Covar, claimed to be 'a former FBI special agent who (had) experience investigating Ponzi schemes and money games'.
Covar represented, based on his alleged experience as a former FBI special agent, that DFRF was not a fraudulent Ponzi investment scheme.
Whether or not separate criminal charges have been filed against Covar or the two identified co-conspirators in the FBI special agent's affidavit was unclear at the time of publication.
The full extent of the FBI investigation is not covered in the accompanying affidavit, with the agent claiming to have 'only submitted those facts which (he) believe(s) are sufficient to establish probable cause'.
Daniel Filho himself is currently wanted by the FBI and remains at large. His current whereabouts are unknown.
Meanwhile what's particularly disturbing about this case are the hundreds of comments posted on DFRF related social media accounts, pledging unwavering support for Filho.
Most of these comments are published in Portuguese and are believed to have been left primarily by DFRF victims residing in Massachusetts and Brazil.
Filho himself has taken more than $3,500,000 of DFRF "members" money for his own use. Specifically, Filho has made many cash withdrawals, and has also spent money on travel, automobiles, swimming-pool services, various consumer goods, and restaurants.

For example, a review of checks drawn on DFRF bank accounts and signed by Filho show that he paid approximately $2 million to a luxury car dealership in Florida to purchase a number of luxury cars, including multiple Lamborghinis, a Ferrari, a Rolls Royce, a Tesla, a Mercedes, and two Cadillac Escalades.
Many of these investors had likely also invested and lost funds in TelexFree,  and again similar ventures pitched to them after TelexFree was shut down by the SEC early last year.
Clearly the reality of having been scammed in yet another Ponzi scheme targeting Brazilians in the US has yet to sink in for many DFRF investors.
When it does…