Massachusetts file Wings Network pyramid scheme complaint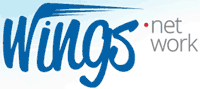 Well that was fast.
Not even twenty four hours after we predicted regulatory charges would be filed against Wings Network, despite the company "suspending all US operations", the Massachusetts Securities Division has filed a complaint against the company.
Filed on May 15th, the complaint was filed 'in order to commence an adjudicatory proceeding against Wings Network". Also named as defendants in the complaint are:
Vinicius Aguiar – Wings Network affiliate
Grupo International – front company, owned by Vinicius Aguiar
Sergio Tanaka – owner of TropikGadget with Josefar de Soussa Silver
Geovani and Priscila Bento – Wings Network affiliates who ran hotel presentations for the company and engaged in door-to-door promotion
TropikGadget – company behind Wings Network with a PO Box in the UAE (TropikGadget FZE, owned by Narendrakumar Mansukhlal Modha) and physical address in Portugal (TropikGadget Unipessoal LDA)
SuccessWealth 101 Inc. – owned by Geovani and Priscila Bento, with Geovani serving as President, Secretary, Treasurer and Director
Of note is that Wings Network CEO, Carlos Luis Silveira Barbosa , is not named as a defendant in the complaint. He only appears as a "related party". 
In any event, through their involvement in Wings Network, the parties above are being accused of fraud by way of making offers and selling unregistered securities. Hardly surprising when you consider Wings Network's business model.
Wings Network purportedly offers for sale a product involving technologically advanced and innovative mobile marketing platforms… however the product is ancillary to the business of recruiting other investors.

The use of trendy internet terms combined with meaningless high technology buzzwords and slick websites are all devices to dazzle prospective investors and induce them to purchase their way into into the Wings Network scheme.

The Wings Network business model is unsustainable because any money that Wings Network makes is money that comes from the purchase of starter packages by new participants and (is) not derived from the sale of products (to retail customers).
Accusing it of specifically targeting Spanish and Portuguese-speaking communities in Massachusetts, the Securities Division reveals that
According to information provided by Wings Network, within five months of starting its operations, a total of $12,546,226 has been collected from eight thousand nine hundred and fourteen Massachusetts investors.
How much Wings Network has collected globally is not specified (although it likely will be in a pending SEC complaint if one is filed).
Specifically targeted in the Securities Division investigation was the operations of Geovani and Priscila Bento, who appear to be Wings Network's top affiliate-investors in the state. Between now and last December, the Bento's stole $348,460 from subsequent investors in the scheme.
How the Bento's recruited new affiliate investors into Wings was specifically referenced in the complaint:
Geovani and Priscila Bento are presenters and promoters of Wings Network in the Boston area.

Since February 2014, they have hosted English and Spanish language presentations at a Somerville hotel on Thursdays and additionally make door-to-door sales visits targeting Spanish and Portuguese-speaking communities.

(The Bentos) made promises that each investor in Wings Network needed only recruit two additional members at the Elite level to gain guaranteed income of $750 a month.

(The Bentos) employ relentless selling practices designed to entice members of these communities with the Wings Network get rich quick scheme and induce them to invest their hard-earned savings in the "opportunity of a lifetime".
One recurring theme in Ponzi schemes of late has been an attempt to mask flow in and out of a company by way of top affiliates having their downlines directly send them funds. The Bentos' use of this tactic is called out in the complaint:
Once (a) prospective investor decides to join, he or she write(s) a checks (sic) or wire transfers for $1548 (the Elite package price plus $49.90 membership fee) to Giovani and Priscila Bento.
In exchange for cash, the Bentos would then set up a Wings Network account for their victim and transfer the corresponding amount of points "purchased".
Points were used in Wings Network to track personal investment and the investment amounts of recruited downlines.
In order to be paid, Massachusetts investors are instructed to transfer their points to the Wings Network accounts of (the Bentos).

Once the points are received, (the Bentos) make a payout in cash, although such payments were always considerably less than the guaranteed monthly amount.
The above is important to note as it shows the practice of money laundering (the movement of money external to the opportunity itself) within these schemes is on the regulatory radar.
Specifically, Securities Division investigators were able to track payments made by the Bentos to their downlines from their own personal bank accounts. Ponzi participants assume that if they accept money directly from their downlines, that they can't be held liable, or that proving the extent in which they participated in a Ponzi scheme will be that much more difficult.
From November 2013 to through April 2014, Geovani and Priscilla Bento collected over $348,460 from Massachusetts Wings Network investors.

From December 2013 through April 2014, at least 129 Massachusetts investors paid money to (the Bentos) to join Wings Network.

During that time,

(the Bentos) paid approximately $27,866 out to Wings investors using checks drawn from the Success Wealth 101 Inc. bank account
cash payments of between $400 to $1200 were made by (the Bentos) to other Wings Network investors
$231,044 was wire transferred to bank accounts belonging to Sergio Tanaka

From November 2013 through April 2014, (the Bentos) netted approximately $89,530 from their efforts to recruit new Wings participants.

Bank records show that money from Wings Network investors and deposited into bank accounts controlled by (the Bentos), was used to pay for personal expenses.
As the above shows, that myth is clearly false.
Not surprisingly, when affiliates began receiving less than the guaranteed amount they were promised, The Bentos put up a wall of silence:
When Massachusetts investors received the first monthly payment falling far short of the guaranteed $750, many of them attempted to question Priscilla Bento without success.

Similarly, when investors tried to cancel their Wings Network membership, they received no response.
As part of their investigation, the Enforcement Section of the Securities Division issued a subpoena on the Bentos, commanding them to appear before the Enforcement Section on May 14th.
Both Priscilla and Giovanni Bento 'invoked their Fifth amendment rights with respect to all questions regarding Wings Network, Success Wealth 101 Inc. and other named respondents.'
How cute.
Closing out their complaint, the Securities Division have asked the court to order the defendants to
stop selling unregistered securities and engaging in fraud
provide the Securities Division with an 'accounting of all proceeds that were received (via participation in Wings Network), to fairly compensate all investors who suffered losses
disgorge all proceeds and other direct or indirect remuneration received (via participation in Wings Network)
pay a yet to be determined administrative fine
Looking forward, it's rather obvious that the Securities Division complaint specifically targets Wings Network's operations in Massachusetts. The Bentos inclusion is interesting, as their $300,000 or so is only a fraction of the total $12 million Wings Network took in from local investors.
Whether or not a more in depth SEC complaint is coming down the pike is unclear, but I'd say there's a strong possibility something will emerge.
Granted the Securities Division is demanding Wings Network surrender all their stolen funds, I'm thinking yesterday's announcement of the suspension of US operations probably means they don't intend to comply.
Where Wings Network's owners hiding out in Portugal and the UAE have stashed the money is yet to be revealed.
There also might be more busts to come from the Massachusetts Securities Division too:
Secretary of State William F. Galvin's office filed civil fraud charges Thursday against one such firm, Wings Network, which allegedly enticed more than 8,900 Massachusetts residents to invest $12.5 million with the company in the past five months. Galvin said his Securities Division has received tips on other apparently similar or related ventures as well.

"We're starting to see connections between these various promoters, and they are often victimizing some of the same people,'' Galvin said.
Stay tuned…
Footnote: Additional reading over at Patrick Pretty, who were first to break news of the Security Division's complaint.
The complaint itself can be viewed over at the Massachusetts Securities Division website.