SEC file Ponzi fraud charges against DFRF Enterprises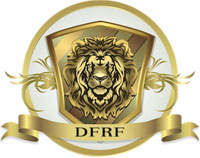 With DFRF Enterprises offering 15% a month perpetual ROIs on affiliate investments running into the tens of thousands, it was only a matter of time before regulators came knocking.
That they did on June 30th, with the SEC filing Ponzi fraud charges against Daniel Filho and his $15 million dollar Ponzi scheme.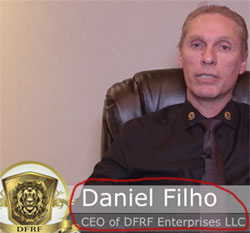 DFRF Enterprises' particular Ponzi ruse saw Filho (right) claim DFRF's perpetual 15% a month ROIs were sourced from gold mining operations in Brazil and Africa.
The company also claimed to have Swiss banking connections,  that investor funds were guaranteed and that 25% of all company revenue was donated to charity.
One recent point of contention was Filho's announcement that he had registered DFRF with the SEC. This announcement was made back in May, with the scheme also name-dropping the FBI in their marketing.
When Filho announced that DFRF had registered with the Commission and its stock was going to be publicly traded, receipts from investors soared to more than $4.3 million.
Attempting to position themselves as being fully registered with US regulators, Filho ultimately failed to disclose how and through what company name he registered DFRF Enterprises through the SEC with.
Why?
Because according to the SEC it was all just a bunch of porky pie lies.
Virtually all of (Filho's) public statements about DFRF have been materially false and misleading.

There are no gold mines. There is no (Swiss) credit line. There is no charity work. There is no stock registration. There is no (investor) insurance.

DFRF bank documents indicate that none of the investor's money has been used to conduct gold mining, and DFRF has received no proceeds from gold mining operations.

DFRF bank documents reflect that DFRF has received no proceeds from a credit line with Platinum Swiss Trust and, in fact, has no banking transactions with it at all.

Bank documents reflect no spending by DFRF on any charitable activities in Africa or anywhere else.

DFRF has not registered, or attempted to registere, its stock with the Commission (SEC).

There is a real company called Accedium Insurance Company registered in Barbados and London. However, it is not a top-rated insurance company.

Infact, none of the four lending rating services assigns it a rating.

DFRF bank documents reflect that DFRF has paid no premiums to Accedium and, in fact, has has no banking transactions with it at all.
When exactly the SEC began investigating Filho and DFRF is unclear, but we do know they were assisted by a number of regulators both in the US and abroad.
A press-release accompanying the SEC's DFRF filing acknowledges assistance from
the U.S. Attorney's Office for the District of Massachusetts
the Boston field office of the Federal Bureau of Investigation
the Massachusetts Securities Division of the Massachusetts Secretary of Commonwealth's office
the Office of the Commissioner of Financial Institutions of the Commonwealth of Puerto Rico
the British Columbia Securities Commission
the Swiss Financial Market Supervisory Authority
the Financial Services Commission of Barbados and
the United Kingdom Financial Conduct Authority
DFRF itself got off the ground in mid 2014, with Filho personally soliciting investment in Massachusetts.
Call me cynical, but this was probably a deliberate attempt to target TelexFree victims. TelexFree was shut down by the SEC in April, 2014.
The $1.8 billion dollar Ponzi scheme had a massive following in Massachusetts, which is where Filho canvassed for early investors.
Further cementing links between TelexFree and DFRF, is Filho's payment of $310,000 to Sanderely Rodrigues.
Rodrigues was the top investor in TelexFree, having stolen upwards of $3 million from investors around the world.
Filho has caused DFRF to pay more than $310,000 for the benefit of Sanderley Rodrigues de Casconcelos.

On March 21, 2015, Filho caused DFRF to pay $50,000 to a business belonging to Rodrigues.

The payment was made less than one month after Filho publicly denied any link between DFRF and TelexFree.

On March 30, 2015, Filho caused DFRF to pay $100,000 the same business.

On April 2, 2015, Filho caused DFRF to supply more than $160,000 so that another business belonging to Rodrigues could purchase a 2008 Lamborghini sports car.
Rodrigues is currently a defendant in the SEC's civil lawsuit against TelexFree. He is also facing criminal charges for visa fraud and evading Brazilian authorities.
Whether Rodrigues was a DFRF investor is unclear, with the SEC further noting that
there is no evidence that Rodrigues provided any services or other benefit to DFRF.
All in all, DFRF Enterprises took in some $15 million from 1400 investors around the world.
The scheme has no source of revenue, other than affiliate investment.
Bank documents reflect that, from June 2014 through May 2015, DFRF had no independent source of revenue except the money received from investors.

Because (DFRF) has no independent source of revenue, it is apparent that, in classic Ponzi scheme fashion, DFRF is using money from some investors to pay other investors.
Of the fifteen million taken in, $1.6 million was paid back to investors.
Surprise surprise, the lion's share of funds was withdrawn by Filho…
Filho has used investors' money for his personal benefit.

Since June 2014, he has siphoned more than $6 million out of DFRF, approximately 40% of the total received from investors.

This includes more than $1.8 million in cash withdrawals, approximately $1.8 million for personal expenses and almost $2.5 million to acquire a fleet of luxury automobiles.

A 2014 Rolls Royce, a 2015 Lamborhini, a 2014 Lamborghini, a 2012 Ferrari, a 2006 Ferrari, a 2013 Mercedes, a 2015 Cadillac and a 2014 Cadillac.
While Daniel Filho spun a web of lies about gold mining operations, SEC registration and donating funds to charity, the reality is he was using stolen investor funds to live the high life and purchases exotic automobiles.
The investors' money has not been used to conduct gold mining, pay for a credit line, purchase insurance, or endow charitable activities.

DFRF has received no proceeds from mining operations or any credit line.
Breaking down two of the bogus complaints Filho used to market his scheme, we shed some light on two key DFRF insiders.
The notion that DFRF investor's investments were insured was repeatedly used to reassure those that sought Ponzi riches through DFRF against risk.
Jeffrey Feldman was used to represent DFRF's insurance deals, with the SEC revealing just how full of crap Ponzi insurance claims can be.
Jeffrey Feldman is the sole officer and director of Universal Marketing Group, a Florida corporation.

He claims to be the U.S. representative of Accedium Insurance Company, which is based in Barbados and London.

In July 2007 he filed for personal bankruptcy.

In 1998 he was found guilty of fraud and forgery for having received $2.5 million in premiums from a rental car chain for insurance policies that he did not actually obtain.

In 1996 the state of Florida revoked his license to sell insurance after he pleaded no contest to charges that he submitted false insurance claims for losses he supposedly suffered from Hurricane Andrew.

Feldmen is a convicted felon, and Florida revoked his license to sell insurance in 1996.

Neither Accedium nor Feldman's business, Universal Marketing Group, is licensed to sell insurance in Florida.
Yeah, so this is the guy who Filho insisted was"guaranteeing" everybody's money.
As for the Swiss banking mumbo jumbo:
Heriberto Perez Valdes is a manager of the Massachusetts DFRF entity with responsibility for "all administrative and executive work".

He is also an administrator of Platinum Swiss Trust, a purported Swiss private bank that is not actually authorized to conduct banking activities in Switzerland.
For their part in assisting Filho in orchestrating multi-million dollar global Ponzi fraud, both Feldman and Valdes are named defendants in the SEC's case.
Valdes received over a half million dollars in stolen Ponzi funds, Feldman $252,000.
In their June 30th complaint, filed under seal, the SEC sought to freeze the assets of DFRF Enterprises and Daniel Filho by way of a preliminary injunction.
The injunction also
sees DFRF and Filho ordered to cease committing any further fraud
freezes their known assets
prohibits DFRF from taking onboard any new investors
orders DFRF and Filho to submit a comprehensive accounting of investor money and any other assets in their possession
repatriate all investor money that was laundered outside of the US
prohibits Filho from destroying any evidence
authorizes the SEC to conduct expedited discovery (to promptly secure evidence that will be used against Filho and DFRF)
Of particular note is that several top DFRF Enterprises investors are also named in the SEC complaint.
Wanderley Dalman ($51,000), Gaspar Jesus ($56,000), Eduardo Da Silva ($221,000) and Ramildo Cunha ($33,000) were all primary pushers of Filho's DFRF Ponzi scheme.
They are all named defendants and subject to the preliminary injunction terms above (if granted).
The SEC's complaint was filed in the Massachusetts District Court, so unfortunately isn't showing up on Pacer.
Given that the complaint has been unsealed however, I'm confident the SEC's preliminary injunction was granted (this is inline with what I've seen in other sealed SEC Ponzi complaints).
Early last month Filho told DFRF investors that "nobody can stop the company".
[5:48] Today we don't have one single point of failure, but we have several points (and) we can rotate it.

[5:56] We can shutdown one point and upload in a matter of seconds.
Whether or not an SEC investigation and regulatory shutdown constitutes a "point of failure" in Filho's eyes is unclear. Ditto whether or not the DOJ will followup the SEC's civil complaint with criminal charges.
Stay tuned…
Update 11th September 2015 – Heriberto Perez Valdes has thus far failed to respond to the SEC complaint, with the agency seeking default judgment against him today.
If granted, Valdes will be up for over half a million dollars plus interest. My guess is he's gone into hiding.