Massachusetts charge TelexFree as "billion dollar Ponzi"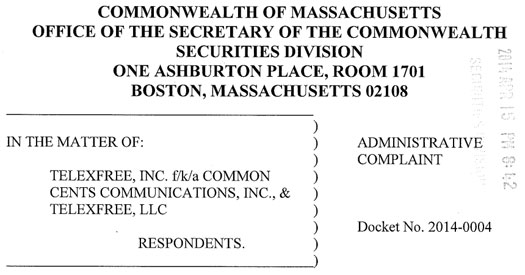 Ever since the SEC investigation into TelexFree was officially confirmed, I've found myself repeatedly pointing out to disillusioned TelexFree affiliates that the running of a Ponzi scheme for nearly two years cannot be negated by cosmetic product changes.
Nor can it be erased by a "too little too late" compensation plan change.
Hell, not even a shutdown and filing for Chapter 11 bankruptcy can wash the stink of what Carlos Wanzeler, Carlos Costa and Jim Merril have spread over the MLM industry.
And now, having concluded their investigation into TelexFree – the Massachusetts Securities Division has finally played their hand and agreed. TelexFree is a "billion dollar Ponzi scheme".
Secretary of State William F. Galvin on Tuesday charged a Marlborough marketer of online phone service with running a billion-dollar pyramid scheme, primarily targeting Brazilian immigrants.

TelexFREE Inc. has offered fraudulent and unregistered securities in Massachusetts by running a multi-level marketing scheme, Galvin's office alleged in its complaint, a copy of which was reviewed by the Globe, attracting as much as $90 million in the Massachusetts alone.
Fully aware of TelexFree's shenanigans over the weekend, Galvin's office noted
the company filed for federal bankruptcy protection Monday in Nevada, according to a note on its website.

Galvin's office had been investigating TelexFREE's alleged scheme for several months, and with Tuesday's action aimed to protect some assets for victims – an effort that could be thwarted by the bankruptcy filing.

"They clearly are responding to the fact that an investigation was underway,'' Galvin said in an interview. "Now the thing is to act promptly and get whatever we can for these people.''
Meanwhile as late as yesterday, TelexFree CEO in hiding Stuart Macmillan and Director of Business Development were busy reassuring affiliates the company would carry on despite the bankruptcy filing and SEC investigation.
An administrative complaint has been filed against TelexFree by the Securities Division of Massachusetts, filed early Tuesday morning on the 15th.
In the complaint, Massachusetts allege TelexFree
engaged in the fraudulent offer and sale of unregistered securities in the Commonwealth of Massachusetts, in violation of the (Securities) Act and regulations.
Mirroring the BehindMLM TelexFree review I wrote all the way back in July 2012, here's how the Securities Division describe TelexFree:
While touted as a paradigm shift in telecommunications and advertising, TelexFree is merely a veiled pyramid and Ponzi scheme.

TelexFree's scheme borrows elements from the once common phone card frauds of the mid 2000s while supercharging its reach though (sic) an elaborate internet-marketing machine.

TelexFree has raised over $90,000,000 in Massachusetts and nearly $1,000,000,000 worldwide. Despite such an impressive capital raise, TelexFree operations are untenable without a continuous influx of new capital.

Indeed the financial basis of the TelexFree scheme centers on the recruitment of additional participants and placing online advertisements – not sales of 99TelexFree VOIP programs.
Readers of BehindMLM will not that I've long referred to TelexFree's VOIP service as facade to front their AdCentral Ponzi scheme. For anyone still doubtful, here it is spelled out for you:
TelexFree's business model purportedly revolves centers on the sale of its VOIP program 99TelexFree, despite the fact that TelexFree's president testified to having limited knowledge of VOIP and never having been in the telecom business.

Using technology borrowed from Disk A Vontade (Ozedit: Carlos Wanzeler's old company), a nearly identical venture with common management, TelexFree re-branded the VOIP program, offering it for a flat monthly fee of $49.90.

Unlike Disk A Vontade however, TelexFree coupled the VOIP program with a wildly lucrative and fraudulent scheme.
Using VOIP as a facade, TelexFree ran the AdCentral Ponzi investment scheme for almost two years. The business model was simple, use newly invested affiliate money to pay out existing affiliate investors.
The core of the passive income scheme centers around the investment of either $289 or $1375.

A participant who invests $289 receives one advertisement kit and ten VOIP programs. A participant who invests $1375 receives five advertisement kits and fifty VOIP programs.
The "advertisement kits" the Securities Division mention is of course the AdCentral investment positions we're all familiar with.
The TelexFree advertisement kit enables participants to generate a return by by posting pre-written advertisements, to pre-determined websites, through an automated TelexFree system.

A participant's daily use of the advertisement kits generates investment returns without the need for any VOIP program sales.

Over the course of a year, a participant who initially invests $289 and does nothing more than place one advertisement per day can receive profit of at least $681 – a return in excess of 200%.

Alternatively, a participant who initially invests $1375 and does nothing more than place five advertisements per day can receive profit of at least $3675 – a return in excess of 250%.

This feature alone has attracted thousands of individuals to invest in TelexFree.

Hidden among TelexFree's bonus structure and recruitment commissions is the fact that TelexFree participants may self-qualify.

Indeed, as testified by participants (Ozedit: Ooh, looks like the sneaky SEC went behind Labriola's back and interviewed his investors without his permission), a participant my invest in more than advertisement kit and personally purchase the VOIP program to earn bonuses (Ozedit: ROIs).

Thus, the participant may purchase a VOIP program, never use the program, and still qualify for additional income. Without ever selling the VOIP program, the participant receives a return far in excess of the 200-250% guaranteed return.
And mixed in with the Ponzi scheme side of TelexFree, was a dose of good 'ol fashioned pyramid scheme…
The passive income scheme generates further returns for participants through various bonus structures and recruitment commissions. TelexFree tailors each of the additional income streams to incentivize recruitment.

By merely recruiting one individual into the TelexFree scheme, a participant can receive as much as $100. By recruiting multiple individuals, TelexFree participants become eligible for revenue sharing bonuses of up to 3% of the TelexFree's VOIP program sales.
As called out on Kasey Chang's A MLM Skeptic blog back in February, Sann Rodrigues – who has a history of involvement in pyramid schemes – was welcomed into TelexFree with open arms:
Troublingly, TelexFree allowed certain participants to join the scheme despite prior run-ins with the law. TelexFree highlighted one such participant, Sann Rodrigues, as a top promoter in the world on the TelexFree website.

Rodrigues, a self-proclaimed millionaire, had previously operated a similar multi-level marketing phone card fraud shuttered by the SEC in 2006.
Rodrigues past should have set alarm bells within TelexFree, but sadly he was heralded as a hero at TelexFree events and instead applauded as he simultaneously ripped those off giving the applause.
On the financial math side of things I weighed in last week and came up with some interesting figures. Given complete access to TelexFree's financial records, here's the Securities Division blowing the unsustainable maths behind TelexFree wide open:
TelexFree's revenue, from VOIP sales alone, is inadequate to satisfy participant returns.
Before we continue, please let the above link sink in. And to any TelexFree affiliates reading this, anyone who tells you TelexFree has plenty of money to pay everyone is, to put it bluntly, absolutely full of shit.
In 2012 and 2013, TelexFree identified 4,845,576 VOIP program transactions totaling $238,395,353.80. Net revenue raised by TelexFree from VOIP program sales was significantly less due to substantial commission payments.

Importantly, Carlos Wanzeler could not identify the number of individuals purchasing only a VOIP program without also becoming a participant.

Wanzeler provided wildly varied estimates when challenged to identify the number of VOIP programs sold to non-participants.
If anyone ever asks me why I hold retail sales in such high regard when conducting BehindMLM MLM company reviews, the above is why. Non-participant retail sales matter to US regulators.
Herbalife would do well to take note of the Securities Division's comments above. They can't seem to be able to tell anyone how many of their customers are non-affiliates (retail) either.
Anyway, back to how TelexFree couldn't pay everyone out – despite all their promises to:
Over the same period, TelexFree had 783,771 investments of either $289 or $1375 totalling $880,189,455.32.

Assuming each participant invested only $289 and did no more than post one advertisement per day, TelexFree owed participants a total of $799,446,420.

Alternatively, if each participant invested only $1375 and did no more than post five advertisements a day, TelexFree owed $3,997,232,100 to its participants.
Note that I used conservative figures and estimated TelexFree's liability at just over $1,000,000,000 last week. I was closer to the lower-end of the scale but well within the Securities Divisions's ballpark.
Even more so when you consider my conservative numbers and the Securities Divisions's next statement:
According to data provided by TelexFree, $1375 investments accounted for 88% of transactions through Massachusetts based participants.

Even if only 50% of all participant investments were for $1375, TelexFree would still owe $2,398,897,200 – a number that far exceeds TelexFree reported total revenues over the same period.

This figure of almost $2.4 billion, does not even include further bonuses, recruitment commissions and revenue-sharing.
I based my calculation on 50% of the revenue being $289 investments, hence the lower $1 billion figure. But it's interesting to note the Securities Division used the same 50% conservative figure as an example in their complaint.
Proof yet again that common-sense due diligence cannot be substituted.
Meanwhile it was only a few hours ago that I passed the following comment on the mythology that there was any difference between Telexree's Brazilian and US operations:
TelexFree == Ympactus as far as I'm concerned.

I also see no difference between TelexFree Inc., TelexFree LLC, TelexFree International, TelexFree (insert random words here) Money Laundering Pty Ltd, TelexFree "This is where we keep our retirement fund" Global Inc. etc. etc.
And again, despite all the horseshit from TelexFree top affiliates about how things in Brazil had nothing to do with the US and vice-versa, common-sense due diligence again trumps all:
The difference between US TelexFree operations and Brazilian operations is a distinction without a difference.

As described by TelexFree management, the ownership interests in TelexFree Inc. (Massachusetts based), TelexFree LLC (Nevada based) and Ympactus (Brazilian based) overlap.

Both James Merril and Carlos Wanzeler, self-proclaimed founders of TelexFree hold 50% ownership interest in the United States entities and 20% and 40% interests respectively in the Brazilian entity.
Now the following, pertaining to resident TelexFree YouTube clown Carlos Costa, was completely new information to me:
Carlos Costa, head of Brazilian operations and longtime friend of Wanzeler, was an owner of TelexFree LLC. In late 2013, Costa withdrew his ownership for what Merril characterized as "legal reasons".
Legal reasons? Nothing suss…
Both Merril and Wanzeler testified to transferring at least $3,000,000 to Costa long after Brazilian authorities shut down Ympactus operations.
Oh snap! Costa is sitting in his YouTube castle sweet talking affiliates, all the while being fed their invested money on the sly? These fuckers are notorious.
As to the recent payment problems TelexFree affiliates have been experiencing, word on the grapevine was iPayout was trying to get TelexFree debit cards secured with a new provider after their old one inexplicably gave them up.
Here's what was going on behind the scenes:
Over two years of operations, TelexFree has employed multiple financial accounts, including domestic and international bank accounts and various online payment processors, to facilitate the fraudulent offer or sale of securities in Massachusetts.

Almost all financial institutions have terminated their relationship with TelexFree after only a few months of business.

Recently, frantic emails between TelexFree management and financial institutions paint an entirely bleak picture of continuing TelexFree financial operations.

TelexFree operations have become a risk that financial institutions are no longer willing to bear.

As described by one financial institution, "no US bank or processor… will accept your [TelexFree] business given that you are on month five of the Visa Chargeback monitoring program. You are only one of three merchants in the USA on month five so you are a real hot-potato as they say."
Whether or not TelexFree's long-standing US-based payment processor iPayout stuck with them to the bitter end or not is not immediately clear.
iPayout wrote to BehindMLM in October 2013 to protest against our coverage of TelexFree. iPayout claimed at the time
TelexFree is a US corporation based Massachusetts and is a separate entity from the business in Brazil.

i-payout has done a complete due diligence on TelexFree, assessed its needs, and confirmed the product as compliant with all US laws.
What a joke that turned out to be.
Folks, here's the bottom line:
Based on its investigation, the Enforcement Section believes that since 2012 TelexFree has offered or sold securities in the Commonwealth.

Through the offer or sale of unregistered securities, TelexFree has caused and continues to cause great harm to unsophisticated minority populations enticed by the fale pretense of getting rich quick.
Game over TelexFree. Thanks for playing. Adios, bon-voyage, farewell and good night.
Listed as defendants, the following individuals are named and shamed in the SEC's complaint:
Carlos Wanzeler – Treasurer, Director, Manager and CEO of TelexFree
James Merril – President, Secretary, Director and Registered Agent of TelexFree
Steven Labriola (aka Steve Labriola) – International Marketing Director of TelexFree
Carlos Costa – Manager and Director of Marketing of TelexFree
Fabio Wanzeler – Director of TelexFree
Lyvia Wanzeler – signatory authority of TelexFree
Sanderly R. De Vasconcelos (aka Sann Rodrigues) – previously barred by the SEC from making the offer and sale of securities, credited as a "top promotor of the world" of TelexFree
For their part in the orchestration of the $1 billion dollar TelexFree Ponzi scheme, they have been issued a cease and desist by the SEC. They are also now required to
provide an accounting of all proceeds which were received as a result of the alleged wrongdoing, and to offer restitution to and fairly compensate investors for those losses attributable to the alleged wrongdoing
disgorge all profits and other direct and indirect remuneration received from the alleged wrongdoing
The SEC are also requesting the court "impose an administrative fine" on the defendants, the amount of which is to be determined at a later date.
Lawyer up boys, it's time to pay out those you stole from.
Here at BehindMLM we've been covering TelexFree for nearly two years. In light of the SEC's complaint and probable conclusion to the global $1 billion Ponzi scheme TelexFree represented, I'd like to personally thank the scores of readers who contributed via comments and emails.
To those readers, the helpful translators who helped me get my head around much of the Portuguese and Spanish material I found myself dealing with, Google Auto-translate for being there as a last resort, the various members of the Brazilian media I've been in contact with, the TelexFree affiliates who at one time or another provided me with insider information and/or documentation, various relatives of some of the ringleaders involved, the BehindMLM regulars who've been with me for a number of years now and anyone else I might have forgotten to specifically mention, I offer up my most heartfelt of thanks.
And of course finally to you, the readers of BehindMLM. This site isn't what it is without you.
Footnote: It should be noted that this filing comes from the Massachusetts Securities Division. The SEC at a federal level are yet to step into the fray.