1ClickDay Review: Advertising package Ponzi scheme

There is no information on the 1ClickDay website indicating who owns or runs the business.
The 1ClickDay website domain ("1clickday.com") was registered on the 9th of September 2012, however the domain registration is set to private.
As always, if an MLM company is not openly upfront about who is running or owns it, think long and hard about joining and/or handing over any money.
The 1ClickDay Product Line
1ClickDay has no retailable products or services, with affiliates only able to market affiliate membership to the company itself.
Once an affiliate joins 1ClickDay, they are then able to invest in the company at either the ClickStar ($2100 + $100 "insurance") or ClickSimple ($420 + $50 "insurance") package level.
Each package permits an affiliate to submit an advertisement to the 1ClickDay, which they then "guarantee" will receive a certain number of clicks over the 100 day lifespan of the package investment.
A $200 "International Card" is also offered to 1ClickDay affiliates, however no further information is provided.
The 1ClickDay Compensation Plan
1ClickDay offers its affiliates two packages, either the ClickSimple package $420 + $50 "insurance") or ClickStar ($2100 + $100 "insurance").
ClickSimple pays out $5 per day, with $2 paid in cash and $3 placed into a ClickPoint balance
CliciStar pays out $40 per day, with $17 paid in cash and $23 placed into a ClickPoint balance
Both packages pay out for 100 days, with affiliates being required to click provided ads on the 1ClickDay website in order to qualify for their daily ROI payment.
ClickPoints appear to be a virtual currency within the scheme, with 1ClickDay allowing affiliates to use ClickPoints to re-invest after a package expires:
ClickSimple can be paid for with up to 220 ClickPoints ($200 cash required)
ClickStar can be paid for with up to 1550 ClickPoints ($550 cash required)
Referral Commissions
Referral commissions are offered on all package purchases, and are paid when a package position matures after 100 days.
ClickSimple packages pay $100 on level 1 (personal recruits) and $20 on level 2
ClickStar packages pay $400 on level 1 (personal recruits) and $80 on level 2
An additional "MyTeam" bonus is offered on recruitment levels 2 to 6 (using a unilevel), paid out at a rate of
$10 for a ClickSimple package and
$60 for a ClickStar package
Binary Commissions
Upon purchasing either a ClickStar or ClickSimple package, an affiliate is placed at the top of a binary compensation structure.
A binary compensation structure places an affiliate at the top of the structure, with two positions directly under them.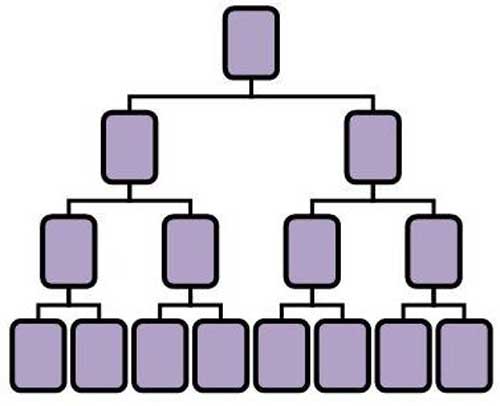 In turn, these two legs branch out into another two positions and so on and so forth down a theoretical infinite number of levels.
Each position in a binary represents a bought ClickSimple or ClickStar package by recruited affiliates. Commissions via a 1ClickDay binary are paid at a rate of $6 per filled position, capped down a maximum of 16 levels.
Matrix Commissions
When a 1ClickDay affiliate purchases their first package, they are placed in a company-wide 3×8 matrix. This matrix operates in the same manner as a binary, but has three positions on each level rather than two and is capped down eight levels.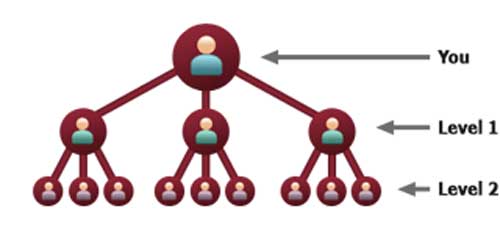 Once again, each position in the matrix represents a purchased package position, however this time the positions are filled via company-wide position purchases, rather than solely on the purchases of an affiliate and that of their up and downlines.
For each position filled in a 1ClickDay affiliate's matrix, the company pays out a $7 commission.
Additional ClickStar Bonuses
Several bonuses are outlined in the 1ClickDay compensation plan material for affiliates who invest in ClickStar packages, however they are poorly explained and try as I might, I'm unable to figure out what they are paid out on (seems to be additional binary commission bonuses and something to do with the $200 cards 1ClickDay offer).
Joining 1ClickDay
Affiliate membership to 1ClickDay is $49 every 100 days.
Note that affiliates must invest in either a ClickSimple or ClickStar package if they wish to earn any commissions within the 1ClickDay business opportunity.
Conclusion
With no retail product and all revenues generated within 1ClickDay being affiliate-funded and paid out via a 100 day investment-based business model, 1ClickDay functions as your run-of-the-mill Ponzi scheme.
The addition of binary and matrix commissions add an MLM component to the scheme, subject to recruited affiliates investing and continuing to invest in ClickSimple and ClickStar packages.
The front used is advertising, with the company promising advertising clicks to affiliates who submit advertisements. Those clicks are of course sourced via the company's affiliates, who are required to click supplied advertisements if they wish to earn their daily ClickSimple and ClickStar ROIs.
Paying out $500 on a ClickSimple package ($80 ROI) and $4000 at the ClickStar package ($1900), it's obvious that the idea is to get affiliates in at the ClickStar level.
I suspect the ClickSimple level is only offered as an alternative to skeptical affiliates, who upon receiving their ClickSimple daily ROI will be convinced to invest at the higher level (otherwise offering $80 over 100 days makes little sense).
Unfortunately as with all Ponzi schemes once new investment stop so too will the daily ROI that 1ClickDay promises. Throw in all the extra bonuses 1ClickDay offer their affiliates and past the initial 100 days, I'd be very surprised if the company can continue to attract new investors and pay out existing affiliates.
The forced re-investment via ClickPoints will prolong the scheme somewhat, but long-term there's simply no way that paying out more than you take in is viable.
With anonymous domain registration and no mention of who is running things on the 1ClickDay website, you can be sure the owner(s) of 1ClickDay are ready to shut everything down and do a runner the second ROI liabilities exceed incoming investment.
As a final note, alot of the affiliate-side promotional material for 1ClickDay appeared to be in Portuguese and targeting Brazil. As such I believe 1ClickDay might be being marketed as a TelexFree Ponzi reload scheme.