Bitcoin Economy Review: Bitcoin made simple?

Bitcoin Economy is currently in prelaunch with an announced launch set for February 3rd 2014.
The company's website domain is registered anonymously ("bitcoin-economy.com", registered 29th November 2013), however the Bitcoin Economy "Terms and Conditions" indicate that the company is registered in Seychelles (a known tax-haven):
This site (excluding third party linked sites) is controlled by the Company from its offices within the State of Seychelles.

Both you and the Company agree that the statutes and laws of Seychelles shall apply to any actions or claims arising out of or on relation to this Agreement or your use of this site.
The Bitcoin Economy affiliate agreement appears to contradict this, stating that
the formation, construction, interpretation, and enforceability of your contract with Bitcoin-Economy as set forth in this Affiliate Agreement and any incorporated documents shall be governed by and interpreted in all respects under the laws of the Netherlands without regard to conflict of law provisions.
Adding more confusion to the mix, the Bitcoin Economy affiliate agreement goes on to state that affiliates are entering
into contract with Direct Selling Global News, Ltd., doing business as "Bitcoin-Economy."
I couldn't find any specific information on Direct Selling Global News Ltd., but in the Bitcoin Economy FAQ the company discloses they use Hong Kong based banking channels:
Direct Selling Global News Ltd.
Account number: 848-535290-838
RM 2106 21/F Lemmi Ctr
50 Hoi Yuen RD
Kwun Tong KLN, Kowloon, Hong Kong

Bank info:

HSBC Bank
Head Office, 1 Queen's Road Central
Hong Kong
SWIFT: HSBCHKHHHKH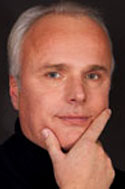 Named on the Bitcoin Economy website as CEO of the company is Martin Bylsma (right). On his Bitcoin Economy corporate bio Bylsma is credited with having worked at Vemma (Managing Director, Europe), Agel Enterprises ("GM" for Belgium, the Netherlands, Luxembourg and Iceland), ACN (Director of Field Support, Europe) and Amway (General Manger, Europe).
On his LinkedIn profile, Bylsma lists himself as operating out of Amsterdam in Norway.
Bitcoin Economy don't explain why they are using Hong Kong based banking channels, however they do state why they are registered in Seychelles in their FAQ:
Why is the company holding founded in the Seychelles?

As most other classic offshore companies, a Seychelles International Business Company (IBC) is a tax-free corporation designed for engagement into all forms of international business, with no reporting and minimum record-keeping requirements, and comprehensive confidentiality features.

A Seychelles IBC, by the definition of the law, is not subject to any tax or duty on income or profits. It just did not make sense to incorporate our Internet/ Bitcoin company in the USA, Europe or Asia.
Read on for a full review of the Bitcoin Economy MLM business opportunity.
The Bitcoin Economy Product Line
Bitcoin Economy offer a subscription based training course that they claim results in the participant becoming a "Bitcoin Certified User" or "Bitcoin Certified Expert".
In this course we teach how to learn and earn with Bitcoins. You have your certificate and you have the "WOW" factor, you are an innovator!
According to the Bitcoin Economy, subscribers of the Bitcoin Certified User course will be able 'explain in a smart way your friends and family what Bitcoins is all about'. Subscribers of the Bitcoin Certified Expert course will 'learn how to earn with Bitcoins'.
The Bitcoin Certified User course retails for $25 a month and Bitcoin Certified Expert Course for $95 a month.
Note that Bitcoin Economy only accept Bitcoin for product subscriptions, meaning the above prices are floating variables.
The Bitcoin Economy Compensation Plan
The Bitcoin Economy compensation plan revolves around the sale of the company's two subscription courses ($25 and $95 a month).
Commissions are paid out using a perpetual 1up style compensation plan. In Bitcoin Economy's 1up based compensation plan, affiliates earn commissions on their first, third and fifth sale and pass up their second, fourth and sixth sale to the affiliate who recruited them. Thereafter, every fifth sale is also passed up to the affiliate who recruited them.
Each subscription plan is treated as a separate pass-up system, with Bitcoin Economy affiliates being required to buy into the two levels in order to get paid: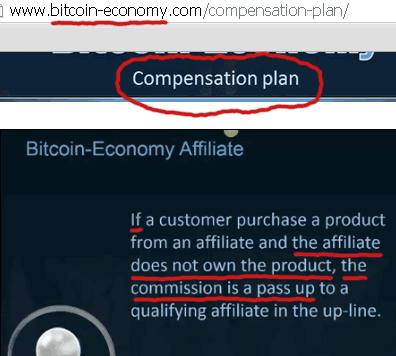 100% of the funds paid in subscription fees either kept by the affiliate who made the sale or passed up to the affiliate who recruited them.
In turn, an affiliate who recruits new affiliates also receives pass-up commission from their second, fourth and sixth (and every fifth thereafter) sales.
Joining Bitcoin Economy
Affiliate membership to Bitcoin Economy is $20 a month, or $199 annually.
Note that Bitcoin Economy state that affiliate membership fees (excluding the $199 annual fee during prelaunch) must be paid "in Bitcoin", meaning the above prices are floating variables.
Additional affiliate costs include the purchase of both subscription courses ($25 and $95 a month), which without a purchase the Bitcoin Economy compensation plan states affiliates can not earn commissions on (see Bitcoin Economy compensation plan above).
Conclusion
You understand the volatile nature of Bitcoin as a currency. Bitcoin-Economy is not in the business of providing investment advice.

-Bitcoin Economy affiliate agreement
Here's my problem with Bitcoin Economy from an MLM perspective: No matter how you cut it, the company is offering advice to subscribers on converting real money into Bitcoin, something, something, everybody makes money.
Something, something? Investment advice. Or more specifically, from Bitcoin Economy's "products" page:
How to earn Bitcoins in a massive way, investments, Bitcoin exchanges, Bitcoin Forex and more!
Yet tucked away in the affiliate agreement, Bitcoin Economy warns subscribers
You understand the volatile nature of Bitcoin as a currency.  Bitcoin-Economy is not in the business of providing investment advice.
You're going to "teach" people how to convert real money into Bitcoin and then earn money via "investments, exchanges, Forex and more"…. and you're going to do it without giving investment advice?
Cut the crap guys.
There's no way around the simple fact that making money in Bitcoin involves the conversion of tangible currencies. You're offering investment advice because that's real money going into Bitcoin, which you're then "teaching" people to convert into profit.
Not only that, but you're also trading in your own virtual currency on top of Bitcoin:
When you sign up, we create an internal bitcoin wallet for you.
This "internal wallet" isn't pegged to anything but Bitcoin Economy itself, with the company stating they convert funds in the wallet by taking 'the average $USA price of 3 major exchanges'.
There's nothing wrong with providing Bitcoin investment advice on its own, but as an MLM product? And trading your own virtual currency with affiliates to boot?
On the Bitcoin Economy FAQ page, the company writes:
In our operations we look closely to the USA (MLM) law and we strive to be compliant with all international business laws. Our MLM lawer is from the USA.
Why would an "MLM lawyer from the USA" advise Bitcoin Economy to register itself offshore in Seychelles and use Hong Kong banking channels?
I can think of one three letter reason… combined with Bitcoin Economy's own provided reasoning: "no reporting and minimum record-keeping requirement".
On the compensation side of things Bitcoin Economy doesn't fare any better. The company forces affiliates to buy in at two levels, pay a fee to participate and then earn 100% gift payments from those they recruit.
Despite talk of retail customers on the Bitcoin Economy website, the fact is the company itself doesn't retail anything… except affiliate fees. Affiliates and customers pay affiliates 100% of the money they put into the scheme, designating the affiliate fee to nothing more than permission to participate in effective gifting.
Pay your $25 a month and receive $25 and/or $95 monthly payments from those you recruit. If they pay $25 they too can do the same, and they'll also gift up certain payments to you too.
I'll say it again, any claims that anything other than affiliate subscription fees are being bought and sold is negated by the fact Bitcoin Economy themselves do not charge for their training.
At best the company gives it away when those participating give money to those who introduced them to the scheme.
At the top of the scheme (and gifting payments chain)?
The company is founded by a group of 20 international bitcoin "Die Hard's", multi level marketing professionals, compensation plan and accounting experts, and top-level business people.
Those familiar with the MLM industry at large will note Bitcoin Economy's compensation plan is similar to Empower Network (who the industry can thank for this current gifting resurgence). $20'ish affiliate fee with "educational" subscription-based courses fronting the transfer of money between affiliate participants.
Not at all surprising when you consider Tissa Godavitarne serves as Bitcoin Economy's "Chief Sales Officer":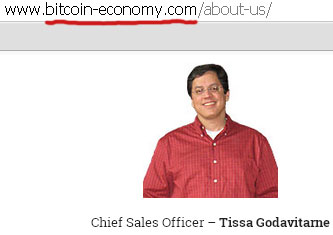 Back in February 2013, BusinessForHome's Ted Nuyten "welcomed" Godavitarne to his Empower Network downline on his website, "TrafficWithEmpower":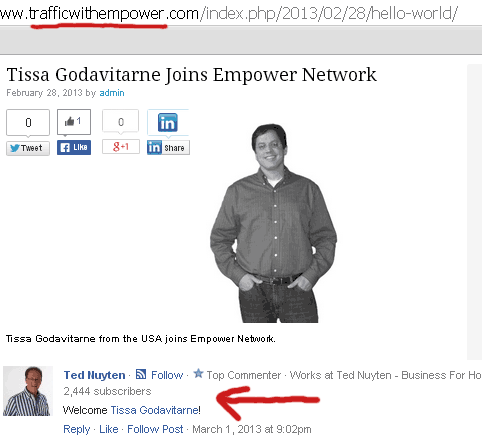 And a week ago a Bitcoin Economy advertorial appeared on BusinessForHome, laced with an affiliate link ("topteam"):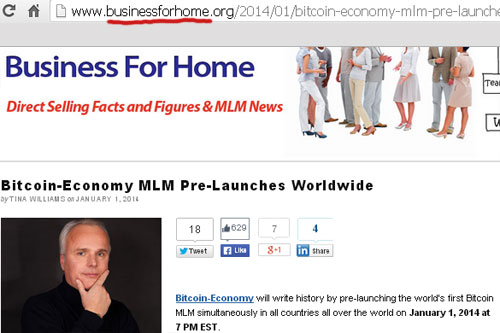 Whether or not the affiliate links belong to Nuyten or not is unclear (they don't belong to Godavitarne as per the Bitcoin Economy affiliate links on his own website), but if they do – from one MLM blogger to another I hope you know what you're getting yourself into Ted.
These are some increasingly murky waters you're wading through. Ditto anyone else who thinks paying money to receive money from other participants under the guise of an offshore MLM company providing Bitcoin investment advice, is a good idea.
Footnote: I'm well aware the combination of Bitcoin and MLM is new territory for the industry. That said, any comments attempting to superimpose the legitimacy of Bitcoin, Forex and/or currency exchange onto Bitcoin Economy, whilst simultaneously ignoring the company's MLM business model, will be marked as spam.