Ormeus Global Prelaunch Review: 160% ROI "B2x89" trading bot

Ormeus Global recently went into prelaunch so specific details about the company, its business model and compensation plan are sketchy.
When Ormeus Global intends to launch and whether or not they'll disclose basic information about the company is unclear, however at this time they are taking sign ups.
That means it's time for an Ormeus Global prelaunch review…
The Company
Ormeus Global provide no information on their website about who owns or runs the business.
The Ormeus Global website domain ("ormeusglobal.com") was privately registered on February 24th, 2017.
At the top of the Ormeus Global website is a "login" button, which redirects visitors to the "ormeusbackoffice.com" domain.
The Ormeus Backoffice domain was registered on April 10th, 2017. Joseph Frazier of o ApogeeInvent is listed as the owner.
ApogeeInvent appear to be a web design company. The company website asks visitors to 'think of us as your fairly priced, well respected, web tailor.'
Joseph Frazier is CEO of ApogeeInvent.
On the ApogeeInvent website, website design, web development, SEO and "viral video production" services are advertised.
Update 12th September 2017 – Joseph Frazier has been in touch and advises;
ApogeeInvent's and Joseph Frazier's only involvement with Ormeus is we sold them a copy of our TitanMLM software platform and bought them a domain name.

We do not have any further information about them. We are purely a software vendor.
/end update
The Ormeus Backoffice website is currently nothing more than a login page for affiliates.
The source-code for the website however reveals an email address that  uses the "ormeus.com" domain: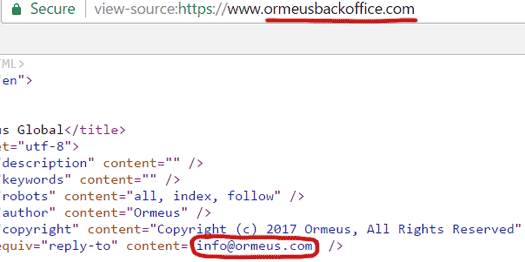 The Ormeus domain was registered on February 24th, the same date as the Ormeus Global domain. The company "iAM Marketing" is listed as the owner, through an email address belonging to Anthony Simmons.
The iAM Marketing website identifies Simmons as the company's "Systems Administrator".
iAm Marketing are a marketing company that provide, among other things, "compensation plan development", "white label cryptocurrency" and product sourcing, marketing and shipping services.
iAM Marketing is headed up by founder John Barksdale. According to his Facebook profile, Barksdale is based out of Thailand.
So far we have a web design company and marketing firm tied to Ormeus Global, but no information about who is actually running the company.
If you click "login" and then "forgot your password?" on the Ormeus Backoffice website, the source-code of the page that loads reveals the following information: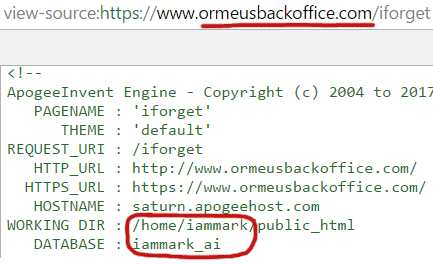 What we learn from that is the Ormeus Global website is being hosted with ApogeeInvent, but more importantly the account is in the name of iAM Marketing.
This is not how a marketing company would typically set up a client hosting account, even if they were offering an "all in one box" solution.
Rather it strongly suggests that iAM Marketing and Barksdale are directly involved in the running of Ormeus Global.
Pending further information surfacing, this is all I was able to put together on Ormeus Global at this time.
Ormeus Global Products
Whether Ormeus Global has a retail offering is unclear.
The company website mentions an "accredited cryptocurrency education" course branded as InnerQuest, Ormeus Coin cryptocurrency and Ormeus Qi.
ORMEUS QI – ENERGETIC WELLNESS PRODUCTS

-State-of-the-Art Formulations

-Similar to those used by top Olympic athletes.

-Pain management, appetite control, sleep issues, and more.
At the time of publication no further information is provided.
The Ormeus Global Compensation Plan
Ormeus Global affiliates invest money on the promise of a 160% passive ROI, purportedly derived from "trading".
B2x89, our proprietary "bot trader", employs sophisticated algorithmic trading strategies and offers up to a 160% return in a completely automated, hands off environment. Set it and forget it!

Ormeus Master Trader deposits Bitcoin into a secure account that actually mirrors the trades of a top professional Forex Trader. You are in complete control of your account.

Deposit as much or as little as fits your budget while our professional trader does the rest. Just sit back, watch, and let the pros do it for you.
This might just be a coincidence but John Barksdale's Facebook wall is heavy with cryptocurrency content.
On the MLM side of things Ormeus Global are using a binary compensation structure.
A binary compensation structure places an affiliate at the top of a binary team, split into two sides (left and right):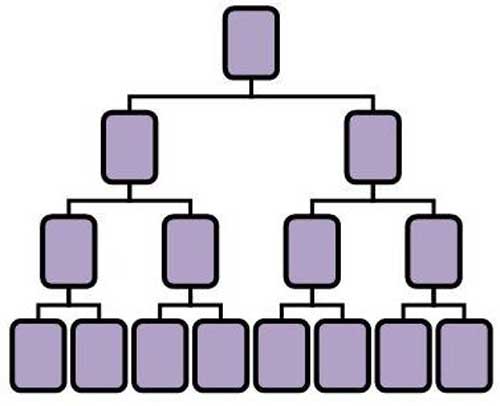 The first level of the binary team houses two positions. The second level of the binary team is generated by splitting these first two positions into another two positions each (4 positions).
Subsequent levels of the binary team are generated as required, with each new level housing twice as many positions as the previous level.
Positions in the binary team are filled via direct and indirect recruitment of affiliates. Note that there is no limit to how deep a binary team can grow.
Ormeus Global's use of a binary compensation structure will see the company track invested funds on both sides of the binary team. Affiliates are paid a residual commission as a percentage of funds invested by their binary team.
Ormeus Global haven't revealed whether they intend to pay a percentage of weaker side binary volume or matched volume at this time.
Joining Ormeus Global
Ormeus Global currently charging anything for affiliates to signups. This might change when the company launches.
Despite not costing anything to sign up, affiliate's should be advised that an investment is required to receive a 160% ROI. Payment of some sort will also likely be required to qualify for residual MLM commissions.
Conclusion
Your first major red flag that Ormeus Global are engaged in suspicious business activity is the following line from their website:
Ormeus is not available in the United States.
Cryptocurrency, cryptocurrency trading, cryptocurrency education courses and "wellness products" are all legal in the US. The only reason an MLM company offering these services and products would prohibit US residents from signing up is if all is not what it seems.
The obvious drawcard in Ormeus Global is the 160% passive ROI. This is also likely why Ormeus Global prohibits US residents from signing up as affiliates.
Such an offering in the US would require SEC registration, as it is quite obviously a securities offering. Despite the same registrations required elsewhere in the world (typically where a securities regulator exists in any country investment is solicited in), it's no secret the US is strictest on regulation of Ponzi fraud.
Ormeus Global's B2x89 trading bot is presented as some sort of wonder machine that can consistently generate 160% ROIs. Owing to residual commissions, the actual ROI the bot needs to generate is actually higher.
160% or otherwise however, Ormeus Global's claims about B2x89 don't pass the Ponzi logic test.
If whoever is running Ormeus Global actually had a completely passive crypto trading bot that generated consistent ROIs of 160% or more, within a timeframe that was attractive enough to attach to an income opportunity, don't you think they'd be quietly running it for themselves?
Offering use of the bot to randoms over the internet to generate ROI liabilities you have to pay out, on top of pyramid recruitment commissions, makes no sense.
While B2x89 might exist and perform some trading, any gains are likely to be dwarfed by affiliate investment. The use of newly invested funds to pay off existing affiliates a 160% ROI would make Ormeus Global a Ponzi scheme.
And this is likely why the company is not (officially) operating in the US.
If Ormeus QI is available as a retail offering, it too might generate some revenue – but given the 160% ROI is the drawcard, again affiliate investment is going to be the primary source of revenue.
Not withstanding, at the end of the day whatever you attach to a Ponzi scheme is irrelevant. The use of newly invested funds to pay a passive ROI to existing investors is financial fraud.
With respect to the Ormeus Coin offering, these are either non-publicly tradeable Ponzi points or a pump and dump altcoin.
If not publicly tradeable, the value of Ormeus Coin will be set by the company and worthless outside of the company. If pre-mined (MLM altcoins usually are), Ormeus Coin would also provide the company a near cost-less way to pay out all or a portion of ROI payments and commissions.
If Ormeus Coin is publicly tradeable, once Ormeus Global affiliate investment inevitably slows down the value of Ormeus Coin will tank.
Either way it exists for no other reason that to mitigate some of the 160% liability each affiliate investment generates.
At the end of the day whoever is running Ormeus Global has gone to a lot of trouble to avoid disclosing they're behind it. That the company isn't operating in the US is conducive to financial fraud, which there's a lot of potential for in Ormeus Global's compensation plan.
For now the company is only harvesting email addresses under the proviso of accepting affiliate "pre-enrollment". At some point though you're going to have to cough up money,
As far as disclosure for an MLM company asking for money goes, Ormeus Global currently leaves a lot to be desired.