Coinset: EvoRich ringleaders continue NFT grift

EvoRich was a spinoff of Anatoly Yunitskiy's Skyway Capital Ponzi scheme.
Andrey Khovratov, EvoRich's founder and CEO, was arrested in Russia in April 2022.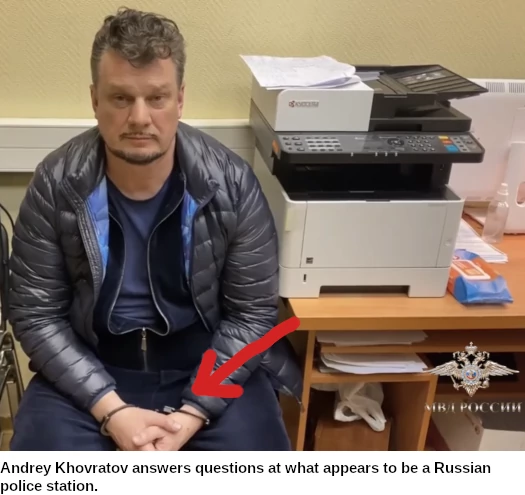 Khovratov has been charged with criminal fraud and, as of May 2023, remains in pre-trial detention behind bars.
Armands Murnieks doesn't publicly acknowledge Khovratov's arrest. He refers to it as a "force majeure".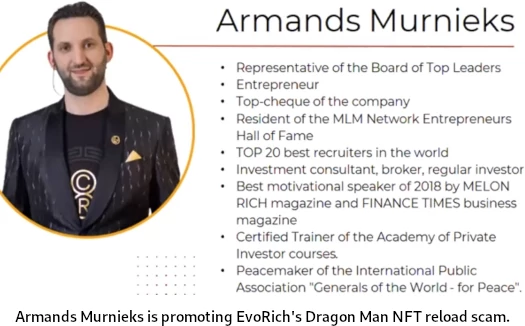 Murnieks joined Skyway Capital back in 2014 and was one of EvoRich's top net-winners.
After Khovratov's arrest, Murnieks and several accomplices scrambled to funnel their victims into several reload scams.
So far we've had Bobcoin (May 2022), FNT (September 2022) and Dragon Man NFTs (September 2022).
What's left of the EvoRich reload scams has now been grouped under Coinset branding.
Today we're looking into Coinset and the ongoing attempts to pump worthless EvoRich bags.
Central ringleaders in Coinset are Murnieks and Mila Serdjukova.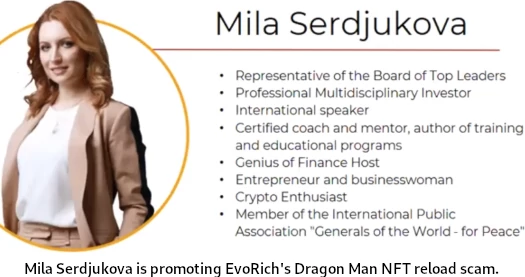 Serdjukova is attached to Russian national Valentin Sokolonikov, who she just had a baby with.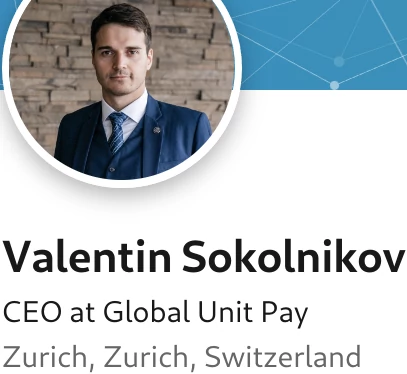 Sokolonikov was EvoRich's Head of Consumer Control and Analysis. He is also CEO of Global Unit Pay.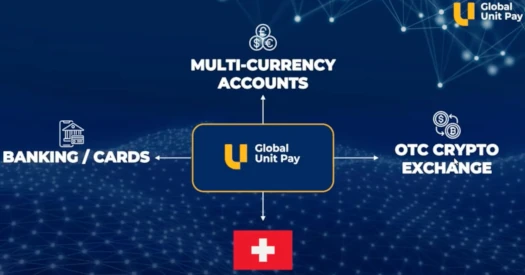 Of the EvoRich reload scams BehindMLM has covered;
Bobcoin appears to have been abandoned (as an EvoRich reload scam);
FNT's website is dead; and
Dragon Man NFTs remain attached to a film production stuck in limbo for three years (the grift was selling NFT investment positions attached to a vaporware movie)
Coinset operates from the domain "coinset.info", privately registered on November 17th, 2022.
A visit to Coinset's domain reveals it is registered but not set up to host a website.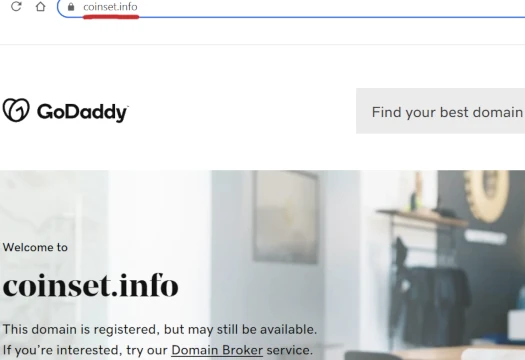 Coinset's affiliate log in form is hidden on an "office" subdomain.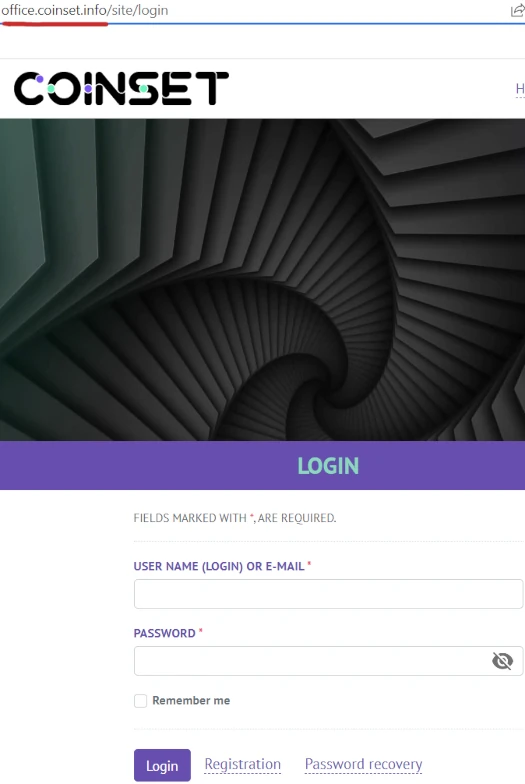 At least for now, Coinset is strictly targeting EvoRich victims only.
So what is Coinset?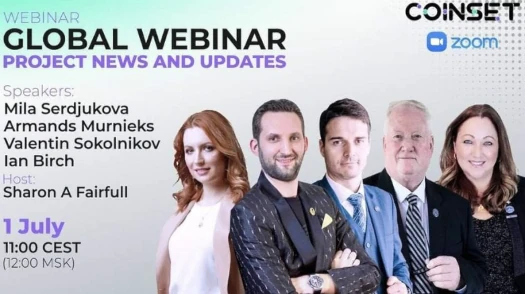 Basically you have the baggage carried over from EvoRich, combined with the newly created baggage from the reload scams, combined with some new baggage-in-the-making.
First up we have the Dragon Man NFT grift. Despite being first pitched about a year ago, the NFTs purportedly went out "by the end of May" 2023.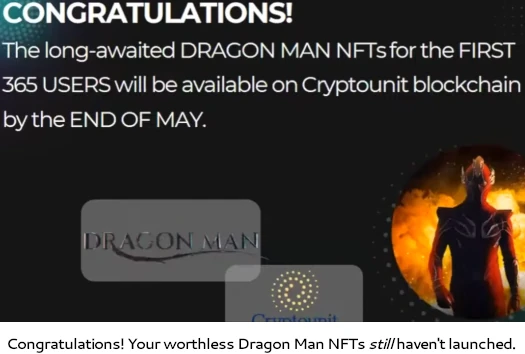 This coincides with Coinset launching a "market hub" and "product hub":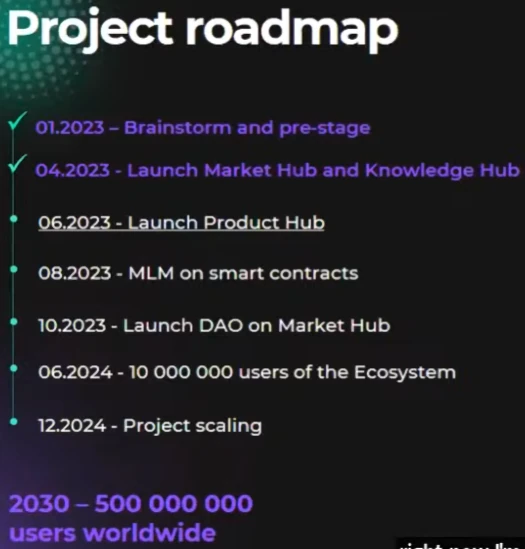 Coinset's primary money spinner is seven tiers of NFT membership, ranging in price from $50 to $15,000.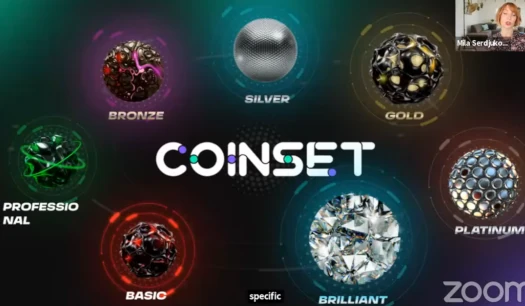 For some reason only the first tiers are being released for now:
Basic – $50
Professional – $500
Bronze VIP – $2000
I suspect this is due to
not wanting to commit too much if Coinset's NFT memberships flop; and
not knowing what to put in the higher tiers, which also ties back to the first reason
The highest Bronze VIP NFT tier available is pretty vague: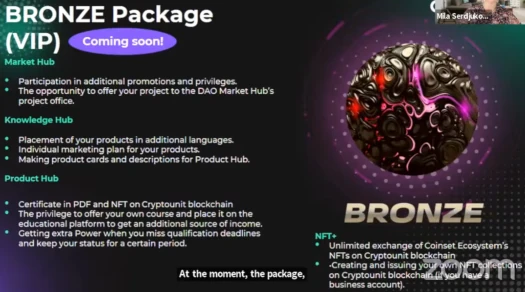 Market Hub – "additional promotions and privileges" and the ability to run your own schemes
Knowledge Hub – ability to sell products to other Coinset affiliates
Product Hub – a PDF certificate (of what?), ability to sell courses to other Coinset affiliates, rank qualification safety net
ability to create and shill NFTs to other Coinset affiliates
That's a lot of vagueness for the $2000 asking price.
Next up we have Emmanuel Baroni of NDE Italia S.r.l.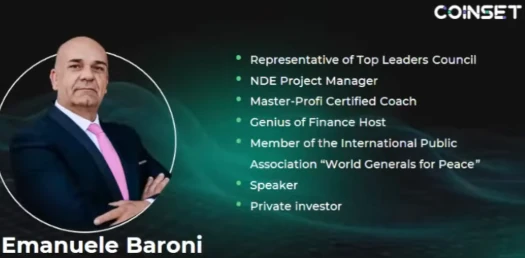 Baroni is hoping to sell a "digital encyclopedia" to Coinset affiliates on a bi-annual $200 subscription.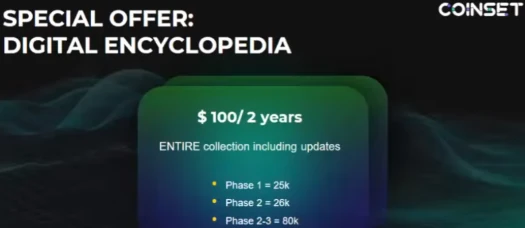 I feel like I don't really need to get into why selling a digital encyclopedia in 2023 is a DOA business concept.
Baroni also hopes to sell courses to Coinset affiliates for $230 (recorded) to $440 (live) each:
This is a bit more of a viable sounding business model…
….until you realize the courses are just trojan horses for EvoRich bagholders to offload their losses through.
Aidan Ward, an Australian EvoRich net-winner, heads up marketing for Evo Power Unit (EPU).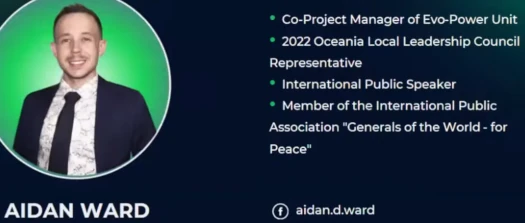 Ward works closely with fellow Australian EvoRich net-winner, Ian Birch: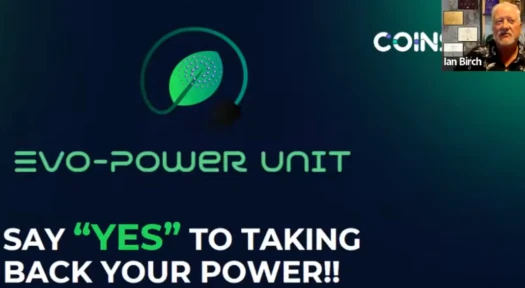 Evo Power Unit is purportedly headed up by CEO Brad Carver, another Australian: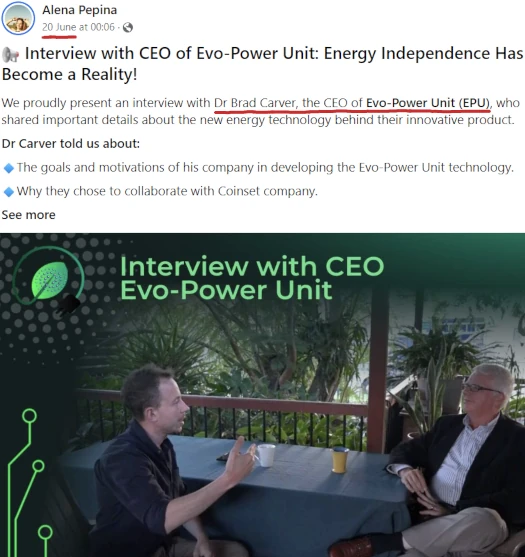 Other than noting he's a golfer from Queensland, I wasn't able to dig up anything further on Carver.
In any event, Evo Power Unit is some battery tech that Aidan Ward thinks will compete directly with Tesla's Powerwall.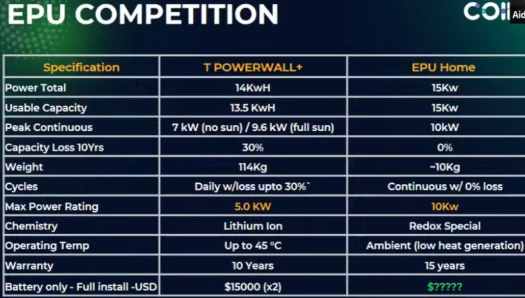 Sale of Evo Power Units will be funnelled back into Coinset, again in the hope of funding EvoRich bagholders wanting to cash out.
Just one problem…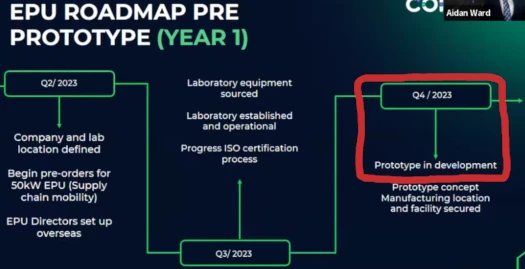 Evo Power Unit is currently in the "pre-prototype" phase.
That of course doesn't matter with respect to fleecing EvoRich bagholders through Coinset.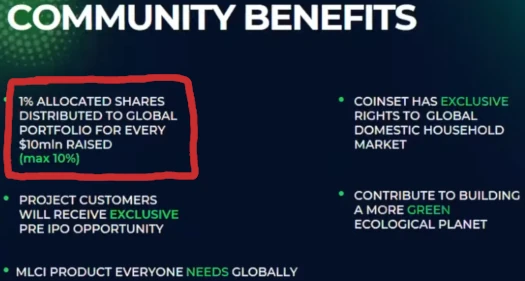 Evo Power Units can be preordered for $2500 to $6000 each.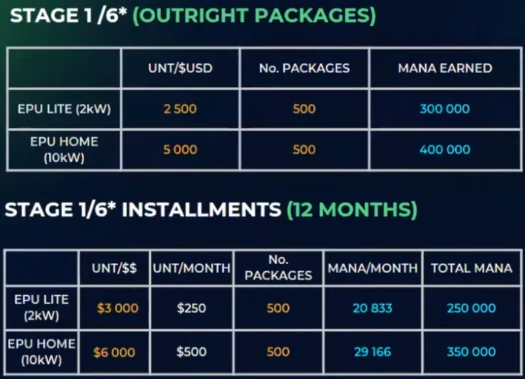 These pre-orders come with "MANA" points: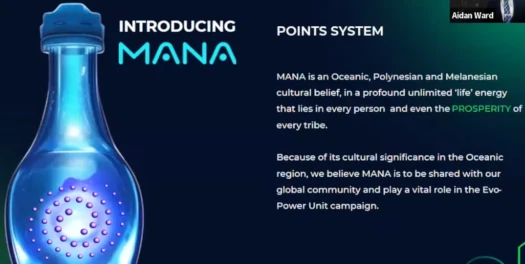 MANA pays commissions down five levels of recruitment…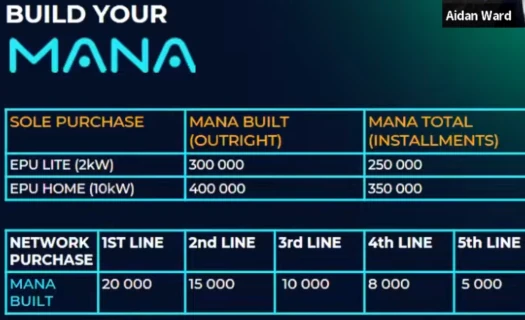 …and are attached to a virtual shares scheme: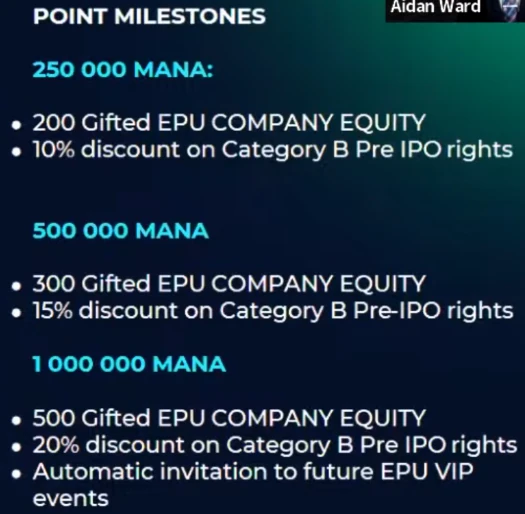 Neither Coinset, Evo Power Unit or anyone involved are registered to offer securities in any jurisdiction – so this is of course all illegal.
The only other thing of note is the launch of GFST token, which is yet another token/coin attached to EvoRich for people to lose money through.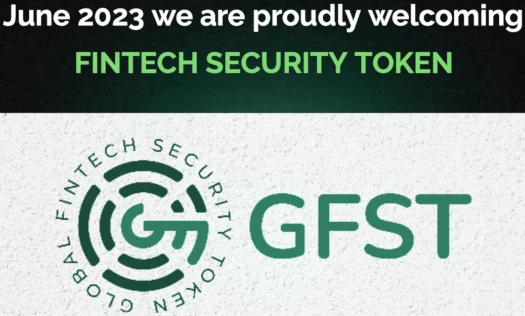 This probably isn't all of them but since EvoRich launched they've had CRU, WCRU, STO, BOBC and FNT.
In non-crypto MLM Ponzi schemes, once they collapse it's pretty much over. In MLM crypto Ponzi schemes however, admins are able to string victims along for as long as they can maintain the illusion of hope.
In the case of Coinset, that appears to be "throw as much shit on the wall and hope something sticks".
Aidan Ward openly acknowledges the plan is to recreate the initial Skyway/EvoRich hype that lured investors into the scam.
Who was there when they were first getting pitched about NEEW Sky, the innovative transport technologies company that we've worked with?

Right? And they went and had all the pictures of, y'know, what it would go and look like and what it would go and mean, right?

And it got you thinking, it got you imagining, like, wow. This could be a legacy that I could go and leave my kids, or my grandkids or my great-grandkids and so on and so forth.

Well, this  meets the exact same belief, the exact same imagination, the exact same power that goes and comes.

These guys have the technology … all they need is the support from us. They need the community. These guys aren't networkers.

This is where we come in. Through the power of multi-level crowd investing. Through the power of community back in our golden era. When everyone was excited.
Putting aside the elephant in the room, that Skyway Capital's monorail project is and always has been a sham (it was never meant to be more than a Ponzi marketing tool), so far nothing has stuck after Andrey Khovratov's arrest.
And with little to no interest outside of the collapsed EvoRich Ponzi scheme, things are likely to stay that way.
I'm not closely following Coinset but we'll probably revisit in six months to a year to see how the bagholding has further deteriorated.
That could come sooner if Russian authorities sentence Andrey Khovratov to prison. We'll see what comes first.