EvoRich Review: Skyway Capital Ponzi spinoff bumbles along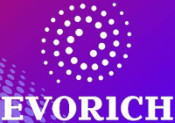 EvoRich is a spinoff of the long-running Russian Ponzi scheme, Skyway Capital.
Heading up EvoRich is Andrey Khovratov (aka Andrii Khovratov, Andrei Khovratov), a former Skyway Capital executive.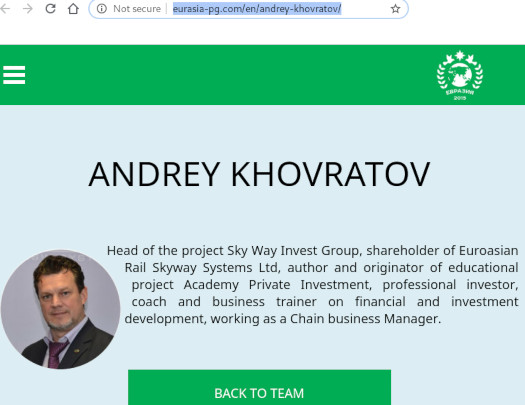 Khovratov is/was part of Skyway Capital's inner-circle. In 2017 Khovratov filed a defamation lawsuit against a Russian media outlet on behalf of Skyway Capital.
He lost the case.
In July 2017 Khovratov threatened another media outlet in Crimea after they published an article critical of Skyway Capital, bringing up Anatoly Yunitskiy's own unsuccessful lawsuit against a Belarus media outlet.
Yunitskiy put Khovratov in charge of Skyway Capital's transition to cryptocurrency in 2017.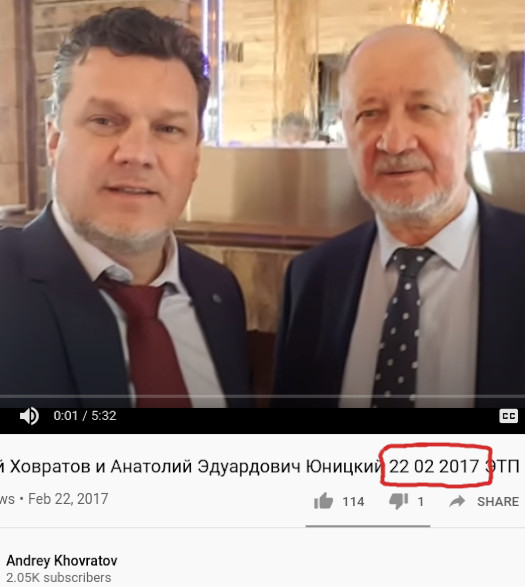 The man on the right in the screencap above is Anatoly Yunitskiy, the founder of Skyway Capital.
Skyway Capital was initially going to launch Skyway tokens. As the months and years dragged on however, those plans changed to CryptoUnits.
BehindMLM first documented Skyway Capital jumping on the crypto Ponzi bandwagon in March 2019.
In line with Skyway Capital creating dozens of shell companies to run each ruse they come up with, eventually NEEW was introduced.
NEEW stands for "New Economic Evolution of the World" and, as the base of Skyway Capital's crypto fraud efforts, Yunitskiy appointed Andrey Khovratov as Founder and CEO.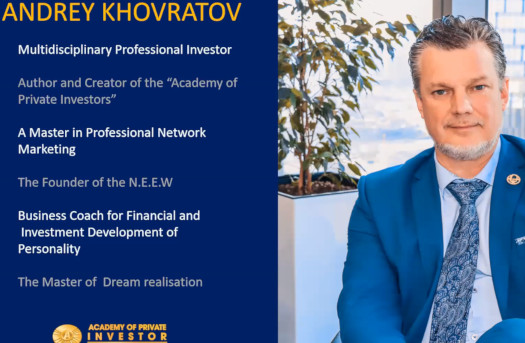 In February 2020 Skyway Capital announced it was ditching NEEW. The company, now presented as a fully standalone opportunity, was handed over to Khovratov to run independently.
At least that's what happened on paper. A few scenarios come to mind:
Yunitskiy and Khovratov had a disagreement/fight and decided to split;
Khovratov and Yunitskiy reached a backroom agreement through which Khovratov paid Yunitskiy for permission to run NEEW as a standalone company; and/or
Yunitskiy had had enough of NEEW going nowhere and wanted to create a new Ponzi ruse to keep Skyway Capital going, so ditching NEEW was in his best interest.
Take your pick.
The "official" reason given is, despite NEEW being just one of many Skyway Capital's shell companies that Khovratov was appointed internally to run, that the two companies were always separate and this was just the end of a contractual partnership.
Hardly convincing given evidence of Khovratov being a Skyway executive dating back to the Ponzi scheme's launch in 2011.
But hey, since when have Ponzi backstories had to hold up to scrutiny?
After the Skyway exit-scam, Khovratov rebranded NEEW as "Academy of Private Investor Opportunity" (I'm assuming that sounded less hokey in Russian).
This coincided with a NEEW scam warning issued in New Zealand in June 2020.
Academy of Private Investor Opportunity seems to have lasted till the fourth quarter of 2020, during which EvoRich was introduced.
EvoRich is another rebranding. Perhaps there'll be another one in a few months. Who knows.
As with Skyway Capital Khovratov runs EvoRich through a series of shell companies, the most prominent of which is UGPay Group AG, a Swiss shell company.
Khovatov himself is based out of Belarus, Ukraine and/or Russia. They don't get into specifics.
Read on for a full review of EvoRich's MLM opportunity.
EvoRich's Products
EvoRich has no retailable products or services, with affiliates only able to market EvoRich affiliate membership itself.
EvoRich's Compensation Plan
EvoRich does not provide a copy of its compensation plan on its website. As such, the following analysis has been put together from an affiliate presentation dated mid 2020.
EvoRich affiliates invest in WCRU tokens. The current internal WCRU price is set based on total accumulated WCRU investment:
I. Stage 10-30 billion WCRU tokens with a price of $ 0.001 -0.3 $ 12-36 months.

II. Stage 10-25 billion WCRU tokens with a price of $ 1 -100 $ 12-24 months,

III. Stage 1-10 billion WCRU tokens with a price of $ 100 -1000 $ 12-24 months.

IV. Stage 1-10 billion WCRU tokens with a price of $ 1000 -2000 $ 12-36 months.
EvoRich do not disclose which stage WCRU is currently being invested in at.
On the MLM side of things, EvoRich's compensation plan pays affiliate investors for recruiting new affiliate investors.
Note that EvoRich doesn't pay commissions in real money. Instead USDU is used.
USDU is a shit token EvoRich creates on demand. The company claims "each USDU coin is backed by the US dollar" but provides no verifiable evidence of such.
Note that some MLM commissions appear to be paid in WCRU too, as indicated by a whitepaper provided on the CryptoUnit website;
540 days of freezing after receiving WCRU tokens in the form of an MLM bonus or in the form of accrual according to the results of promotions, sweepstakes, air-drops and other marketing events.
"Freezing" means the tokens are locked up and can't be cashed out. Directly invested in WCRU tokens are locked up for 365 days.
EvoRich Affiliate Ranks
There are eight affiliate ranks within EvoRich's compensation plan.
Along with their respective qualification criteria, they are as follows:
Partner – invest in 30 to 200 WCRU
Agent – invest in 50 to 300 WCRU and have recruited two affiliates who have each invested in at least 200 WCRU
Consultant – invest in 300 to 1000 WCRU and have recruited four affiliates who have each invested in at least 200 WCRU
Manager – invest in 1000 to 10,000 WCRU and have four Consultants in your downline
Leader Manager invest in 5000 to 20,000 WCRU and have four Managers in your downline
Top Manager – invest in 10,000 to 50,000 WCRU and maintain four Managers in your downline
Vice President – invest in 50,000 to 100,000 WCRU and have two Top Managers in your downline
President – invest in 100,000 to 1,000,000 WCRU and have two Vice Presidents in your downline
You've probably noticed some WCRU investment overlap between the ranks. These discrepancies are not explained.
Also unclear is whether required ranked downline affiliates have to be personally recruited.
WCRU Returns
EvoRich affiliates park WCRU tokens with the company.
This is done because doing so pays the following returns:
over 1 to 180 days 1% is paid out every 30 days
over 181 to 365 days 1.5% is paid out every 30 days
over 366 to 545 days 2% is paid out every 30 days
over 546 to 730 days 3% is paid out every 30 days
over 731 to 1061 days 5% is paid out every 30 days
It is unclear whether returns are paid out in WCRU or USDU.
Residual Commissions
EvoRich pays residual commissions via a unilevel compensation structure.
A unilevel compensation structure places an affiliate at the top of a unilevel team, with every personally recruited affiliate placed directly under them (level 1):

If any level 1 affiliates recruit new affiliates, they are placed on level 2 of the original affiliate's unilevel team.
If any level 2 affiliates recruit new affiliates, they are placed on level 3 and so on and so forth down a theoretical infinite number of levels.
Residual commissions are paid out as a percentage of funds invested in WCRU across the unilevel team.
How many levels residual commissions are paid out on is determined by an affiliate's rank:
Partners earn 8% on level 1 (personally recruited affiliates), 5% on level 2 and 3% on level 3
Agents earn 8% on level 1, 7% on level 2, 4% on level 3 and 3% on level 4
Consultants earn 8% on level 1, 7% on level 2, 5% on level 3, 4% on level 4, 3% on level 5 and 2% to 3.5% on levels "6 and more"
Managers earn 8% on level 1, 7% on level 2, 5% on level 3, 4% on level 4, 3% on level 5 and 4% to 5.5% on "levels 6 and more"
Leader Managers earn 8% on level 1, 7% on level 2, 5% on level 3, 4% on level 4, 3% on level 5 and 6% to 7% on "levels 6 and more"
Top Managers earn 8% on level 1, 7% on level 2, 5% on level 3, 4% on level 4, 3% on level 5 and 7.4% to 7.8% on "levels 6 and more"
Vice Presidents earn 8% on level 1, 7% on level 2, 5% on level 3, 4% on level 4, 3% on level 5 and 8.2% to 8.6% on "levels 6 and more"
Presidents earn 8% on level 1, 7% on level 2, 5% on level 3, 4% on level 4, 3% on level 5 and 9.1% to (percentage amount blocked in presentation) on "levels 6 and more"
Whether "levels 6 and more" goes down to infinity or is a generational bonus is unclear.
Rank Achievement Bonuses
EvoRich appears to have Rank Achievement Bonuses. They weren't disclosed in my primary compensation source material but I did come across them in limited time promotional material.
Due to the limited time nature of that content, I'm not sure if the bonuses are always offered.
Dividends
Upon reaching $10 billion invested into CRU, EvoRich is touting a 12% to 35% "dividend" paid to investors:
Target Asset Level is $ 10,000,000,000 or more From 12 till 35% is planned for dividends Token holders will vote to determine the percentage of profit payable on dividends.
The ridiculous amounts are reminiscent of SkyWay Capital's original 22% a month Ponzi ROI offer.
Joining EvoRich
EvoRich affiliate membership is tied to investment into WCRU.
From the marketing presentations I've seen, the current minimum WCRU investment amount appears to be 30.
What that equates to in USD is based on company-wide investment, which is not publicly disclosed.
Conclusion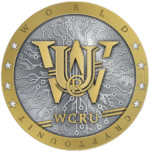 Like Skyway Capital, EvoRich is shaping up to be another convoluted Ponzi mess. If it isn't already.
One my sources for this review was a November 29th presentation by Andrew Twelftree.
Twelftree is a middle-aged Australian divorcee now living in the Philippines.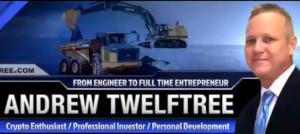 He's been around since the Skyway Capital days (joined ~2 years ago), and cites himself as an EvoRich President and Ambassador Council Member.
In a nutshell, Twelftree has been making a living over the past two years by convincing people to invest in CRU/WCRU.
Twelftree promotes EvoRich by pushing banking conspiracy theories, a common Ponzi marketing angle (quoted verbatim):
Now if you've ever thought that the government and the banks actually want you to fail, you're probably right.

They do not benefit from your succeeding. They want to keep you in debt and in need.

What do you think the (COVID-19) lock downs are over? Hmm big question there.
Prior to his involvement in Skyway Capital, NEEW and now EvoRich, Twelftree was a disgruntled construction worker.
To be clear regardless of what you think of traditional banking and governments, that isn't a justification for Ponzi schemes.
Also implying that pandemic lock downs are part of some conspiracy to keep people in debt, with a Ponzi scheme pushed as the only out, is despicable.
As late as November 2020 CRU was still being promoted. I'm not sure if Khovratov forked CRU to create WCRU, or they just ran the shitcoin script to generate a new coin.
All of the EvoRich shit tokens are run off the EOS blockchain (think ethereum and ERC-20). These are trivial to set up and create and can be done on demand.
At present there are four EvoRich shit tokens I'm aware of; CRU/WCRU, UNTB and CryptoUnit USDU.
CRU/WCRU has been the main focus and was introduced in 2018. It has a soft cap of 80 billion tokens.
Andrey Khovratov creates WCRU on demand through Cryptounit Inc, a shell company supposedly incorporated in the British Virgin Islands.
EvoRich's marketing material states:
One token of CRYPTOUNIT (WCRU) is equal to one share of Cryptounit Inc. BVI.
Unit Token of Blockchain or UNTB appears to be a recent addition and functions as a stablecoin (missed "CruDollar" or CRUD branding opportunity there).
For whatever reason (an atrocious name?), EvoRich abandoned UNTB and issued USDU in its place.
EvoRich claims "each USDU coin is backed by the US dollar" but provides no verifiable evidence. Another bullshit Skyway marketing claim to throw on the pile.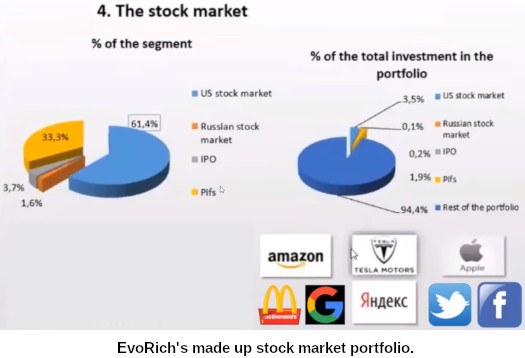 The reason EvoRich doesn't pay out in actual money is because, like CRU and WCRU, UNTB costs Kharatov little to nothing to generate on demand.
USDU is only worth $1 a piece as long as EvoRich wants to pay withdrawal requests through their internal exchange.
Getting back to Andrew Twelftree, in his November 2020 presentation he claims WCRU is "about to launch" on a public exchange.
Almost two months later, as far as I can tell that hasn't happened.
Even if it did though, it just provided Khovratov the public exchange exit-scam route. Public trading of a shitcoin works out well for admins and top promoters.
Not so much for investors left holding the bag.
According to Twelftree, UGPay Group AG is made up of "sixty companies" and was recently 'revalued at $15.132 billion valuation'.
Naturally, specific details aren't provided.
Twelftree also claims;
[3:48] The due diligence process just got a whole bunch easier because we are now SEC regulated. Very exciting.
This is stated to imply that EvoRich, through UGPay Group AG, is registered to offer securities in the US.
This is important because, in Twelftree's own words, EvoRich is offering securities;
[8:56] Just for holding these tokens, you earn monthly income.

The more you hold, the bigger the income.
Here's the thing, while UGPay Group AG is registered with the SEC, it's meaningless.
Here's why:
As previously mentioned, UGPay Group AG is a Swiss shell company, it doesn't exist outside of a front for EvoRich investment;
The securities offering is registered through EvoRich, which is not registered with the SEC;
UGPay Group has made one August 27th filing with the SEC, a Notice of Exempt Offering of Securities.
There is no mention of EvoRich or its CRU/WCRU investment opportunity anywhere in UGPay Group AG's filings.
This means that UGPay Group AG having registered with the SEC is meaningless. EvoRich is not registered to offer securities in the US, or anywhere else in the world.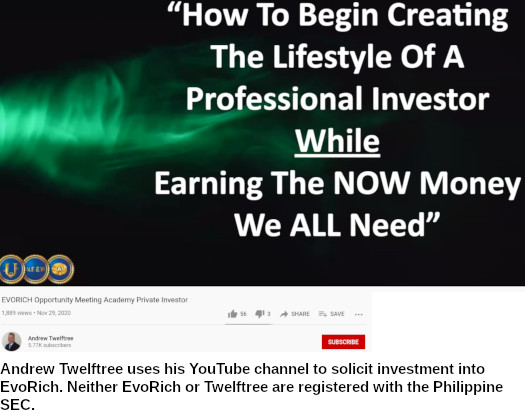 UGPay Group AG hasn't disclosed its Ponzi scheme because, even for a Russian national, disclosing a Ponzi scheme to the SEC isn't a smart idea.
Not that the SEC couldn't launch its own investigation, but getting into hypotheticals I can't confirm either way is pointless.
Also not disclosed in UGPay Group AG's filings is any of the ridiculous external revenue claims made.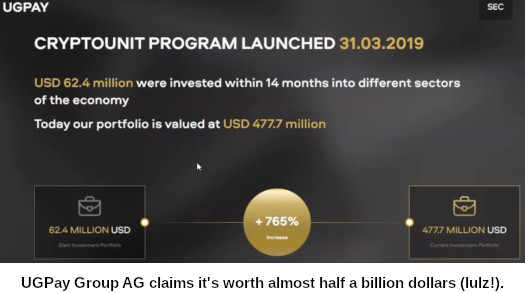 Instead of correctly disclosing it as a Skyway Capital Ponzi spinoff, the narrative is that partnership between Skyway Capital and NEEW came to an end.
After Skyway Capital the new marketing ruse to pitch EvoRich is Innovation Basalt Technology.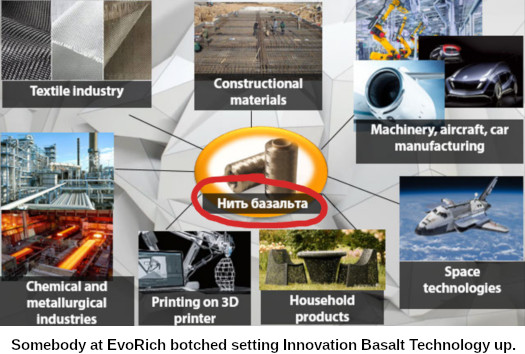 Innovation Basalt Technology's website domain ("ecobasalt.eu") was registered in September 2019, through a Polish address.
The company's website receives no traffic and is hosted in the Ukraine.
Last I remember Skyway Capital was pushing some nonsense about space trains. It seems Andrey Khovratov is going to mimick Yunitskiy in coming up with periodic marketing ruses.
Seeing as Khovratov was a Skyway executive, that shouldn't come as a surprise.
All in all while EvoRich is building up just as much a convoluted history as Skyway Capital, at its core it's just another MLM crypto shit token Ponzi.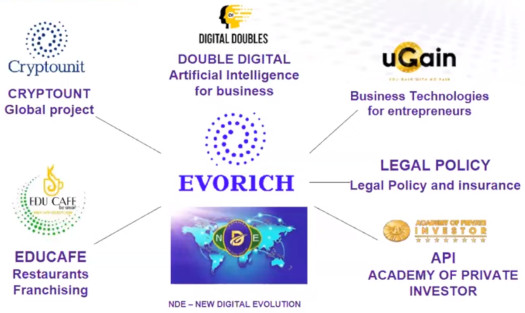 When Khovratov and friends decide to cash out, it's over.
Like Skyway Capital, the Ponzi math behind EvoRich guarantees the majority of affiliate investors will eventually take a loss.
Update 1st September 2021 – Andrew Twelftree has deleted the cited November 29th video from his YouTube channel.
Update 3rd April 2022 – Andrew Khovratov has been arrested in Russia.