EvoRich's Andrey Khovratov arrested for fraud in Russia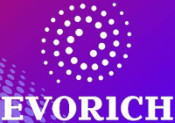 EvoRich founder and CEO Andrey Khovratov has been arrested in Russia.
Authorities in Tagansky, a district in Moscow, have charged Khovratov with three counts of fraud.
As per a report from Kommersant, the investigation into Khovratov's scamming was conducted by the Department of Internal Affairs.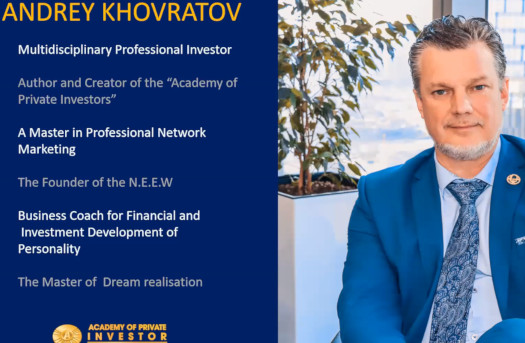 The fraud charges laid against him pertain to violations of the Criminal Code of the Russian Federation.
At time of publication the official case page on the Tagansky Court is not loading (I can get the page to eventually load but the case details are missing).
Citing the case details however, YouTuber Denis Leader claims Khovratov was caught attempting to flee Russia.
He was detained at the airport and is now under arrest by the Tagansky Court of Moscow for three months.
Following his arrest, Khovratov was presented in the Tagansky court. His defense attorneys disputed the fraud claims and requested Khovratov be released pending trial.
Prosecutors emphasized the scale of the fraud arguing that, should he be released, Khovratov would likely
be able to hide, continue to engage in criminal activities, put pressure on witnesses and destroy evidence in the case.
The court sided with Prosecutors and ordered Khovratov detained until May 10th.
EvoRich is a spinoff of Anatoly Yunitskiy's Skyway Capital Ponzi scheme (renamed Unitsky String Technologies in late 2021).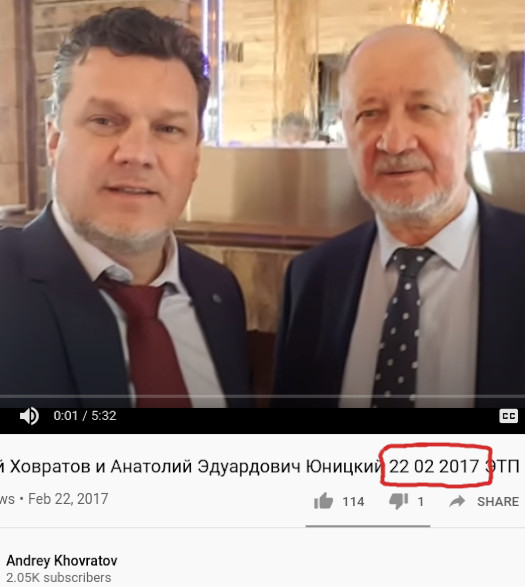 Yunitskiy (above right) remains at large in Russia. Whether he is also under investigation is unknown.
Khovratov is a former Skyway Capital executive.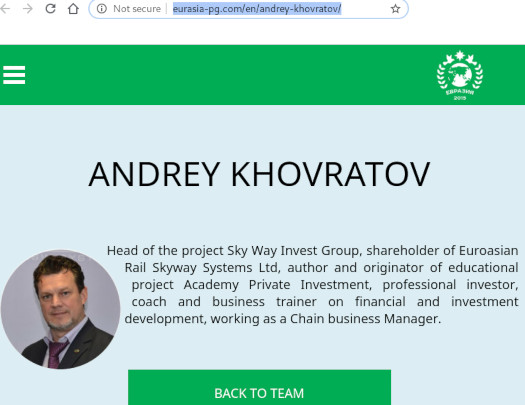 Following Skyway Capital's failed entry into cryptocurrency fraud via Skyway tokens, CryptoUnits and the awkwardly named "New Economic Evolution of the World" (NEEW), in early 2020 Yunitskiy gave Khovratov permission to spin these off as a separate entity.
Khovratov initially launched "Academy of Private Investor Opportunity" in mid 2020. In Q4 2020 Academy of Private Investor Opportunity was rebranded as EvoRich.
EvoRich is a full-blown realization of Skyway Capital's failed crypto Ponzi scheme, centered around investment into WCRU Ponzi points.
Following Khovratov's arrest, EvoRich has ground to a halt.
As opposed to acknowledging Khovratov's arrest, on April 2nd WCRU's official Twitter account announced WCRU investment had been suspended due to "regulation".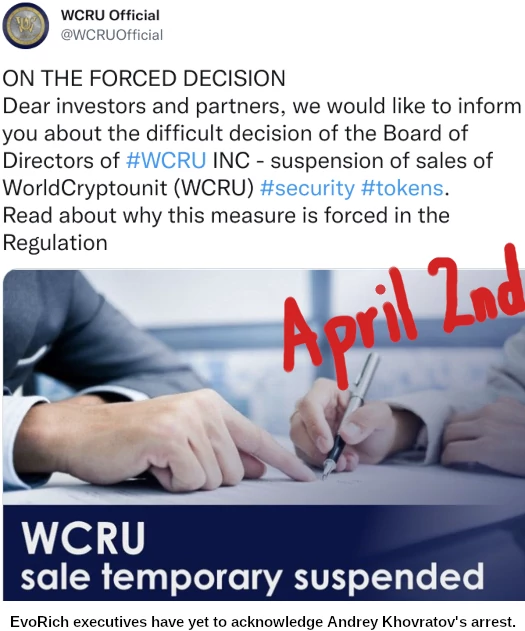 EvoRich's website is still accessible at time of publication. Alexa traffic estimates show a significant decline in traffic throughout the end of 2021 and 2022.
Pending updates on Khovratov's criminal case, stay tuned…
Update 6th May 2022 – While Andrey Khovratov awaits his fate, EvoRich investors are being funnelled into Bobcoin.