Blockchain Alliance: AI + NFTs + metaverse MLM crypto grift

Blockchain Alliance operates in the cryptocurrency MLM niche.
Heading up the company we have CEO Joshua Denne.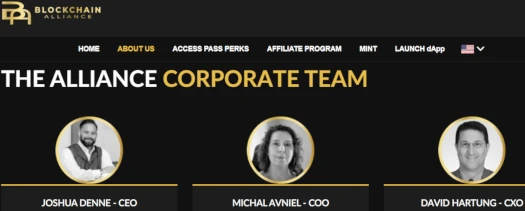 As per Denne's LinkedIn profile, he is also the CEO of Blockchain Funding.
Blockchain Funding was launched in 2017 and claims to "provide cutting-edge solutions for Web3, NFT, and blockchain projects".
At time of publication SimilarWeb tracked negligible traffic to Blockchain Funding's website domain.
Blockchain Funding's Instagram profile hasn't been touched since it was created in April 2022. Blockchain Funding's Twitter profile is blank, indicating it too hasn't been used since it was created in April 2022.
Together with no website traffic, it appears Blockchain Funding is dead.
It should be noted that the same people behind Blockchain Funding are behind Blockchain Alliance: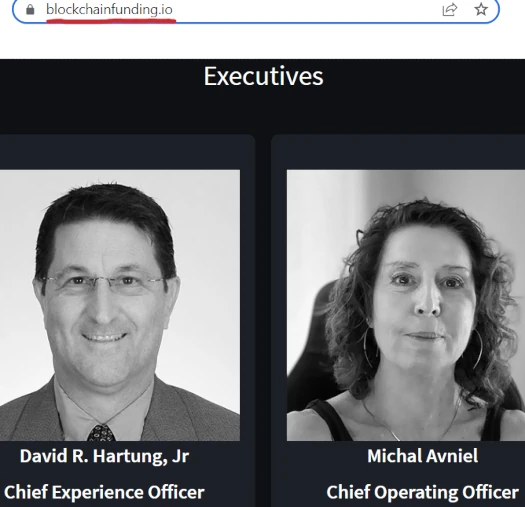 Prior to launching Blockchain Alliance, Denne was a promoter of the Daisy Forex Ponzi scheme.
In February 2023, Denne claimed his scamming with Daisy Forex was "just getting started":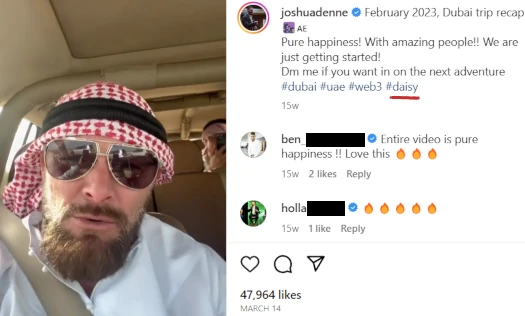 Not sure what happened there. A month later Denne announced Blockchain Alliance's April 2023 prelaunch.

Of note is this March 2023 Instagram post from Denne, in which he represents serial scammers Rabu Gary and Avinash Nagamah as "business partners".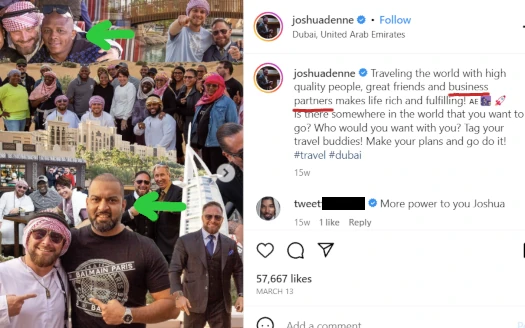 Gary and Nagamah were recently outed as top net-winners in the collapsed $500 million Traders Domain Ponzi scheme. Whether Denne was a Traders Domain investor is unclear.
Circa 2021 Denne was promoting Chris Snook's SDK Meta "organized crime tier privacy phone" grift.

SDK Meta appears to have collapsed in early 2022.
Going back further, in 2020 Denne was promoting Well Beyond.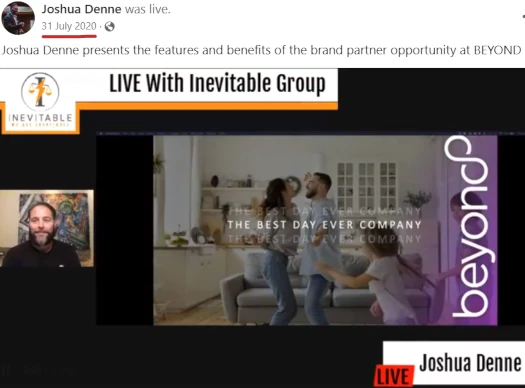 Well Beyond came about after Jeremy Reynolds purchased what was left of MXI Corp after it collapsed in 2017.
Initially Well Beyond continued to sell MXI Corp's Xocai chocolate supplements. In 2020 Reynolds began funneling Well Beyond distributors into Travis Bott's Onyx Lifestyle Ponzi scheme.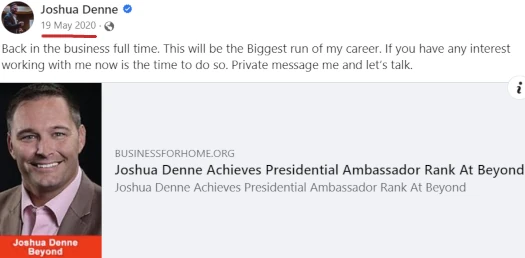 Although he denies having "any power" in the company, Clif Braun was originally cited as an Onyx Lifestyle co-founder.
Braun is involved in Blockchain Alliance.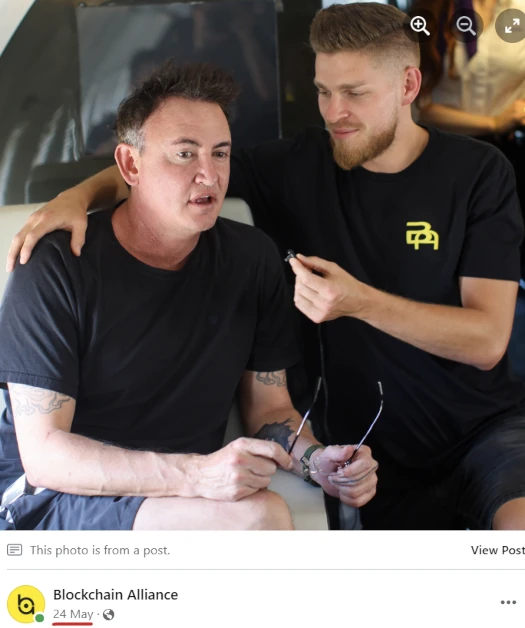 Onyx Lifestyle would eventually become Digital Profit in mid 2020. Jeremy Reynolds signed on as a Digital Profit co-founder with Travis Bott.
Digital Profit collapsed in August 2021. What was left of Well Beyond was sold off to My Daily Choice in September 2021.
As best I can tell, Denne's descent into MLM crypto fraud began with Well Beyond.

Before he got a taste for crypto fraud, Denne made a name for himself in Seacret Direct (2011 – 2018).
Other names I recognized on Blockchain Alliance's corporate team include Toan Nguyen, Wayne Marcel and Doug Kyle.

Toan Nguyen is co-founder of LaCore Enterprises' Elomir.
Through his Passive Income Group YouTube channel, Nguyen has been promoting MLM crypto Ponzi schemes since mid 2018.
Eight days ago Nguyen uploaded a promotional review of the recently launched MuQuant MLM crypto Ponzi scheme: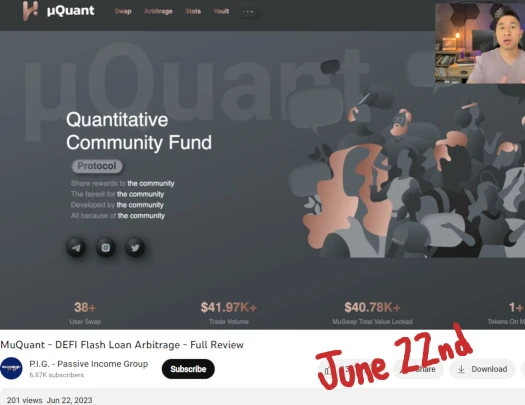 Wayne Marcel and Toan Nguyen teamed up in early 2022 to launch Definity FI Academy, a collapsed MLM crypto Ponzi scheme.

Doug Kyle is co-founder of KulaBrands.
No corporate address is provided on Blockchain Alliance's website. On LinkedIn, Joshua Denne cites his location as Arizona in the US.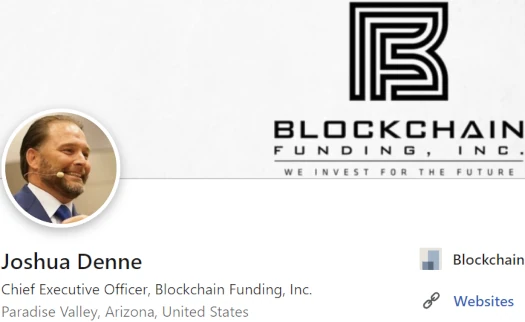 Presumably this means Blockchain Alliance is also being operated from Arizona.
Read on for a full review of Blockchain Alliance's MLM opportunity.
Blockchain Alliance's Products
Blockchain Alliance sells access to individual products and services through what they call "access passes".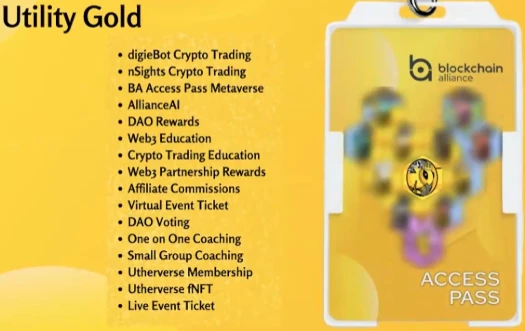 Products and services featured in Blockchain Alliance's marketing include:
digieBot Trading Account – "an automated trading bot that … executes trades automatically 24/7 without human assistance"
nSights Trading Account – "a decentralized, semi-auto trading bot powered by digieBot Technologies Inc"
Academy Access – "a comprehensive educational platform focused on Web3 technology"
Alliance AI Access – "enhanced prospecting, personalized coaching, and predictive market insights"
Virtual Event Ticket – presumably a ticket to a paid webinar
DAO – three-tier group through which affiliates are led to believe they can vote on business related matters, but the majority of votes cast are by Blockchain Alliance executives
Utherverse – metaverse grift
It's worth noting that Blockchain Alliance's marketing cites twelve access pass tiers. There are nine above with the other three presumably "TBD".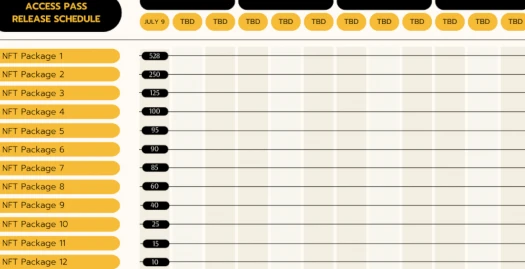 Blockchain Alliance dresses up its product service tiers as NFTs. There doesn't appear to be any reason for this other than "because crypto".
On pricing, Blockchain Alliance is currently hiding this information from consumers: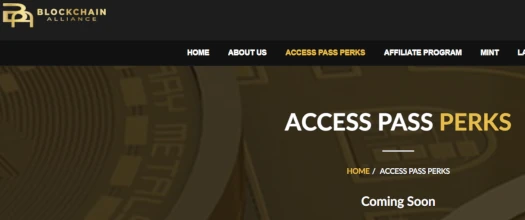 From what I've been able to piece together, Blockchain Alliance's access passes start at $200…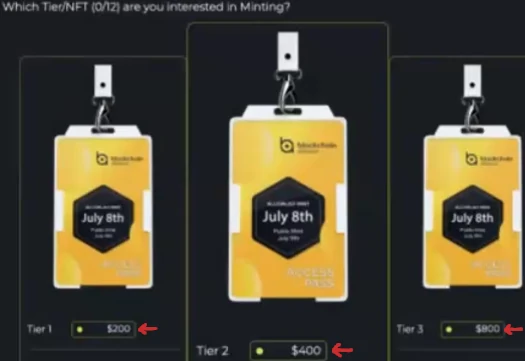 …and run into the thousands. This marketing slide suggests Blockchain Alliance access passes will cost as much as $20,000: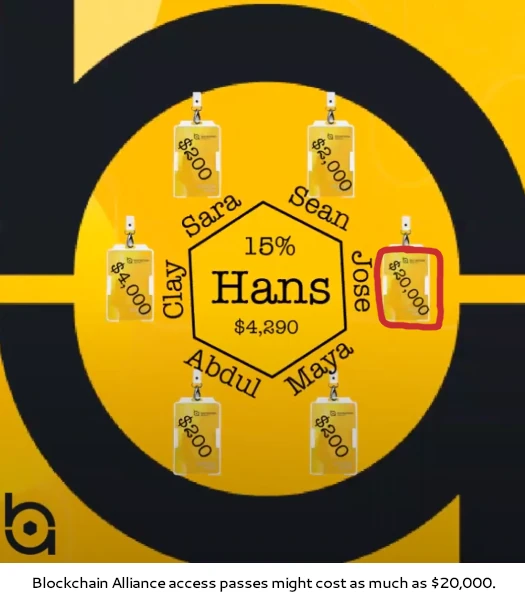 Access pass fees are represented to be monthly recurring subscriptions.
Blockchain Alliance's Compensation Plan
Blockchain Alliance's compensation plan pays on access pass sales to retail customers and recruited affiliates.
Referral Commissions
Blockchain Alliance pays referral commissions on access pass fees down two levels of recruitment:
level 1 (retail customers and personally recruited affiliates) – 15%
level 2 – 10%
Top Producers Pool
Blockchain Alliance takes 2% of company-wide access pas fees and places it into the Top Producers Pool.
Affiliates who generate the most amount of access pass sales volume receive shares in the pool as follows:
top affiliate by volume – 16 shares
second affiliate – 12 shares
third affiliate – 10 shares
fourth affiliate – 7 shares
fifth affiliate – 6 shares
sixth to tenth affiliates – 4 shares each
eleventh to fifteenth affiliates – 3 shares each
sixteenth to twentieth affiliates – 2 shares each
twenty-first to twenty-fifth affiliates – 1 share each
How frequently the Top Producers Pool is paid out is unclear.
Global Pool
Blockchain Alliance takes 3% of company-wide access pass volume and places it into the Global Pool.
The Global Pool is paid out quarterly and qualification appears to be tied to access pass sales volume.
Specific details were not publicly available at time of publication.
Joining Blockchain Alliance
Blockchain Alliance affiliate membership appears to be free.
Affiliates are required to click a "I want to be an affiliate" checkbox when signing up.
Blockchain Alliance Conclusion
Blockchain Alliance's principals have a lot of fraud-related heavy baggage.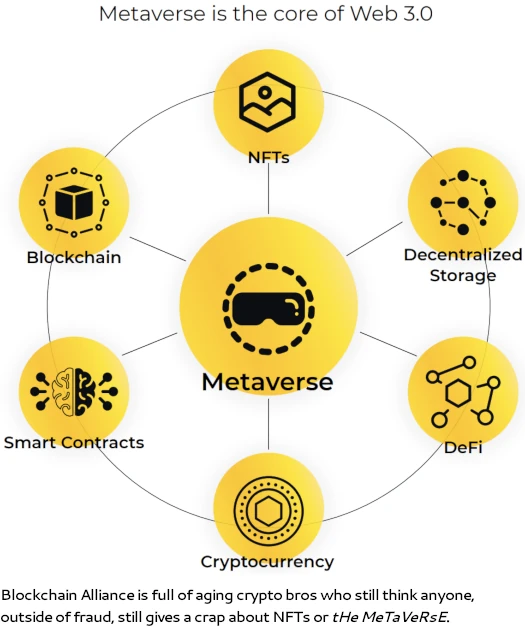 As I understand it Blockchain Alliance was ready to launch some time ago. The launch was delayed so "AI" buzzwords and NFTs could be rammed into the business model and marketing.
That is of course all fluff. At the core of Blockchain Alliance's MLM opportunity is a passive returns trading bot.
Having never heard of digieBot Technologies Inc, I went and looked them up: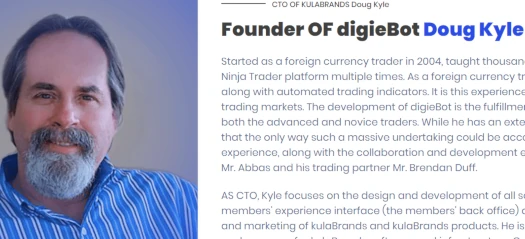 Surprise surprise, it's run by Blockchain Alliance's Trading Team CEO, Doug Kyle.
Kyle's digieBot Tech accomplices, Mudasser Abbas and Brendan Duff, feature alongside him on Blockchain Alliance's website.
If you're wondering what happened to the other KulaBrands co-founder Peter Gantner, he's of course "secretly" involved in Blockchain Alliance.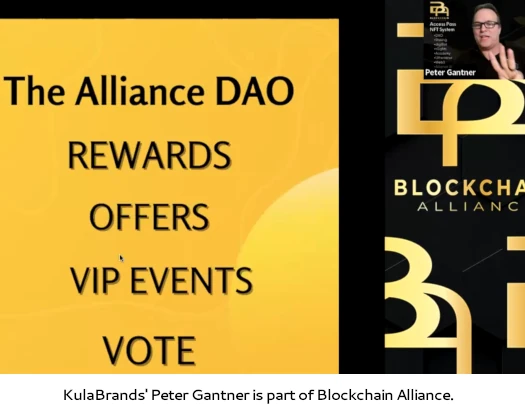 You won't find Gantner mentioned on digieBot Tech's or Blockchain Alliance's websites or marketing materials.
It's worth pointing out that, at least according to Gantner's LinkedIn profile, the digieBot Tech trading bot grift has been going on since January 2018.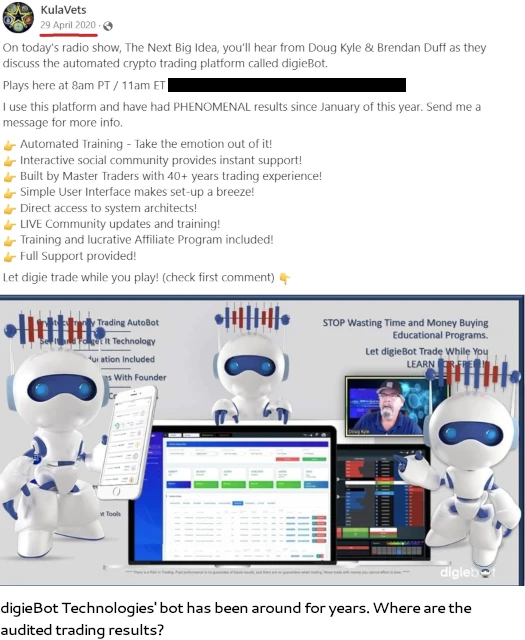 That was over five years ago. Where are the audited trading results?
Speaking of audits, it goes without saying that the passive returns offered through Blockchain Alliance's trading bots constitutes a securities offering.
With Joshua Denne and Blockchain Alliance being based out of the US, this requires registration with the SEC.
A search of the SEC's publicly available Edgar database reveals neither Blockchain Alliance, Joshua Denne, digieBot Tech, Doug Kyle or Peter Gantner are registered.
digieBOT Tech is mentioned in a 2019 KulaBrands filing but that's part of the company's failed IPO attempt. It does not disclose KulaBrands offering securities through its automated trading bot.
Recently we've also seen the CFTC go after MLM automated trading bot schemes. Although not as clear cut as securities fraud, failing to register with the CFTC might also trigger commodities fraud violations.
Although the link is currently disabled, I also couldn't help but notice "staking" in Blockchain Alliance's website footer:

This potentially opens the door for a "staking" style crypto Ponzi in the future (I didn't see any mention of one in researching this review).
Attached to Blockchain Alliance's securities and potential commodities fraud is a pseudo-compliance MLM compensation plan.
Retail and affiliate Blockchain Alliance participates sign up with the same form. The only difference is Blockchain Alliance affiliates click a checkbox.
If this remains the same it goes without saying the company is going to be affiliate-heavy. This will result in Blockchain Alliance furthering their fraud by operating as a pyramid scheme.
Between securities and commodities fraud and passive returns being offered through a five-year old automated trading bot, how Blockchain Alliance ultimately pans out will likely be a repeat of Digital Profit.
Rigged trades in favor of those running the scheme, with everyone else losing out.