Auvoria Prime Review: Eaconomy securities fraud reboot

Auvoria Prime is the third attempt to sell use of a non-profitable trading bot to gullible victims.
The scheme started as SilverStar Live, which ended in a $75,000 CFTC fraud settlement.
Co-owners Hassan Mahmoud and Candace Ross-Mahmoud then rebooted the scheme as Eaconomy.
Last month Eaconomy collapsed, amid bickering between the scammers running the show.
Auvoria Prime surfaced shortly after Eaconomy's collapse, headed up by Chief Network Officer Sal Leto.
Auvoria Prime's launch prompted a lawsuit from Eaconomy, filed in California on March 23rd.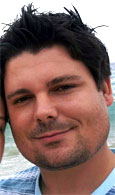 Sal Leto (right) was Eaconomy's Vice President of Operations.
Prior to Eaconomy, Leto is best known for spearheading attempts to market the OneCoin Ponzi scheme in the US.
When that failed Leto switched to iPro Network. iPro Network was recently sued by the SEC for being a $26 million dollar pyramid scheme.
Here's a run down of the rest of Aurovria Prime's executives:
Joshua Phair is Auvoria Prime's Chief Financial Officer, brought on as an Eaconomy consultant in July 2019
Bill Wynne is Auvoria Prime's Chief Technology Officer, formerly Eaconomy's Chief Technology Officer
Vanessa Leto (aka Rosario Lopez) is Auvoria Prime's Corporate Director, she's Sal Leto's wife and evidently partner in crime
Another name that stood out to me was Mariska van de Langenberg, hilariously credited as Auvoria Prime's Director of Compliance.
Van de Langenberg is another Eaconomy recruit. We first came across Van de Langenberg as CEO of 5 Star Signals back in 2015.
5 Star Signals, a pyramid scheme masquerading as an MLM trading opportunity, was issued a securities fraud non-compliance fine by the Netherland's AMF.
In July 2016 5 Star Signals collapsed, amidst claims of $180,000 in commissions being stolen. Total investor losses remain unknown.
Yeah, some of the folks behind Auvoria Prime have been at this for a while.
Read on for a full review of Auvoria Prime's MLM opportunity.
Auvoria Prime's Products
Auvoria Prime sells access to automated returns and trading signals.
Ainstein Package – $267 for access to an automated passive returns platform, then $189 a month
Alexander Package – $267 for access to trading signals
Bundled with each package is a "virtual assistant" mobile app and "forex education program".
Additional stand-alone products include:
Airis – signals based on forex chart analysis for $39 a month
Hailey – "A.I. trend scalping trade software", marked "coming soon" on Auvoria Prime's website but listed for $129 in the compensation plan
Auvoria Prime's Compensation Plan
Auvoria Prime affiliates are forced to maintain an Ainstein and/or Alexander subscription.
Commissions are paid when they sell subscriptions to retail customers and/or recruited affiliates.
Commission Qualification
To qualify for MLM commissions, each Auvoria Prime affiliate must
maintain their own Ainstein or Alexander package subscription
sell three packages to retail customers and/or recruited affiliates (three active packages must be maintained)
Retail and Recruitment Commissions
Auvoria Prime pays retail and recruitment commissions on the sale of Ainstein and Alexander packages to retail customers and recruited affiliates respectively.
sale of an Ainstein or Alexander package = $40 commission
sale of Airis doesn't generate a commission
sale of Hailey = $20 commission
Momentum Builder Bonus
The Momentum Builder Bonus rewards Auvoria Prime affiliates for new sales activity each week.
Selling Auvoria Prime products to retail customers or recruited affiliates generates sales volume (PV).
Ainstein and Alexander packages generate 140 PV
Hailey generates 70 PV
whether Airis generates PV towards the Momentum Builder Bonus is not clarified
A minimum of 420 PV from new customer/affiliate activity for the week is required to qualify for the Momentum Builder Bonus.
Note that exact sales volume amounts for each Auvoria Prime product is not provided.
At the end of the week Auvoria Prime tallies up each affiliate's new activity sales volume.
Based on generated PV, the following shares are allocated:
420 PV = 1 share
840 PV = 2 shares
1120 PV = 3 shares
1260 PV = 4 shares
1400 PV = 5 shares
The shares correspond to a bonus pool, made up of an undisclosed percentage of Auvoria Prime's sales revenue.
Residual Commissions
Auvoria Prime pay weekly residual commissions based on rank.
There are eleven ranks within Auvoria Prime's compensation plan.
Along with their weekly respective qualification criteria, they are as follows:
Active Affiliate – generate and maintain 140 GV a month (31 days)
Visionary – generate and maintain 560 PV a month
Visionary 600 – recruit and maintain four affiliates and generate 13 Qualifying Group Points (min 4 points in four unilevel team legs)
Visionary 1500 – maintain four personally recruited affiliates and generate 35 Qualifying Group Points
Icon 3000 – recruit and maintain five affiliates and generate 90 Qualifying Group Points
Icon 5000 – recruit and maintain six affiliates and generate 250 Qualifying Group Points
Icon 10,000 – maintain six personally recruited affiliates and generate 500 Qualifying Group Points
Auvorian 25K – recruit and maintain seven affiliates and generate 1250 Qualifying Group Points
Auvorian 50K – recruit and maintain eight affiliates and generate 2500 Qualifying Group Points
Auvorian 100K – recruit and maintain nine affiliates and generate 5000 Qualifying Group Points
Auvorian Legend – recruit and maintain ten affiliates and generate 15,000 Qualifying Group Points
If you're wondering what "Qualifying Group Points" are, I don't know either. Auvorian Prime does not define them in their compensation plan, and they're only mentioned in the rank qualification criteria.
My guess is Qualifying Group Points are some reduction of GV (sales volume), into a simpler point value.
Qualifying Group Points exclude an affiliate's own purchase and appear to only count that of personally referred retail customers and recruited affiliates.
In the qualification criteria above, it is assumed recruited affiliates are commission qualified.
Note that required Qualifying Group Points from Visionary 1500 are capped at 40% from any one unilevel team leg.
A unilevel team is a compensation structure wherein those you recruit/refer are placed directly under you on level 1:

Those they recruit are placed on your level 2 and so on and so forth.
Based on the above rank qualification criteria, weekly residual commissions paid out are as follows:
Visionary – $40
Visionary 600 – $150
Visionary 1500 – $375
Icon 3000 – $750
Icon 5000 – $1250
Icon 10,000 – $2500
Auvorian 25K – $6250
Auvorian 50K – $12,500
Auvorian 100K – $25,000
Auvorian Legend – $62,500
Joining Auvoria Prime
Auvoria Prime affiliate membership is tied to the purchase of Ainstein or Alexander.
Ainstein affiliate package – $299 and then $199 a month
Alexander affiliate package – $299 and then $199 a month
Retail customers can also upgrade for $30 and then $19 a month (on top of their Ainstein or Alexander package fees.
Conclusion
In addition to the fraud riddled past of Auvoria Prime's management, the glaring red flag with their offering is US exclusion: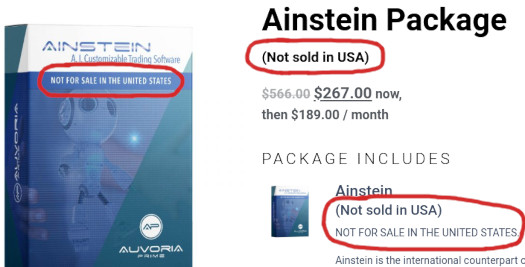 Any time an MLM company excludes the US from a legal product or service, it's a good sign they're up to no good.
In this instance, Auvoria Prime playing coy with US regulators can be traced back to SilverStar Live's CFTC fine.
SilverStar Live was fined because it
acted as commodity trading advisors ("CTAs") without being registered with the Commission as such, by exercising discretionary trading authority over the forex trading accounts of U.S. customers who were not eligible contract participants ("ECPs").
To be clear, if a company registers with the CFTC and provides it and the public with legally required disclosures, there's nothing illegal about trading on behalf of US customers.
Rather than register with the CFTC and operate legally however, Auvoria Prime have opted for pseudo-compliance.
I say this because it's glaringly obvious that the majority of Auvoria Prime's executives, including Sal Leto, are based out of the US.
Leaving the US for a moment, it's worth pointing out that unlicensed auto trading is also illegal in every country where trading markets are regulated.
Which is pretty much every country with an established economy.
Auvoria Prime's idiotically named Ainstein service also constitutes a securities offering. Again not illegal in the US and elsewhere in the world, provided you register with financial regulators.
Something Auvoria Prime is loathe to do.
Ban the US (*winkwink VPN nudgenudge*), and roll the dice on international regulators not bothering to come after us… until it's too late for our investors.
Registering with financial regulators would require Auvoria Prime to make full disclosures about their bot, including who coded it and past results.
That's not going to happen for what should be obvious reasons.
One thing we can reveal is Eaconomy's lawsuit against Auvoria Prime suggests their virtual assistant app is provided by VisiKard.
Eaconomy lumps VisiKard, Maurice Katz and Bolt Capital (a shell company registered in Nevis), as developers of what was supposed to be their own virtual assistant app.
EACONOMY had been working closely with VisiKard, Inc. Defendats KATZ and BOLT to develop its software to allow its products to be compliant with the laws of the United States.

This software modification included an App which was to be provided to EACONOMY'S product customers.

When accessed, this App would allow the customer to make certain discretionary commands.

EACONOMY had paid $25,000 to KATZ and approximately $165,000 to BOLT for the App and such software improvements.

However, when the developed software and App were provided to EACONOMY it did not work.

On information and belief, BOLT, VisiKard, and KATZ have provided the fully functioning software and App to AUVORIA PRIME and intentionally provided defective and faulty software to EACONOMY as part of the conspiracy to steal company assets and to destroy EACONOMY.
Maurice Katz worked with Sal Leto to promote the OneCoin Ponzi scheme across the US.
VisiKard is run by CEO Kenneth O. Lipscomb. Katz isn't mentioned on VisiKard's website so I'm not sure what the connection there is.
A common link between SilverStar Live and Eaconomy is that recruitment took precedent over the trading results.
Despite two collapses, nobody heard a peep from retail customers losing access to the bots.
Looking at Auvoria Prime, it's pretty obvious the only people paying for subscriptions are going to be Eaconomy affiliates and whoever they can convince to sign up.
As I write this Alexa cites Libya (38%), the US (18%) and Singapore (15%) as top sources of traffic to Auvoria Prime's website.
Put simply: the money is in recruitment. Auvoria Prime is the same pyramid scheme wrapped in securities fraud that SilverStar Live and Eaconomy were.
If someone trying to recruit you into Auvoria Prime can't provide evidence of having registered with financial regulators in your country, run.
And if you're in the US, know that it's still illegal to promote unregistered securities to non-US residents.
Footnote: I've gone over Eaconomy's complaint against Auvoria Prime.
It pretty much repeats what has already been disclosed in the Eaconomy collapse announcement, so I won't be publishing a separate article.
That said we will be tracking the lawsuit going forward.
At the time of publication, none of the named defendants have responded to Eaconomy's filed March 23rd lawsuit.
Update 17th December 2020 – Eaconomy has dropped its lawsuit against Auvoria Prime.