SEC sues iPro Network, claims $26 million dollar pyramid scheme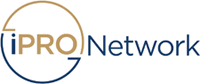 The SEC has filed suit against iPro Network, alleging the scam and founder Daniel Pacheco stole $26 million from investors.
In addition to iPro Network and Daniel Pacheco (right), relief defendants named in the SEC's May 22nd lawsuit include
E Profit Systems;
Matthew Lopez (cited as co-manager of Fintact Payment Solutions, Fintact Solutions Group and Trident Commerce);
Fintact Payment Solutions LLC;
Fintact Solutions Group LLC;
Maritus Regalis LLC; and
Gabtta LLC
Notably iPro Network CEO Armando Contreras is not a named defendant. To this day we're still not sure he even exists.
iPro Network surfaced in Q1 2017. The company launched amid OneCoin's January 2017 withdrawal collapse, and thus was seeded primarily with US OneCoin investors.
iPro Network's business model was essentially the same as OneCoin's, except that it followed through with a public listing exit-scam.
After illegally soliciting investment in PROC on the promise of riches, iPro Network listed PROC on external exchanges.
The owners and top investors cashed out during the initial pump to 66 cents in July 2017.
Today PROC has a public trading value of 0.14 cents.

The SEC alleged iPro Network and owner Daniel Pacheco (right) committed securities fraud via the sale of "iPro Packages".
iPro Network's packages were of the "education" variety, again borrowed from OneCoin.
According to the SEC, iPro Network's
packages contained instructional materials on how to profitably engage in ecommerce, and provided purchasers with a recruitment-based compensation plan and the ability to convert "points" into a digital asset, or cryptocurrency, that IPro was disseminating to the public through the sale of its packages.
The "education package" ruse was arguably pioneered by OneCoin. The model sees an MLM company bundle Ponzi points or an altcoin with educational material.
The company pretends investors are purchasing the packages with the points/altcoin given away for free.
This however is pseudo-compliance and doesn't fool authorities.
IPro members did not purchase IPro packages solely for the e-commerce instructional materials.

Rather, purchasers of IPro packages were paying money to IPro in exchange for the right to sell IPro packages on their own, as well as the right to receive compensation for recruiting other participants to the investment program, recruitment compensation that was not related to the sale of the e-commerce educational component of the packages to someone actually interested in using those materials.
In addition to deceptively misrepresenting the iPro Network opportunity, Pacheco also recruited Kevin Harrington and attorney Scott Warren to promote the scam.
In one marketing video, Harrington announced he would keynoting an iPro Network event in California.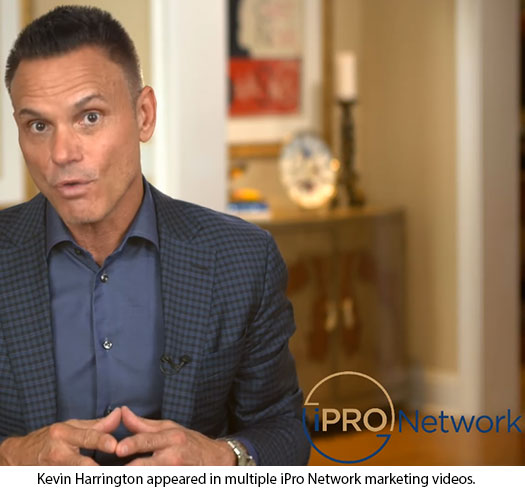 In the video Harrington goes on to refer to iPro Network as "an amazing new opportunity".
Attorney Scott Warren of Wellman & Warren LLP, was widely cited as the company's inhouse attorney.
In an attempt to lend legitimacy iPro Network, Warren attended and spoke to investors at company events.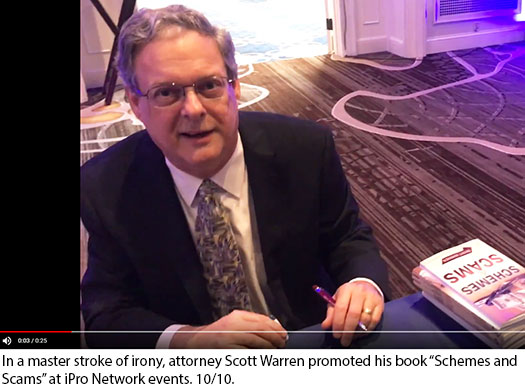 In the video above, believed to have been recorded less than a month before iPro Network collapsed, Warren states he's
looking forward to getting down (to Colombia) with iPro and opening up the country, making it smooth and grow quickly.
The SEC alleges iPro Network, Pacheco and the relief defendants committed securities fraud.
Together, the iPro Network defendants stand accused of stealing around $26.5 million from investors.
The math behind iPro Network's compensation plan dictated that 41.5% to 45.5% was supposed to be set aside for commissions and bonuses.
Forensic analysis by the SEC reveals that during operation of iPro Network between January 2017 to August 2018, the company only paid out 29.3% of invested funds.
So where did the money go?
During operation of iPro Network, Daniel Pacheco
spent ~$2.5 million on a luxury home in Redlands, California;
transferred ~$1.952 million to Accept Success Corporation, a shell company registered in his daughters name;
transferred ~$2 million to E Profit Systems LLC, a shell company under his control; and
spent ~$150,000 to purchase a Rolls Royce luxury car.
The SEC allege
Pacheco's misallocation of resources left insufficient IPro funds available for the payment of commissions and bonuses owed to IPro investors.
Through his Fintact companies, relief defendant Matthew Lopez received approximately half of the $26.5 million iPro Network took in.
$250,000 of that is traceable to Lopez's personal gain (personal bank accounts and a car purchase).
The rest of the balance remains unaccounted for.
Both Pacheco and Lopez's use of investor funds for their personal gain hastened iPro Network's inevitable collapse.
iPro Network officially collapsed in March 2018 and ceased business operations shortly thereafter.
Pacheco attempted to resuscitate the Ponzi scheme by launching iThrive Network in the second half of 2018.
iThrive Network was short-lived and collapsed shortly after launch.
Daniel Pacheco stands accused of running iPro Network as a "fraudulent pyramid scheme".
The SEC alleges the PRO Currency component of iPro Network packages were an investment contract.
Seeing as neither iPro Network, Pacheco or any of the relief defendants were registered with the SEC, iPro Network's investment contract offering constitutes securities fraud.
The SEC are seeking judgment and civil penalties against iPro Network, Daniel Pacheco and the relief defendants.
As part of those judgments, Pacheco and Lopez will be subject to disgorgement of funds obtained through iPro Network's business operations.
Speaking on the case, Wein Layne, Director of the SEC's Los Angeles office, stated
We allege that Pacheco hid an old fraud under the guise of cutting-edge technology.

He enticed investors by offering them the opportunity to speculate in cryptocurrency, when in fact he was simply operating a pyramid scheme.
Stay tuned for updates on the case as we receive them.
Update 1st September 2020 – Over four million in default judgments have been handed out to defendants Matthew Lopez, Maritus Regalis LLC and Gabtta LLC.
Update 23rd December 2022 – Daniel Pacheco has settled his iPro Network fraud case with the SEC.