5 Star Signals issued non-compliance fine by AMF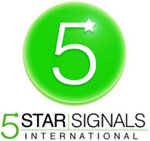 You dump money into a scheme and in exchange receive a passive ROI?
That's a security and, if your scheme is not registered with the appropriate regulators, soliciting such investment constitutes an unregistered securities offering.
The Netherlands Authority for the Financial Markets are responsible for
supervising the operation of the financial markets since 1 March 2002.

This means that AFM supervises the conduct of the entire financial market sector: savings, investment, insurance and loans.
On the 2nd of November, 2015, the AMF began fining 5 Star Signals.
5 Star Signals' business model sees the scheme solicit investments of $500 or more, on the promise of passive Forex ROIs.
On the backend 5 Star Signals affiliates are also paid to recruit new investors into the scheme.
This  has landed the company in hot water with the AMF, who are accusing 5 Star Signals of offering 'shareholdings in a collective investment company without holding a licence'.
5 Star offers participants the possibility via its Irish subsidiary to open what is known as a "percentage allocated money management" account.

The account is linked to what is known as a master account in which transactions are performed and which is used to generate profit for the participant's account.

The AFM suspects that this involves offering shareholdings in a collective investment company. According to the Financial Supervision Act, this is not allowed without an AFM licence.
In other words, 5 Star Signals are not registered to offer securities in the Netherlands.
As part of their investigation into 5 Star Signals, the AMF requested from the scheme 'a description of the activities, participant data, an organisation chart, information material, an annual report and account statements'.
Not surprisingly 5 Star Signals has thus far failed to respond. As of November 2nd, the AMF claims they have 'still not received the (requested) information'.
This has prompted the AMF to issue an ongoing fine against the company, back dated to October 23rd.
 The incremental penalty payments increase by €5,000 for every day 5 Star fails to comply with the order for incremental penalty payments, subject to a maximum of €50,000.
5 Star Signals CEO, Mariska van de Langenberg, is based out of Amsterdam in the Netherlands.
As at the time of publication, there is no suggestion the requested information has been provided on either the AMF or 5 Star Signals websites.