Eaconomy rebooting through Beyond

Company owner Hassan Mahmoud is gearing up to reboot his collapsed Eaconomy forex opp.
Rather than a straight reboot, Mahmoud has revealed he's partnered Eaconomy with Beyond.
Eaconomy's reboot was disclosed in a "launch Zoom" webinar last month.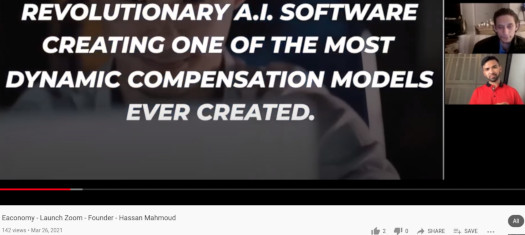 The reboot will see Eaconomy offer three affiliate packages:
Infinity Digital – $99 a month
Rise Digital – $149 a month
Momentum Digital – $249 a month (VIP option till mid April)
Infinity Digital provides access to Beyond Wallet, a "multi-currency wallet" app provided by Beyond.
There's also forex education, trading alerts, harmonic scanner software and an "Infinity Success" app.
Rise Digital and Momentum Digital build on Infinity Digital by introducing securities fraud.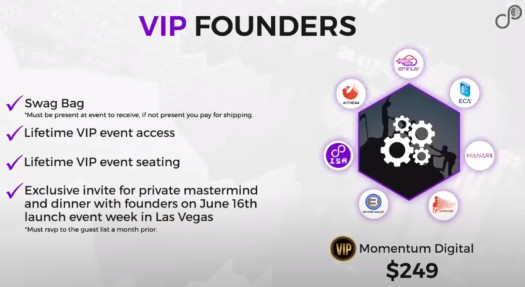 Eaconomy affiliates outside the US are provided with "Achilles", which Mahmoud described as "AI automated trading software".
Eaconomy affiliates in the US are provided with Athena, a manual trading variant.
[24:33] You're gonna have the ability to get an AI automated trading software if you're overseas. Fully automated um, depending on your country with compliant laws.

And if you're in the United States, you're going to get the manual trading version of that.

You guys have to have control, this is (the) law.

The law Mahmoud (right) is referring to is securities law. The problem is securities aren't just regulated in the US.
So here we have US firms, Eaconomy and Beyond, offering a passive investment opportunity to non-US investors.
And neither company or its principals are registered to offer securities in the US or elsewhere.
And then there's VPN shenanigans, allowing US investors to participate in passive investment schemes pretending they don't operate in the US.
On the MLM side of things Eaconomy's rebooted compensation plan sounds similar to Beyond's (monthly commissions and binary, paid out of subscription fees).
There's a $25 a month fee for an "affiliate marketing suite". It's unclear whether this is just marketing or constitutes a fee to separate retail subscribers from affiliates.
For their part this isn't Beyond's first run-in with securities fraud.
Beyond popped up on BehindMLM's radar as Well Beyond in April 2020.

Jeremy Reynolds (right) purchased MXI Corp and paired it with Onyx Lifestyle, which he appeared to be an affiliate in.
Beyond offered access to Onyx Lifestyle's Ponzi scheme through Beyond Wealth.
Even worse, this won't be Hassan Mahmoud's first forex fraud rodeo.
In Novermber 2019 Mahmoud was fined $75,000 by the CFTC for acting
as commodity trading advisors ("CTAs") without being registered with the Commission as such, by exercising discretionary trading authority over the forex trading accounts of U.S. customers who were not eligible contract participants ("ECPs").
Now they're gearing up to do the same thing again, only to non-US customers (VPN *winkwink*).
Eaconomy never really recovered from the CFTC fine. Following infighting, BehindMLM called Eaconomy's collapse in March 2020.
A month later former Eaconomy executive Sal Leto launched Auvoria Prime.
Leto's gutting of Eaconomy prompted a lawsuit. Said lawsuit was voluntarily dismissed by Eaconomy late December.
Auvoria Prime has the same "no automated trading in the US" business model Eaconomy and Beyond plan to offer.
The Beyond Wealth stand-alone website has been taken down since our review last April.
Beyond's website ("beyond.global"), suspiciously makes no mention of automated trading bots or even manual trading signals.
Eaconomy packs are listed on Well Beyond's website (the same company), however only the Achilles auto trading logo is provided.
There is no actual product listing for Eaconomy's Achilles auto trading robot opportunity.
It's almost as if Beyond are trying to bury the auto trading side of the business. I can't imagine why.
Based on a FAQ provided on Beyond's website, Eaconomy will be rebooted as "Beyond Eaconomy".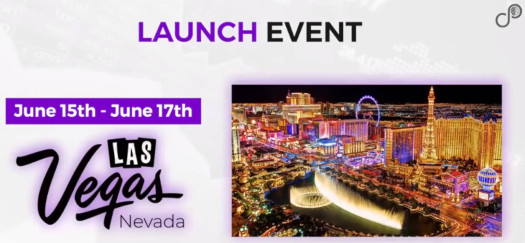 As above, the scheduled launch will be in Las Vegas mid June.
Update 18th September 2021 – Following the collapse of Digital Profit, Jeremy Reynolds has sold off Well Beyond to My Daily Choice.