Sannderly Rodrigues violating his TelexFree injunction?

Sannderly Vasconcelos Rodrigues (Sann Rodrigues for short), was one of the top investors in the billion dollar Ponzi scheme, TelexFree.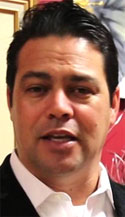 For his part in stealing over three million dollars from investors who joined after him, Rodrigues (right) saw himself named as a defendant in an April 2014 SEC complaint.
As part of that case, which is on hold until the criminal case against TelexFree's founders is concluded, Rodrigues saw himself slapped with a preliminary injunction back in May.
Among other things, this injunction saw Rodrigues 'ordered to cease conducting any further fraud involving securities or otherwise'.
Today I thought I'd raise the question of whether Rodrigues is meeting this court-ordered obligation.
Back in September the Brazilian MLM opportunity iFreeX went into prelaunch.
Who runs the iFreeX remains a mystery, however Sann Rodrigues is heavily involved in the promotion of the company.
Rodrigues began heavily promoting iFreeX on his then primary Facebook account, only to have the state of Massachusetts issue a warning against the company in October.
In the warning, Secretary of State William F. Galvin personally identified Rodrigues as one of the culprits promoting iFreeX:
Secretary of State William F. Galvin is warning people being asked to invest in iFreex to be wary.

Complaints have been made to the state's Securities Division against Sanderley Rodrigues de Vasconcelos, also known as Sann Rodrigues, who state officials said was once a top promoter for TelexFREE.

iFreex appears to have many of the same characteristics as other pyramid schemes the Securities Division has recently brought actions against, including Wings, TelexFREE and WCM777.
Immediately after Galvin's warning was issued, Rodrigues began deleting all iFreeX promotional activity from his then primary Facebook profile.
For the rest of October Rodrigues lay low, but in November he once again began heavily promoting iFreeX on a backup Facebook profile he registered in August.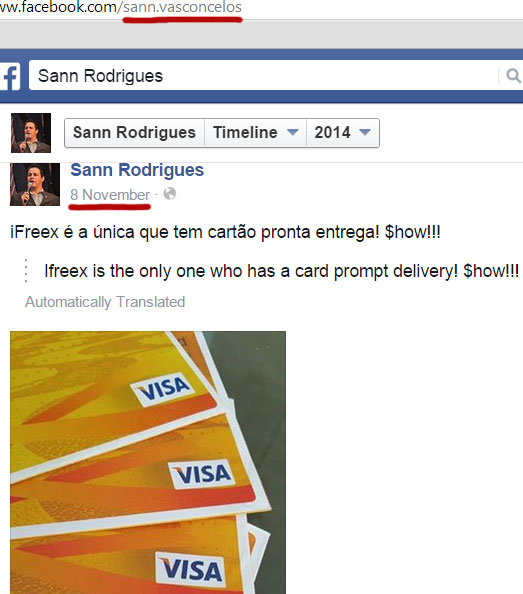 Since his first 8th November posting, Rodrigues has issued a steady stream of iFreeX marketing on his alternate profile.
On November 15th Rodrigues advertised that he would be hosting a "mega event" for iFreeX: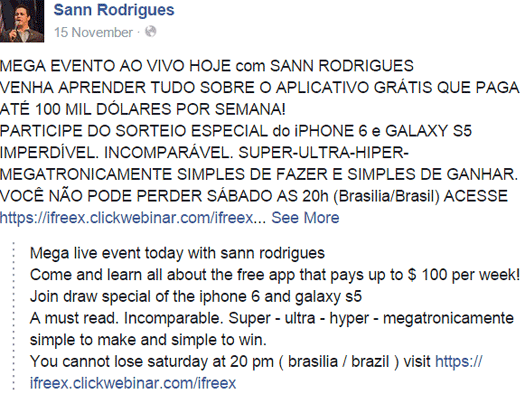 On November 17th Rodrigues flew to Portugal on a recruitment drive for new iFreeX affiliates: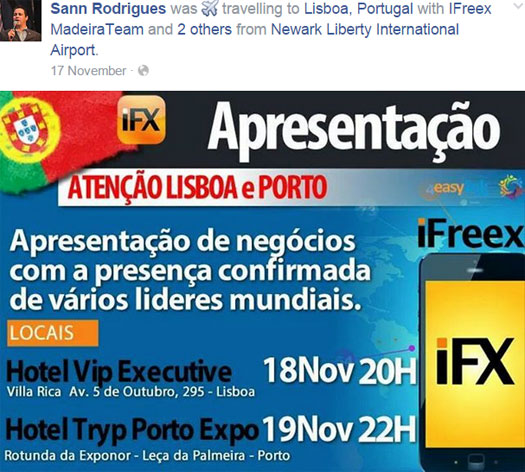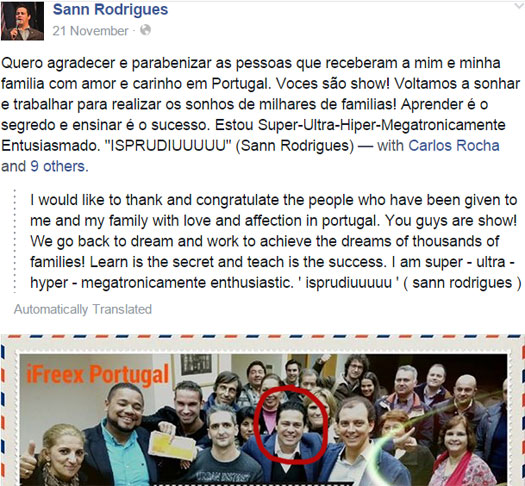 After Portugal Rodrigues claims to have continued his recruitment escapades in France (23rd November) and England (27th November). Rodrigues refers to his recruitment drive as hi "Europe Tour".
Rodrigues fled the US to his native Brazail after TelexFree was shutdown by the SEC.
After returning from his tour of Europe, Rodrigues then immediately set about luring Brazilians into iFreeX too: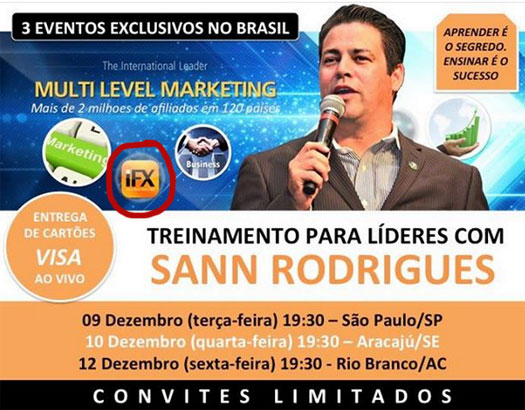 Rodrigues held three events and charged attendees $20 just to listen to him make his pitch.
Throughout the rest of December Rodrigues continued to hold recruiting seminars in Brazil, where he is currently holed up.
Other posts by Rodrigues suggest iFreeX activity in Peru, Spain, Colombia, England and Switzerland.
In response to Galvin claiming iFreeX had 'many of the same characteristics as other pyramid schemes', iFreeX issued a directive in late November banning the recruitment of US citizens.

When exactly this policy was implemented is unclear, but the above Facebook post dated 28th November was the earliest example I was able to find.
Regardless, Sann Rodrigues (who holds an American passport himself), appears to have not gotten the memo.
As late as December 18th Rodrigues advertised an iFreeX "mega event" featuring Dione Folador: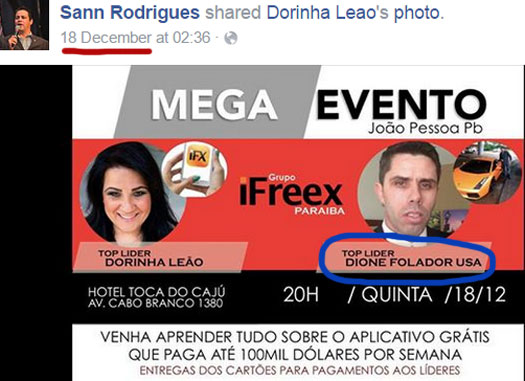 As per the screencap above, Folador is credited as being an iFreeX "top leader from the US".
At this point if you're unfamiliar with iFreeX, you're probably asking yourself why any of this matters. Rodrigues is promoting iFreeX while the TelexFree saga plays out, what's the big deal?
Well, according to iFreeX's business model, the company charges affiliates up to $1299 + a $49.99 joining fee to participate.
Paying this fee qualifies an iFreeX affiliate to earn in the company's compensation plan. Through which they are then paid to recruit new paid affiliates.
iFreeX also pay out a daily ROI using affiliate membership funds, in addition to monthly commissions paid out of a $49.99 a month fee all affiliates must pay to continue to participate.
In September Rodrigues suggested iFreeX might be "the next TelexFree". That same month he also claimed to have over 20,000 affiliates in his iFreeX downline:

The total number of people he has recruited into iFreeX today is unclear.
What is clear however is that Rodrigues is a primary promoter of what is quite obviously a recruitment-driven pyramid scheme. Make no mistake, Secretary of State William F. Gavin's warning was issued not without merit.
Given this, Rodrigues appears to be thumbing his nose at the SEC and in clear breach of the conditions set in the preliminary injunction granted against him.
As the time of publication, an answer to Rodrigues' inherent inability to cease scamming the general public has yet to be made.
Rodrigues for now remains at large in Brazil, where presumably he believes he is safe from US regulators.