iFreeX pyramid scheme warning issued by Massachusetts

A few days prior to our downtime, BehindMLM published a review of iFreeX.
Advertised as "the next TelexFree", iFreeX are planning on charging affiliates monthly fees and in turn paying them recruitment commissions and shares in monthly revenue pools.
Whether or not regulators in Massachusetts read the review is unclear. Not even a week after it was published however, Secretary of State William F. Galvin issued a public warning:
Secretary of State William F. Galvin is warning people being asked to invest in iFreex to be wary. Complaints have been made to the state's Securities Division against Sanderley Rodrigues de Vasconcelos, also known as Sann Rodrigues, who state officials said was once a top promoter for TelexFREE.

iFreex appears to have many of the same characteristics as other pyramid schemes the Securities Division has recently brought actions against, including Wings, TelexFREE and WCM777
Starting around mid-September, Rodrigues began heavily advertising iFreeX on his Facebook wall.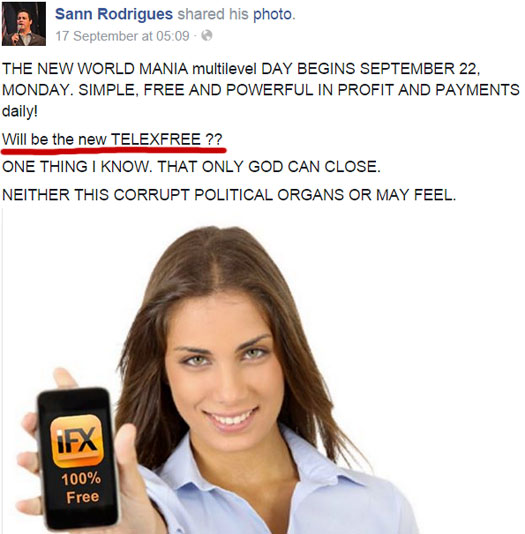 In addition to claiming that "only god" could shut iFreeX down, Rodrigues also boasted of a prelaunch downline running into the thousands.
Rodrigues last Facebook post however is dated September 29th, with nothing published since. Whether or not regulators have been in contact with him is unclear.
Also unclear is Rodrigues current whereabouts, with a report from the Telegram citing Rodrigues as a 'former Revere resident'. Revere being a city up in the northern end of the state.
Whether or not that means Rodrigues has fled Massachusetts (or indeed the US) is not clarified.
With the management structure of iFreeX being kept under wraps, there's strong implications that Rodrigues is either directly or indirectly involved in the running of the scheme.
Stay tuned…