Rodrigues & Sloan slapped with preliminary injunction

Thus far defiant in their non-cooperation with authorities over their part in a $1 billion dollar Ponzi scheme, Faith Sloan and Sannderly Rodrigues were rewarded for their efforts with the granting of a preliminary injunction on Wednesday.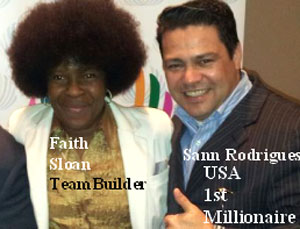 Top-promoters of TelexFree and apparent best buds, the "100% TelexFree" scamsters now have 100% of their assets frozen.
By order of the Massachusetts District Court on Wednesday May 7th, Faith Sloan and Sannderly Rodrigues de Vasconcelos have been
ordered to cease conducting any further fraud involving securities or otherwise
prohibited destroy evidence that may be used against them
ordered to deposit with the court any funds received from TelexFree investors that are currently held outside of the US
prohibited from opening any new bank accounts and accepting any new funds from TelexFree investors
provide the SEC with details of any funds received by them from TelexFree investors, including how such fund were then spent or transferred on
provide the SEC with a list of all assets worth at least $500 individually
provide the SEC with a list of all bank accounts used (under direct or indirect control by Faith and Rodrigues)
Judge Gorton granted the preliminary injunction after ruling that, based on evidence presented in court, it was in the public interest and that the SEC would be able to establish Sloan and Rodrigues have been engaged in securities violations. Additionally reasons cited were that Sloan and Rodrigues "are likely to reoffend" and to try to hide their assets, which could be required to pay off forthcoming civil penalties.
To date neither Sloan or Rodrigues have addressed the TRO put in place against them prior to the granting of the preliminary injunction. My guess is they were hoping the now failed bankruptcy application in Nevada was going to trump regulatory action in Massachusetts.
With that hope dashed, Rodrigues and Sloan now have five days from May the 8th to comply with the preliminary injunction. I'm not sure what exactly happens should they continue to ignore the regulatory action taken against them, but I imagine it's probably best they don't find out.
Also granted a preliminary injunction against them were the two money laundering companies Joe Craft set up for TelexFree owners Wanzeler and Merril, Telexelectric LLC and Telex Mobile Holdings, Inc.
A decision regarding a preliminary injunction being granted against the remainding defendants (TelexFree and its management/insiders), is expected to be handed down on or before May 10th. The TRO issued against the parties remains in force until then.
Footnote: My thanks to Don @ ASDUpdates for providing Sloan and Rodrigues' respective orders.
Update 10th May 2014 – Preliminary injunctions have now been granted against all parties involved. TelexFree, Joseph Craft, Carlos Wanzeler (who is also facing criminal charges and is now a wanted fugitive), James Merrill (also facing criminal charges) and Steve Labriola have all had their assets frozen.
They are subject to the same conditions outlined in the Sloan and Rodrigues preliminary injunctions above.