TelexFree top Ponzi pimp claims he's a victim

One of the more dangerous side-effects of making a lot of money in Ponzi schemes, is the blowback you get from your downline when the scheme inevitably collapses.
An old-hand at scamming people in such schemes, Sann Rodrigues, being TelexFree's top Ponzi pimp, is arguably now in the most dangerous position of all.
His exit strategy?
"I'm a victim just like you guys!"
Speaking to iG (a major Brazilian media outlet), Rodrigues' story is now:
I am a victim of Telexfree today.

If you're accusing [the company ] of being a pyramid, then the victims are the people who were participating.
The seed Rodrigues is trying to plant of course being that he is just one of those "victims" who participated.
I am an affiliate like any other. I joined as a promoter of Telexfree and understand that it was a good opportunity. I have no stake in, nor do I perform any other type of function in Telexfree other than as a recruiter of thousands of people.
Yes, Sann Rodrigues is just your "average joe" TelexFree affiliate victim, except that he's directly responsible for recruiting "thousands of people" into the scam.
So effective was honest Rodrigues at recruiting people, that TelexFree used him as the posterboy of success for their events. At a recent inhouse awards ceremony in Madrid, TelexFree named Rodrigues as the "top promoter in the world" for 2013:

According to TelexFree's 2013 profit and loss statement, the company paid out $622 million dollars in affiliate commissions last year. Exactly how much of that money went to Rodrigues that year is unclear.
iG attempted to probe Rodrigues about his Ponzi earnings, but beyond proclaiming himself a victim, Rodrigues wasn't interested in providing any answers.
When asked about the size of his personal TelexFree downline, Rodrigues told iG he "did not have that information".
Back in March 2013, when he was still actively recruiting new investors into TelexFree, Rodrigues was a little more forthcoming.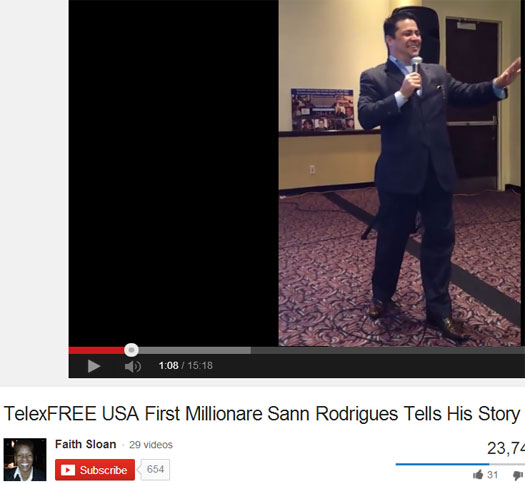 At a TelexFree event hosted by the Sheraton Gateway Hotel in Newport, Atlanta, Rodrigues tells the assembled crowd of prospective TelexFree investors:
I started in TelexFree (in) February 2012, and I buy one family plan. I put five ads a day and made $800 a week.

I don't invite anybody to TelexFree, because every company I'm failing in in MLM, the compensation requires you to invite somebody to make money or I need (to) sell something or make sales to make money.
What Rodrigues describes above is TelexFree's top-tier "AdCentral Family" investment package. Affiliates invested $1375 and received $100 a week passively for 52 weeks. Through AdCentral investment and re-investment, Rodrigues later claims in the video to have made three million dollars in TelexFree.
This is family plan, I keep this plan (for) two weeks.

After this, I have a Mercedes black 2004 640. Yeah? And I go to the bank and I refinance the car, I take the money, like a $12,000 and complete my first team-builder. This is my story in TelexFree.
"Team-builder" was an unofficial name TelexFree affiliates used to refer to the investment in a group of five AdCentral Family investment packages.
And I keep just one Team-builder for five months. February, March until June. June the 5th.

Everybody gets paid weekly in TelexFree. On June 15th I started to work professional (for TelexFree). I have a lot of Brazilian friends, Spanish and I sent texts to this guy (Rodrigues refers to one his partners off stage),

"Man I made $10,000 this week. Man I made $20,000 this week. Next week, made $100,000."

Look, when I made the decision to put my life in this company, because I know the owners. Jean (Rodrigues partner), my first meeting with Jean was in 2006. Carlos Wanzeler too.

My heart is very… look when I put my heart in this business, my life has changed.
Compare this with what Rodrigues told iG yesterday,
How did you meet Carlos Wanzeler and James Merrill?

I met them through the Disk Will [ Wanzeler created by the U.S. ]. They had a company called Disk to Will and I only met them, but I never had relationship and then have only met through Telexfree.
How different the tune sounds when the golden goose stops laying eggs.
Rodrigues continues on, explaining why he "loves" TelexFree so much:
I now have many, many options in the MLM industry but (there are) two things (that) are very similar in all options.

The two things is you make money just if you invite person or sell something. TelexFree's different.

You can make money yourself. Just place your ads everyday and everyone gets paid weekly.

What company in the world you don't need to invite anyone or you don't need to sell any product?

Now exists TelexFree (laughter).
Straight from the horse's mouth, Sann Rodrigues "loved" TelexFree because he didn't have to sell anything to make money.
Again, contrast this with what Rodrigues told iG yesterday,
If Telexfree exit these questions, you will re-invest in it?

First I've never invested in Telexfree, I never understood the Telexfree as an investment but as a multilevel marketing company that sells VoIP technology

I had the reassurance of seeing Telexfree as a legal opportunity to sell products in multilevel marketing.
At this point you're probably wondering why Sann Rodrigues is so obviously lying through his teeth in the wake of TelexFree being shutdown.
Taken from the Division's complaint against TelexFree, here's the answer:
Troublingly, TelexFree allowed certain participants to join the scheme despite prior run-ins with the law. TelexFree highlighted one such participant, Sann Rodrigues, as a top promoter in the world on the TelexFree website.

Rodrigues, a self-proclaimed millionaire, had previously operated a similar multi-level marketing phone card fraud shuttered by the SEC in 2006.

In 2006, Rodrigues was held liable for operating a fraudulent pyramid scheme targeting the Brazilian community. As part of the court proceedings, Rodrigues was permanently barred from the offer and sale of securities.
Rodrigues is named as a defendant in the Securities Division's complaint, and for his part in participating in the TelexFree Ponzi scheme and selling unregistered securities to his downline, is likely now facing jail time.
In his iG interview, Rodrigues even goes so far as to plant the seed he was misled by MLM attorney Gerry Nehra (who gave TelexFree his "legal blessing"), despite Nehra not being involved in TelexFree when Rodrigues joined in 2012.
I'll leave you now with one final quote from Rodrigues at his Atlanta event speech:
Some people ask me, "Sann, what do you think about this company's future?"

Look, I think in the present and the future.

In the present (TelexFree) changed my life.

In the future, it will change the lives of my sons, of my family, my friends. I think that TelexFree is forever. I think that TelexFree has changed the MLM industry forever.
Forever indeed.
Footnote: Anyone who invested money in TelexFree under Sann Rodrigues and are now left wondering where their money went, would be advised to get in contact and ask him about his TelexFree ROI guarantee:
One guy, my friend told me, "Sann, I have $60,000 (and) I want to start in TelexFree – but I need one guarantee."

What guarantee?

"If I lose my money, you give me my $60,000 back."

Okay. But if you don't lose, you give me $60,000.
The video Rodrigues makes the above ROI guarantee and the other statements quoted in this article, can be viewed in its entirety below: