TelexFree owner arrested, criminal charges filed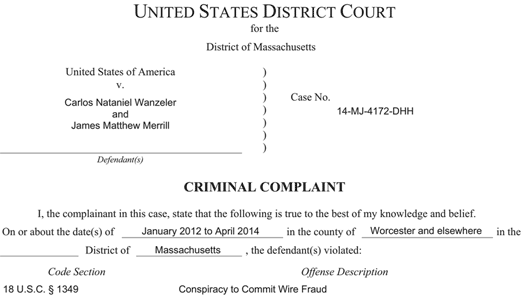 Ever since those forfeiture notices were issued at the Nevada bankruptcy trial, we've been waiting for the US Attorneys Office to show their hand. And on Friday morning they did just that.
TelexFree co-owner James Merrill has been arrested on "conspiracy to commit wire fraud charges and his partner in crime, Carlos Wanzeler is now a fugitive in hiding.
Wanted on the same charges, Carlos Wanzeler's whereabouts are currently unknown, however it's believed he fled to Brazil shortly before the arrest warrants were issued.
TelexFree and its management have always insisted they're willing to co-operate fully with any and all regulatory investigations and related matters, but apparently that doesn't extend out to the arrest of Wanzeler.
For those unfamiliar with the charge, wire fraud
is any fraudulent scheme to intentionally deprive another of property or honest services via mail or wire communication. It has been a federal crime in the United States since 1872.
With TelexFree being a $1 billion dollar Ponzi scheme that owed around $5 billion in monopoly money to its investors, it naturally falls under the category of a "fraudulent scheme".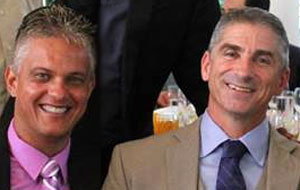 The US Attorneys Office complaint against Wanzeler and Merrill (right) is supported by an affidavit from Homeland Securities Special Agent, John Soares. Soares' affidavit tells a familiar story. It contains the same information we've been publishing here at BehindMLM for nearly two years now.
Soares' affidavit starts off by explaining TelexFree's fraudulent business model, and concludes
(TelexFree) derived only a fraction of its revenue from VOIP services – about 1% of TelexFree's hundreds of millions of dollars in revenue over the last two years.

The overwhelming majority of its revenue came from new people buying into the scheme. In fact, TelexFree was only able to pay the returns it had promised to its existing promoters by bringing in money from newly recruited promoters.
The affidavit then goes on to cover TelexFree running out of money, launching bankruptcy proceedings to try to escape their Ponzi liabilities and Joe Craft's attempt to flee with what was left of TelexFree's money. They also touch on the Brazilian regulatory investigation, mentioning that Brazilian authorities have $350 million dollars of TelexFree funds frozen by court order.
Details of the money laundering entities Joseph Craft set up for Wanzeler and Merrill are also revealed:
Wanzeler testified that TelexFree Financial was created to pay the employees of TelexFree because they "have so many problems with the banks".

This appears to be a reference to US banks repeatedly shuttering TelexFree accounts in 2012 and 2013 because of concerns Merrill and Wanzeler were doing something illegal.

TelexFree used so many accounts in a roughly two year period because US banks, following their protocols for deterring money laundering or other financial misconduct, repeatedly shut them down and forced Merrill and Wanzeler to transfer the funds elsewhere.
Joe Craft, TelexFree's financial advisor and CFO, would later argue with the SEC that he had no part in TelexFree's fraud. As part of negotiations that would later "break down", Craft demanded the SEC remove any verbiage that indicated he had any responsibility or had a hand in any of TelexFree's criminal activities.
i-Payout, TelexFree's last payment processor following stints with ProPay and Global Payroll Gateway (GPG), also come under fire.
Agents reviewed records provided by i-Payout. The records show that in 2013 i-Payout recorded 52,562 payments to TelexFree totalling $66,036,927.

Of these, there were 2153 invoices for $49.90 (the monthly VOIP cost), totalling $107,434, or less than 0.2%.
Despite helping to facilitate the obvious fraud taking place at TelexFree, in October 2013 i-Payout had the gall to write to BehindMLM to protest our TelexFree coverage. i-Payout sought to assure us that they'd conducted "complete due diligence on TelexFree", concluding that the company was "compliant with all US laws".
Both ProPay and GPG had the sense to boot TelexFree as a client once they realised what was going on. i-Payout though couldn't resist the lure of fees generated from TelexFree's Ponzi activities, ultimately sticking with TelexFree and cashing their checks until the end.
One would hope i-Payout have since terminated whoever was in charge of their due diligence dept.
Undercover sting operations conducted by Homeland Security agents are also revealed in the criminal complaint. Detailing an attempt to purchase TelexFree VOIP (which took two hours), and the infiltration of a TelexFree promotional event:
On March 9, 2014, members of HSI, some in an undercover capacity, attended the "TelexFree New Compensation Plan"Conference at the Mariott Copley Place Hotel (in) Boston, Massachusetts.
Even as TelexFree's management and top promoters sought to convince the affiliate-base at large that they were still viable (despite running out of money), US regulators were there amongst them building a case – recording everything that was said for later use as evidence.
While TelexFree management took to the stage in Boston to try and convince everyone their VOIP mattered, undercover agents observed
Neither Merrill, Wanzeler, nor any other TelexFree executive mentioned that the company actually generated only a fraction of its revenue from selling TelexFree's VOIP product, and instead depended on generating revenue from new promoters that could be used to cover TelexFree's payment obligations to existing promoters.
Wanzeler specifically, was caught out lying:
Wanzeler said, among other things, "Over 600,000 customers paid $49.90 to TelexFree99."

Based on extensive review of TelexFree's banking activity, credit card activity, and portions of its backoffice data, Wanzeler's statement… was false.

In their testimony to the Massachusetts Securities Division, both Wanzeler and Merrill reaffirmed that 580,000 people bought VOIP packages in February 2014, and Wanzeler "guaranteed" that most of those people were "outside" retail customers.

But 580,000 customers each paying $49.90 would have generated $28,942,000 in revenue from VOIP sales, and thousands of $49.90 entries in TelexFree's bank and credit card processing records.

That revenue does not appear in TelexFree's bank and credit card processing payment records in that time frame.

As to "back office" activity, that would involve promoters, or people recruited by promoters, buying the product, and such persons would not appear to be legitimate "outside" customers.
And people wonder why I make such a big deal of pointing out retail viability in my MLM company reviews…
Accompanying the US Attorneys Office criminal complaint is a press-release from the Department of Justice, which sums up the criminal matters TelexFree are now facing:
James M. Merrill and Carlos N. Wanzeler, principals of TelexFree, Incorporated and related entities, were charged today in a federal criminal complaint, charging them with conspiracy to commit wire fraud.

Merrill, 53, of Ashland, Mass. and Wanzeler, 45, of Northborough, Mass., were charged in a one count criminal complaint filed in U.S. District Court in Worcester, Mass.

If convicted, each face up to 20 years in prison.

Merrill was arrested today by federal authorities and made an initial appearance in U.S. District Court in Worcester. A federal arrest warrant was issued for Wanzeler who is a fugitive.

United States Attorney Carmen Ortiz said, "The scope of this alleged fraud is breathtaking. As alleged, these defendants devised a scheme which reaped hundreds of millions of dollars from hard working people around the globe."

"I am very proud of the tireless efforts of my special agents. Investigating the flow of illicit money across U.S. borders and the criminal enterprises behind that money is one of our top priorities," said Bruce Foucart, Special Agent in Charge of Homeland Security Investigations.

"While pyramid schemes are nothing new, the potential scope of this case will hopefully serve as an educational lesson for all. The main point is clear; if it sounds too good to be true, it probably is."

TelexFree reported sales of $1.016 billion, while known sales of the TelexFree VOIP product represented less than 0.1% percent of TelexFree's total revenues.

United States Attorney Ortiz, SAC Foucart and Vincent B. Lisi, Special Agent in Charge of the Federal Bureau of Investigation, Boston Field Division, made the announcement today. The case is being prosecuted by Assistant U.S. Attorneys Cory Flashner and Andrew Lelling of Ortiz's Worcester Branch Office and Economic Crimes Unit, respectively.
The DoJ close out their press-release by asking victims
of the alleged TelexFree, Inc. scheme (to) please send your contact information to the following address:

USAMA.VictimAssistance@usdoj.gov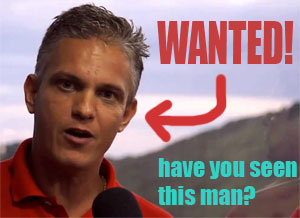 I'd also urge that if anyone's in Brazil (or elsewhere) has seen Carlos Wanzeler, that they get in touch. Wanzeler is a wanted fugitive now who is up on criminal charges.
Meanwhile to the TelexFree "leaders" still uploading YouTube videos and Facebook updates: The time for filing silly "we love TelexFree" letters in court and putting out false and misleading information is over.
Shit just got real.
Footnote: My thanks to Don @ ASDUpdates for providing additional documentation for this article.