Kevin Thompson to tackle i-Payout compliance?
When you see my name associated with a particular company out there, I always tell clients… I make it clear they're not allowed to use my name in any sort of promotional fashion.

Number one it looks horrible. Mainly from a marketing standpoint it's a bad idea, in my opinion, to lead with lawyers. Right?

You don't see the big companies out there like Amway and Herbalife saying, "look, we're a clean company because our lawyer says we're clean." When you do that you're all but implying your program has some significant problems.

-Kevin Thompson, appearing in a YouTube video uploaded February 12th, 2014.

Following the shutdown of Liberty Reserve for money laundering and the ongoing mysterious and abrupt suspension of business activities in the US by Payza, one payment processor name I've seen pop up with increasing frequency in the MLM industry is i-Payout.
I'm not sure who's in charge of i-Payout's approval process is for MLM business opportunities, but here's a list of their more recent clients:
Spinding (six-tiered Ponzi scheme that uses a global cycler business model)
Wealth4AllTeam (long-running but now collapsed 10 day ROI Ponzi scheme)
Primus Hub (attempted reboot of Wealth4AllTeam once it collapsed)
Funky Shark (planned Ponzi scheme that shutdown during prelaunch following legal advice and a $40,000 fine)
TeamVinh International (feeder co-op program for multiple recruitment-driven MLM schemes)
MyAdvertisingPays (120% ROI advertising-based Ponzi scheme)
Diamond Banners (matrix based recruitment scheme)
Diamond Cycler (matrix based recruitment scheme)
Argent Network (52 week ROI Ponzi scheme, advertised as "a mixture of Zeek Rewards and TelexFree")
1BuckAdShare ($1 a position Ponzi scheme)
The above is just a sample list I was able to put together after conducting a small amount of research, I'm sure there are others. But what the above list should give you is an idea of the types of companies i-Payout have no problems providing ewallet and payment processor services to.
Effectively it would appear that if you can show i-Payout the money, "Welcome aboard!"
I personally found myself in communication with i-Payout when they took objection to me calling them out for providing TelexFree with ewallet services in the US.
TelexFree are currently under investigation in multiple countries and facing legal action in Brazil. Public Prosecutors in the Brazilian state of Acre have announced that pending charges against TelexFree for money laundering and embezzlement.
Despite the obvious Ponzi nature of TelexFree, i-Payout took it upon themselves to defend their (biggest?) client. In their email to BehindMLM, i-Payout wrote:
i-payout is providing its product and services to TelexFree's US and global business outside of Brazil.

i-payout has done a complete due diligence on TelexFree, assessed its needs, and confirmed the product as compliant with all US laws. i-payout also verified every single TelexFree member by a submission of a valid ID.
Putting aside the fact that it's an open secret Brazilian TelexFree affiliates have been publicly encouraging other Brazilians to sign up and invest in TelexFree with fraudulent identity details (TelexFree blocks investors from signing up with Brazilian contact details), i-Payout are clearly of the opinion that there is nothing wrong with accepting $289 investments from affiliates on the promise of a $20 a week annual ROI.
Hell, they even take things one step further by declaring the model to be "compliant with US laws". Who over at i-Payout made this declaration was not clarified by the company.
With i-Payout's inherent open-door policy in accepting clients, coupled with the recent regulatory crackdown on ewallet payment processors facilitating money laundering, embezzlement and other financial irregularities, along with the rising popularity of the processor with the MLM underbelly – it's pretty obvious the path i-Payout are going down.
And as it were, turns out I'm not the only one who figured as much. Presumably having booted out whoever was previously in charge of their compliance (a broom closet full of lobotomized jellyfish?), i-Payout just announced they have
partnered with Kevin Thompson to provide up-to date compliance guidance to their new and existing clients in the Direct Selling and Multi-Level Marketing industry.

i-Payout President, Eddie Gonzalez, commented, "we are constantly striving to improve the services we provide our clients and to enhance our reliability with vendors and banks.

As an industry leader, we are in an advantageous position to provide guidance for our clients to remain compliant with constantly evolving MLM and DSA regulations. We are therefore pleased to welcome Kevin to support these efforts."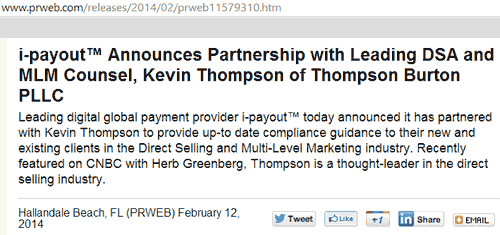 Thompson publicly announcing he tells his clients that "they're not allowed to use my name in any sort of promotional fashion" on the same day i-Payout make their announcement… you couldn't make this stuff up.
Anyway, I'm sure Thompson and i-Payout will work that out what went wrong there.
Meanwhile what I find interesting is that, going off of i-Payout's announcement, this potentially pits Thompson against business models such as that of TelexFree's.
i-Payout today announced it has partnered with Kevin Thompson to provide up-to date compliance guidance to their new and existing clients in the Direct Selling and Multi-Level Marketing industry.
Unless you're Gerry Nehra, it's impossible to skirt the fact that TelexFree accept $289 deposits from affiliates and use this money to pay out other affiliates – at a guaranteed rate of $20 a week for 52 weeks. By any other name that's a straight-forward Ponzi scheme.
Apart from some murkiness with Bidify (that cringe-worthy Frode video), Thompson has a pretty solid track record. I say pretty solid because there is the odd exception:
As Thompson explains in his video though, sometimes clients don't listen to his advice and I think that's a fair statement for him to make. Whether or not Empower Network or Bidify (now MyCenterBid) fall under that category though, who knows… but from what I've seen overall I'd like to give Thompson the benefit of the doubt.
Considering the alternative is someone like Gerry Nehra, who gets up on stage at company events and blesses MLM opportunities, irrespective of how obvious a Ponzi scheme they might be, Thompson is usually a well-balanced voice of reason within the industry. Albeit locked into the constraints that being an attorney sometimes brings with it.
Far be it from me to predict Thompson's verdict on TelexFree or whether or not i-Payout or TelexFree will pay any attention to it, but should the payment processor continue down the path of providing ewallet payment processor solutions to some of the industry's most questionable companies, sooner or later it's going to catch up with them.
How many thousands, if not hundreds of thousands of dollars of TelexFree affiliate investor money has passed through i-Payout only they and TelexFree know for now. . What with Alessandra Marques of the Acre Public Prosecutor's Office claiming a US investigation into TelexFree is already underway, I imagine soon enough we'll be able to add the SEC to that list too.
What do they think about Ponzi schemes that hide behind the facade of having their affiliates spam the internet with ads every day? One only need look at Zeek Rewards and AdSurfDaily for a definitive answer. Not withstanding Nehra gave his seal of approval to both those schemes too.
Will Thompson be able to clean up i-Payout or are they destined to become the next payment processor to be shut down for letting anyone and everyone pump funds through them?
One might even argue it's already too late;
As always, stay tuned…