Liberty Reserve shut down for "money laundering"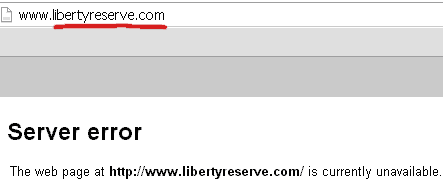 There's a general consensus in the MLM industry that if you see an MLM company using one of three particular payment processors, then at the very least it's worth taking a precautionary approach.
Payment processors handle money between MLM companies and their affiliates. In an age where global affiliate membership is the norm, payment processors simplify the process in which companies are able to effectively pay their affiliates commissions.
Today Liberty Reserve, easily one of the most frequently used payment processors in the MLM industry, was shut down following the arrest of its creator and owner in Spain.
Following an investigation that began back in 2011, Costa Rican authorities raided the home of and arrested Arthur Budovsky Belanchuk.
Belanchuk is credited as the creator of Liberty Reserve. In an article published on Tico Times, Costa Rican prosecutor José Pablo González stated;
Budovsky, a Costa Rican citizen of Ukrainian origin, has been under investigation since 2011 for money laundering using a company he created in the country called Liberty Reserve.

Local investigations began after a request from a prosecutor's office in New York. On Friday, San José prosecutors conducted raids in Budovsky's house and offices in Escazá, Santa Ana, southwest of San José, and in the province of Heredia, north of the capital.

Budovsky's businesses in Costa Rica apparently were financed by using money from child pornography websites and drug trafficking.
Liberty Reserve has been a stalwart on the MLM company payment processor scheme, being used extensively by legitimate and dubious income opportunities alike.
Wikipedia lists Liberty Reserve as a member of the Global Digital Currency association (GDCA). Somewhat ironically, GDCA state on their website that they are
a trade association of online currency operators, exchangers, merchants and users (with a) declared goal to further the interests of the industry as a whole and help with fighting fraud and other illegal activities.
Guess they must have missed all that money laundering going on.
At the time of publication the Liberty Reserve website is down and returning a 503 "service unavailable" error. Meanwhile the status of and what will happen to the money many MLM affiliates had in the e-wallet is not currently known.
There's a reason most affiliates who have been in the industry for some time are wary when an MLM company uses one of these particular three payment processors, and not surprisingly as above it's entirely justified.
Using them for the same reasons child pornographers and drug traffickers do, countless scams have funnelled hundreds if not of millions of dollars through them over the years.
Stay tuned for updates if any additional news comes to hand.
Update November 2013 – Liberty Reserve co-founder Vladmir Kats has pled guilty to 'money laundering and operating an unlicensed money transmitting business'. He now awaits sentencing.
Update 14th October 2014 – Liberty Reserve co-founder Arthur Budovsky Belanchuk has been extradited from Spain.
He currently being detained in New York and is to be presented before a Judge for arraignment.