Gerry Nehra fails basic TelexFree due diligence?

Last Saturday night I received an out-of-the-blue email from attorney and well-known MLM figure Gerry Nehra.
Somewhat cryptic in nature, Nehra's email simply stated:
I wish to talk to and email with a person or persons controlling this web site about a recent posting. I am an Attorney specializing in the direct selling industry.

Gerald Nehra
Sending off what I thought would have been obvious given the above email was sent via BehindMLM's "contact" form, I replied:
I'd be that person, fire away.

-Oz
I didn't hear anything back on Sunday but yesterday morning Nehra replied, giving me a clearer picture of what it was he wanted to discuss.
A reply that left me scratching my head and wondering just how much due diligence MLM lawyers actually put into the clients they choose to represent.
Here's what Nehra sent me:
I represent TelexFREE in the USA. I am not bi-lingual, and I do not represent, or comment on, TelexFREE operations outside the USA.

The TelexFREE business model in the USA is NOT an investment, uses NO investment language, and pays ONLY on the sale of its VOIP long distance product.

Any representative who uses investment language to describe the TelexFREE business model is violating policy, and if reported to the company, will be counseled and disciplined, up to and including termination.

We respectfully request you retract statements to the contrary.

Gerald Nehra, Attorney at Law

MLM Specialist Counsel to TelexFREE in the USA
Upon receiving Nehra's request, I figured he'd read the BehindMLM review of Telexfree and, with TelexFree presumably not offering the whole AdCentral investment scheme in the US, wanted me to amend the review to indicate it wasn't offered in the US.
Figuring if this was the case that TelexFree deserved a separate review if it was indeed using a different model in the US, I headed over to their website only to see this: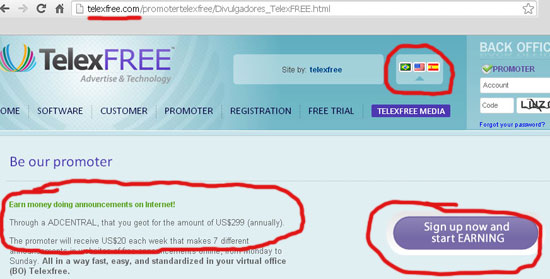 I've had to shrink the above screenshot to fit on the page but the circled text on the bottom left of the page reads:
Be our promoter

Earn money doing announcements on Internet!

Through a ADCENTRAL, that you geot (sic) for the amount of US$299 (annually), the promoter will receive US$20 each week.
I tried looking for a separate TelexFree USA website but found none. The above page features a US flag, indicating that it is the website for TelexFree USA.
Indeed, elsewhere on the same website TelexFree heavily promote the recent acquisition of Nehra by the company:
Telexfree claim to have Nehra and his firm Nehra & Waak "on retainer" to "protect its legal interests".
With Nehra claiming in his email that he "represents TelexFree in the USA", obviously this is the website of TelexFree USA.
As per the "AdCentral" marketing copy on the TelexFree USA website above, affiliates pay the company $299 and in return are guaranteed a $20 a week ROI.
As per the TelexFree USA FAQ, affiliates can purchase up to four additional AdCentral positions (referred to as a "family") for a total of $1156, with each position paying the guaranteed weekly $20 ROI:

18 – How to Become a Family?

There are two situations:

a) Being a Partner ($ 50 is paid Accession) must first acquire a adcentral by clicking the link UP-GRADE, which is inside your virtual office, buying an additional (paid U $ 289.00). And only after its activation may buy 4 more additional (U $ 289 X 4 = U.S. $ 1,156) and thus become a Family.

B) Being a adcentral (U $ 299.00 is paid Accession) must purchase their additional 4, by clicking the link UP-GRADE that is within your virtual office, paying $ 1,156 U
In order to qualify for their weekly ROI affiliates must place advertisements on the internet, including the advertisement of the TelexFree income opportunity itself.
As such, what you have are TelexFree affiliates paying the company hundreds of dollars to advertise for them, in exchange for a weekly $20 ROI.
Where does this ROI money come from?
Newly recruited affiliates who also pay TelexFree hundreds of dollars to advertise for them.
In light of this, I realised there wasn't any point to writing a separate TelexFree USA review (as per their website it's the same company with the same business model), and emailed Nehra back the following reply:
Taken from the TelexFree website, which uses an American flag so I can only assume is "Telexfree USA":

(I placed a screenshot of the TelexFree USA website with investment and weekly $20 ROI marketing copy as above here)

Please don't waste my time Gerry. The company appears to use the same business model across all markets (according to their website) and the Telexfree review on BehindMLM was written before Telexfree USA even existed. If you'd bothered to read it you would clearly see it decribes (sic) the Brazillian company.

You pay them $299 and earn $20 a week, paid out of newly invested $299 money by affiliates. Whatever long-distance VOIP product they have attached this scheme to is irrelevant.

I suggest you better research the company's (sic) you choose to represent.

-Oz
That was Monday morning roughly fifteen minutes after I received Nehra's second reply and I haven't heard anything back since.
What amazes me is this isn't the first time Nehra's been caught up representing what was obviously a blatant Ponzi scheme. Hell it's not even the second.
Nehra once filed an affidavit in court declaring that Ad Surf Daily "was not a Ponzi scheme". Ad Surf Daily was shut down in 2008 for being an illegal Ponzi investment scheme and its founder, Andy Bowdoin, confessed as much in mid 2012.
In late 2011 Paul Burks, founder and CEO of Zeek Rewards, held a secret meeting with early investors and informed them that Nehra was on retainer and had "taken the Zeek Rewards system apart",  making recommendations to change the terminology used by the company and its affiliates to describe the income opportunity.
Burks even went so far as to reassure the early investors that 'generally when Gerry Nehra is involved, the Feds know that he's cleaned up the act really well'.
In August 2012 the SEC shut down Zeek Rewards for being an illegal $600M Ponzi investment scheme.
Meanwhile TelexFree appears to already be under regulatory scrutiny back in Brazil, where the company first originated. Just a month ago the Brazilian Consumer Protection Authority (Procon) issued a press release advising they had analysed TelexFree and 'detected evidence of crimes'.
In light of their analysis and discovery, Procon 'lodged a complaint against Telexfree and forwarded it to the State Prosecutors Office, the Minister of Finance and the Federal Police'.
But of course rather conveniently, Gerry Nehra does 'not represent, or comment on, TelexFREE operations outside the USA'.
Looking at Nehra's emails, his involvement with TelexFree and their business model…
Here we go again?