MyCenterBid Review: Bidify v3.0 relaunch

Running a near identical business model, Bidify sprung up in the shadow of the $600M Ponzi scheme Zeek Rewards. When Zeek Rewards was shut down by the SEC in mid 2012, Bidify immediately went into crisis management and responded by scrapping the Ponzi points model.
Two compensation plan changes were released in the space of a week, with Bidify hoping to prove to the industry that retail was viable in an MLM penny auction.
By December 2012, following a general loss of confidence in MLM penny auctions after the SEC revealed that 98% of Zeek Rewards' revenue was sourced from affiliates, Bidify had abandoned their retail bids business model and went back to an affiliate-funded compensation plan.
Six months later and yet again CEO Larus Palmi Magnusson is again going to attempt to relaunch the Bidify business. This time though he's kicked it up a notch and gone far beyond a simple compensation plan change. A new brand, the abandoning of business operations in the US and a new website ("mycenterbid.eu").
Five compensation plan revisions later, have the folks over at Bidify learnt anything since Zeek Rewards?
Read on for a full review of the MyCenterBid MLM business opportunity.
The MyCenterBid Product Line

Bidify are keeping their Bidsson penny auction engine and have renamed it to CenterBid ("MyCenterBid" is the MLM income opportunity). The auctions run the same as any other penny auction out there, with bids "starts at 0.50 EUR" each.
I must be missing something because a few pages later in the MyCenterBid compensation plan material they list bids sold in packs at the price of 1 EUR each:
50 EUR pack – 50 bids (50 PV)
100 EUR pack – 100 bids (100 PV)
150 EUR pack – 150 bids (150 PV)
200 EUR pack – 200 bids (200 PV)
300 EUR pack – 300 bids (300 PV)
PV stands for "personal volume" and is the sales volume an affiliate generates either via their own purchase of bids or bids purchased by affiliate's they've personally recruited or any retail customers they bring into the business.
The MyCenterBid Compensation Plan
The MyCenterBid compensation plan pays out affiliates monthly binary commissions, weekly volume-based commissions and a daily commission via a "Customer Acquisition Bonus".
Binary Commissions
MyCenterBid pay out daily residual commissions using a binary compensation structure. A binary compensation structure places an affiliate at the top of the structure, with two legs branching out directly under them (level 1). These two legs represent the beginning of a left and right side.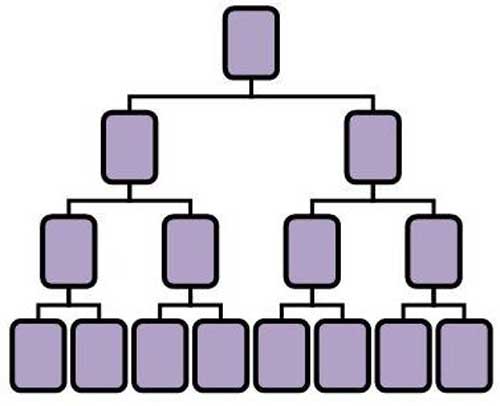 In turn, these first two legs branch out into two new legs each (level 2) and so on and so forth down a theoretical infinite number of levels. Each leg represents a position that is filled either via direct recruitment of new MyCenterBid affiliates or via the recruiting efforts of an affiliates up and downlines.
Bidify pay commissions using the above binary compensation structure according to a personal volume (PV) ratio. When recruited affiliates in a binary structure generate a total of 300 PV, Bidify pay out a 50 EUR commission.
This 300 PV can be generated via three ratios, 100:200, 150:150 or 200:100. Whichever permits the maximum number of matchable volume will be used, with any unmatched volume carried over for up to six months from when it was first generated.
Volume is matched daily, with binary commissions capped at a maximum of 25,000 EUR a week.
Production Bonus
Each week, the top 10 MyCenterBid affiliates binary sales volume wise are paid a Production Bonus. The Production Bonus is paid on the previous weeks Binary Commissions as follows:
1st place – 20%
2nd place – 15%
3rd place – 10%
4th to 10th place – 4%
Unilevel Commissions
Monthly residual commissions are paid out in MyCenterBid using a unilevel compensation structure. A unilevel compensation structure places an affiliate at the top of the structure, with every personally recruited affiliate placed directly under them (level 1).

If any of these level 1 affiliates go on to recruit new affiliates of their own, they are placed on level 2 of the structure. If any level 2 affiliates recruit new affiliates they are placed on level 3 and so on and so forth down a theoretically infinite number of levels.
Using the above unilevel compensation structure, MyCenterBid pay out on the sales volume generated by up to 15 levels of recruited affiliates. How many levels an affiliate is paid out on is dependent on their MyCenterBid affiliate membership rank:
Tier 1 (50PV and 1 active customer) – 5% on levels 1 to 3
Tier 2 (100PV, 200 GV and 3 active customers) – 5% on levels 1 to 3, 0.5% on level 4 and 5% on level 5
Tier 3 (150 PV, 300 GV and 5 active customers) – 5% on levels 1 to 3, 0.5% on level 4, 5% on level 5 and 0.5% on levels 6 to 8
Tier 4 (200 PV, 400 GV and 10 active customers) – 5% on levels 1 to 3, 0.5% on level 4, 5% on level 5, 0.5% on levels 6 to 9 and 5% on level 10
Tier 5 (300 PV, 600 GV and 20 active customers) – 5% on levels 1 to 3, 0.5% on level 4, 5% on level 5, 0.5% on levels 6 to 9, 5% on level 10, 0.5% on levels 11 to 14 and 5% on level 15
Note that GV stands for Group Volume and is the sales volume an affiliate's entire downline generates.
Also note that in MyCenterBid, an "active customer" is defined as a customer who has logged in, verified their account (email?) and used at least one bid in a CenterBid auction (must be a paid bid).
Auction Winner Bonus
If a customer brought into CenterBid by a MyCenterBid affiliate wins an auction, that affiliate is paid an Auction Winner Bonus. The bonus is 10% of the "auction surplus", paid up three levels of affiliate recruitment:
the affiliate who referred the customer: 5%
their upline (the affiliate who recruited them): 3%
their upline's upline: 2%
An auction surplus is the amount of money MyCenterBid makes on an auction (used bids), minus the cost of the auction item.
CAB Bonus
CAB stands for "Customer Acquisition Bonus" and is paid out to MyCenterBid affiliates via Customer Acquisition Points (CAPs).
The CAB is made up of 50% of MyCenterBid's "daily surplus", calculated via the following formula:
value of bids used daily + value of auction won that day (once paid for) + 20% of sellback revenue = daily revenue
daily revenue – daily auction product cost – administrative costs = daily surplus
"Sellback" is revenue generated when an auction winner declines to receive the item they won, and instead opts for a reduced cash payout (80% of the value of the product won).
An affiliate earns a share of 50% of the daily surplus via CAPs, which are given to an affiliate when a customer (non-affiliate) uses bids in a MyCenterBid auction.
How much of a CAP per bid used an affiliate is awarded depends on their affiliate membership rank (qualifications as above in "unilevel commissions"):
Tier 1 – 0.6 CAP per bid used
Tier 2 – 0.7 CAP per bid used
Tier 3 – 0.8 CAP per bid used
Tier 4 – 0.9 CAP per bid used
Tier 5 – 1 CAP per bid used
Note that CAPs don't have a fixed value, with the payout attached to 1 CAP share in the CAB pool dependant on the daily MyCenterBid surplus. Once generated, each CAP pays out a share of the CAB bonus for 60 days.
Joining MyCenterBid
Affiliate membership to MyCenterBid is 100 EUR upfront and 20 EUR a month thereafter.
Conclusion
Testament to the amount of compensation plan changes Bidify have undergone over the past year or so and the general floundering of every other MLM penny auction out there, I don't think rebranding themselves as MyCenterBid is going to save the business.
Despite the countless comparisons to Quibids and raving on about how consumers love penny auctions, when the SEC busted Zeek Rewards they revealed that even with over a million affiliates, retail revenue from an MLM penny auction is non-existent (2%).
MyCenterBid have by and large got rid of the central Ponzi points system Bidify and Zeek Rewards shared, but the problem was never on the affiliate side of things, it's been on the retail customer penny auction side.
And simply put, no amount of compensation plan revisions can address that.
Ignoring that core issue for a moment though, as far as MyCenterBid's compensation plan goes, the general idea seems to be sign up as an affiliate, self-qualify for commissions via a bid purchase, create a customer and bid on an auction and then earn on the bid pack purchases of affiliates you recruit.
As before with Bidify, those who create dummy customer accounts (family members, friends, spouses etc.) can rig the CAB by bidding on auctions and then opting to "sell back" won items to Bidify for cash.
This activity generates CAPs which then pays out a 60 day CAB bonus.
Retail customers can legitimately buy bids but why they'd want to when they're competing directly with affiliates is beyond me. Bidsson flopped for this very reason and I'm not seeing why CenterBid will be any different.
Especially when you've got MyCenterBid affiliates dumping bids they've purchased on customer accounts. The MyCenterBid compensation plan doesn't explain it in detail but does suggest to prospective affiliates that if they
do not want to be part of the MyCenterBid opportunity, but rather would like to receive complimentary bids for bidding at auctions, simply get back to the person that invited you to this presentation and ask for their CenterBid website.
This suggests that MyCenterBid affiliates will be able to dump bids
they've purchased on customer accounts (legitimate accounts and dummy customers they've created to work the compensation plan).
The unilevel commissions and CAP points generated do require additional active customers and add an air of legitimacy to the business model but both can be ignored only a single customer required at the lowest tiers. This does restrict the unilevel payouts and CAPs generated per dollar spent on bids (once used), however is still workable for passively investing affiliates.
Underscoring this of course is still the fact that in all probability nothing much is going to change on the revenue side of things, with MyCenterBid affiliates still making up the bulk of revenue the company generates (through bid pack purchases to satisfy monthly volume requirements).
That leads to little to no retail activity and quite obviously, sooner or later MyCenterBid will wind up with the same problems Bidify had.
Not helping is the whole sellback feature, which effectively reduces the entire CenterBid auction experience to online gambling for money. This sellback "feature" is most likely the core reason Bidify chose to abandon operations in the US before relaunching themselves as MyCenterBid.
have the folks over at Bidify learnt anything since Zeek Rewards?
Unfortunately, it appears they haven't.