QubitLife banned in Italy, CMO Marc Swickle does a runner

QubitLife has been officially banned by Italian regulators.
The move by CONSOB, Italy's top financial regulator, came a week before QubitLife informed 250,000+ victims it was disabling withdrawals.
When CONSOB began investigating QubitLife is unclear. What we do know is the investigation began prior to QubitTech rebranding as QubitLife.
CONSOB's investigation saw the regulator conclude QubitTech was offering unlicensed "financial products" to Italian residents.
In relation to the described activity, no prior communication to Consob appears to have been made, nor does the prospectus intended for publication appear to have been sent.
In other words QubitLife was committing securities fraud.
This is in line with BehindMLM's own published July 2020 QubitTech review.
On February 25th CONSOB issued QubitTech with a 90 day temporary suspension.
As per the suspension, QubitTech was prohibited from operating in Italy. CONSOB also ordered the company's websites blocked.
The idea behind the suspension was to give QubitTech time to respond and clear their name.
QubitTech didn't respond. Instead barely a week after CONSOB issued it's suspension, QubitTech rebranded as QubitLife.
No official reason for the rebranding was ever provided. In hindsight, it's easy to see the Ponzi scheme hoped name-change would get CONSOB off their back.
That didn't happen.
Noting QubitLife had failed to respond to their enquiries, CONSOB permanently banned QubitLife on May 19th.
This timeline provides insight into QubitLife's recently initiated exit-scam.
As revealed in the exit-scam webinar hosted by Iakov Ashurov on May 26th, Greg Limon went into hiding three months ago.
That places Limon's disappearance on or around late February. QubitLife, then QubitTech, was made aware of CONSOB's suspension on or around February 26th.
After the QubitLife rebranding in early March, QubitLife announced its planned QDT exit-scam a week or so later.
A week after CONSOB banned QubitLife permanently, the QDT exit-scam was initiated.
250,000+ QubitLife affiliate investors are believed to have lost money to the Ponzi scheme.
Now, in a further sign things are amiss, QubitLife CMO Marc Swickle has announced he too is cashing out and fleeing.
Swickle made his announcement on a webinar hosted by Faith Sloan.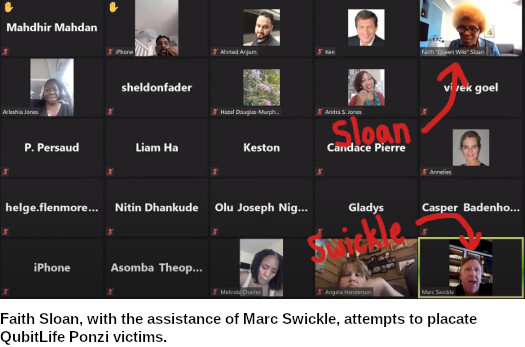 After Sloan introduced Swickle as a "special guest" to her QubitLife victims, Swickle promptly informed them;
[6:01] I am not part of (QubitLife's) corporate structure anymore.

Let me just set the stage by saying, that as of right now I am not the Chief Marketing Officer of QubitLife.
Swickle claims he learned of QubitLife's collapse twenty-four hours prior to Ashurov's announcement.
Swickle states he didn't host the May 25th exit-scam webinar, as originally planned, because he was "finished with the company".
Swickle goes on to claim QubitLife collapsing wasn't the reason he left the company.
[12:37] The reason why I left the company is because I disagree with something very, very simple.

And that is that the people who have less than 100%, between the period of the 9th and the 25th, that the company had to have known, should have known and most probably would have known … that they were going to head in the direction that they ultimately took to change on the 25th.

And so in that capacity, I don't think that they should have done the process the way they did.

I think they should have offered to the people who had less than 100%, the opportunity for their money back or something in kind.
Naturally with QubitLife being a Ponzi scheme, Swickle's proposal is impossible.
Swickle of course is aware of this. You have to remember the purpose of Sloan's webinar is to placate victims.
That said, Sloan did make it abundantly clear she has no intention of paying any of her victims back.
[20:06] I see some people asking me, "Queen with all the money you've made, are you going to find a way to reimburse us?"

You don't know how much I've spent. Will you reimburse your team?

Y'know I don't think it's about reimbursement. What it's about is we all made a choice.
QubitLife's 250,000+ victims can and most likely will attract regulatory attention.
Prior to their cashing out and going on the run, Greg Limon and Marc Swickle were the public face of QubitLife's executive team.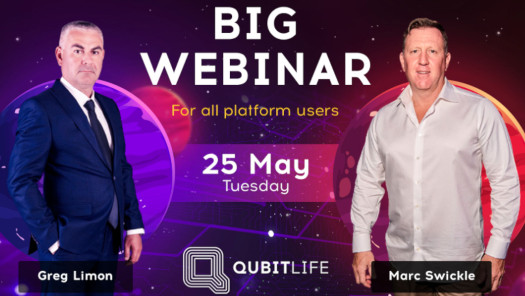 Greg Limon has ties to Canada, the UK and Russia.
Marc Swickle claims to have "worked on Wall Street for thirty years". He is believed to be a US resident.
Whether Swickle is still in the US after abandoning QubitLife is unclear.
Faith Sloan is a resident of Chicago, Illinois. She is currently on vacation in Dubai, following a lavish QubitLife top promoter event held there earlier this month.
Sloan, who styles herself as "Queen Wiki", settled TelexFree fraud allegations with the SEC in early 2019.
As part of that settlement, Sloan was expressly prohibited from continuing to commit securities fraud.
In violation of that settlement, Sloan continues to promote unregistered securities offerings such as QubitLife.
Update 5th June 2021 – Marc Swickle and Faith Sloan are funneling QubitLife victims into eOracle, a reboot of the Espian Global Ponzi scheme.
Update 18th June 2021 – The "Team Queen Wiki" webinar featuring Marc Swickle has been deleted from YouTube.
I had originally provided a link to the webinar but as a result of the video being pulled have disabled it.