Faith Sloan already violating her $778K TelexFree Ponzi judgment

On June 3rd a $778,455 final judgment was entered against Faith Sloan.
Sloan's judgment was part of the SEC's case against TelexFree scammers, who collectively stole over $3 billion from their victims.
As part of the judgment, Sloan is "permanently restrained and enjoined" from committing securities fraud.
Trouble is that while her attorney was engaging the SEC, Sloan was and continues to openly commit securities fraud.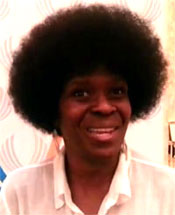 As per Sloan's ordered Final Judgment, she's been ordered to pay
$650,334 in disgorgement (returning the money she stole from TelexFree victims);
$120,621 in prejudgment interest; and
a $7500 civil fine
Part of what Sloan owes will be immediately settled by her attorney surrendering $30,000 held in escrow.
A Bank of America account in Sloan's name holding $1058 will also be emptied out.
Sloan has fourteen days from June 3rd to satisfy the remaining $747,397 judgment.
In light of Sloan's final judgment the scheduled trial, which would have given Sloan the opportunity to clear her name and prove she isn't a Ponzi scammer, has been cancelled.
With respect to what Sloan can and can't do, the order stipulates Sloan is "permanently restrained and enjoined" from "violating Section 5 of the Securities Act".
That is to say Sloan is prohibited from offering or selling unregistered securities in any capacity.
Among other suspect schemes, before, during and now after her final judgment, Sloan has been promoting Cloud Token.
As per Cloud Token's business model, affiliates invest with the company and receive CTO. Investment is made on the the expectation of a passive return.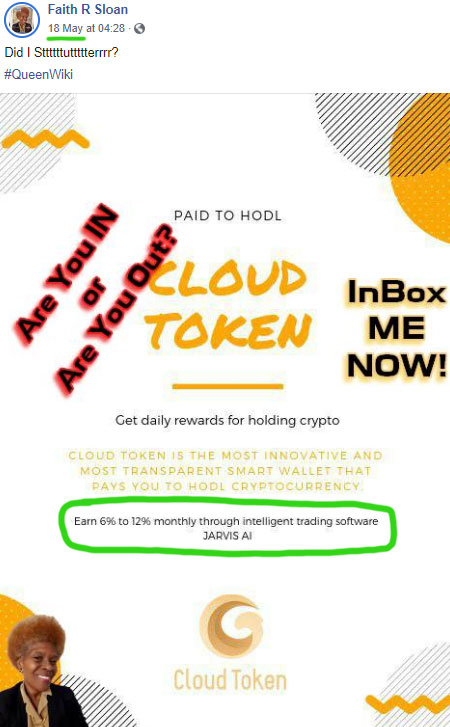 This return is achieved by Cloud Token arbitrarily increasing the internal value of CTO tokens, allowing affiliates, like Sloan, to cash out.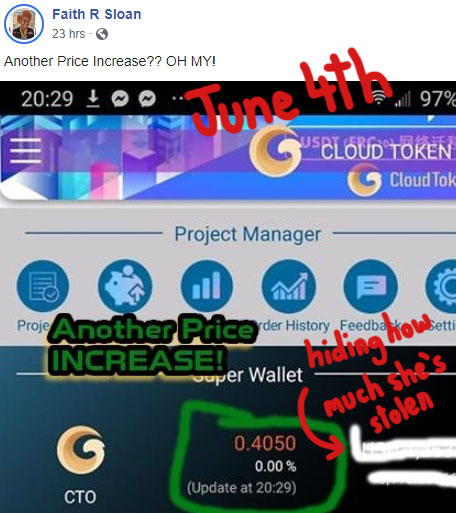 Cloud Token is not registered to offer securities in any jurisdiction it operates in. As a promoter of Clout Token, Faith Sloan is not registered to offer securities with the SEC either.
Cloud Token represents it generates external revenue through trading, supposedly through their "Jarvis AI" bot.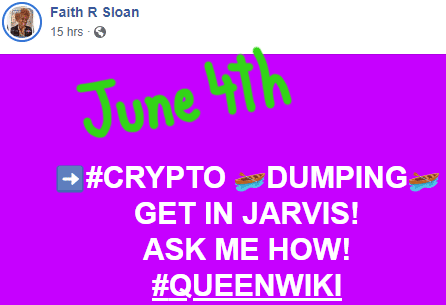 To date however Cloud Token has not registered itself with a financial regulator in any jurisdiction it solicits investment in.
Nor have Cloud Token affiliate investors been provided with evidence of external revenue actually being used to pay affiliates (filed audited accounting).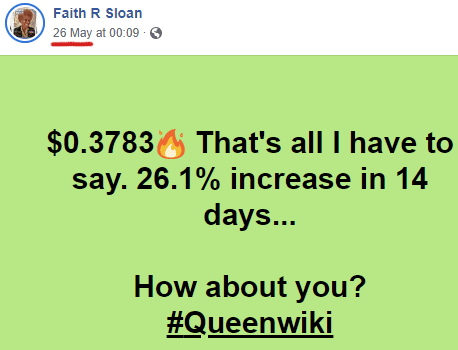 Upon receiving withdrawal requests from affiliate investors, Cloud Token simply pays them with subsequently invested funds.
Thus in addition to offering unregistered securities, Cloud Token also operates as a Ponzi scheme (wire fraud).
By promoting Cloud Token Sloan is in violation of her TelexFree final judgment order.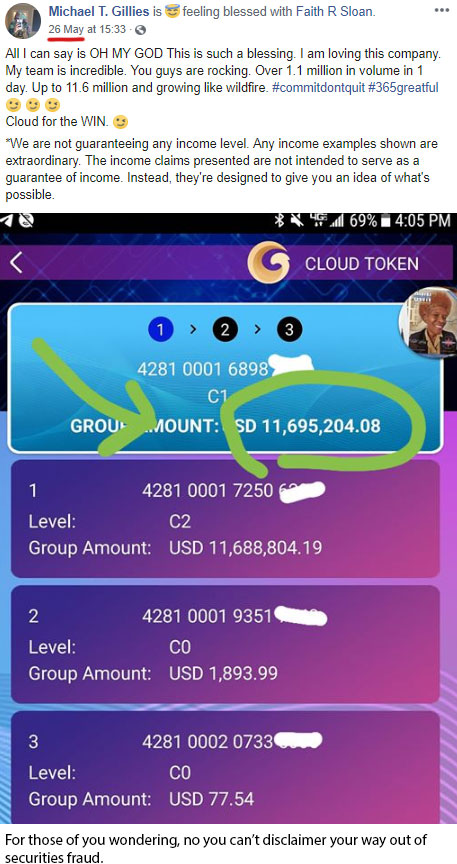 Whether the SEC takes any further action against Sloan and/or Cloud Token remains to be seen.
Certainly the more pressing of the two potential defendants would appear to be Sloan.
Entering into final judgement with securities fraud perpetrators, who continue to openly commit securities fraud before, during and after judgment proceedings, is not a good look for a regulator.