Faith Sloan settles SEC's $1.2 million TelexFree fraud case

With the clocking ticking down towards her TelexFree trial, now news that Faith Sloan has reached a settlement with the SEC.
In an April 3rd joint filing, the SEC moved for a continuance of Sloan's May 13th trial date.
The regulator claims it has 'arrived at a settlement in principle to settle the Commission's claims against Faith Sloan'.
Late last month the SEC moved to drop two securities fraud claims against Sloan, leaving a standing $1.2 million million dollar motion for summary judgment.
Details of the proposed settlement between the SEC and Sloan are yet to be made public.
The SEC writes it has "begun the process of seeking" approval of settlement, which it expects to be decided upon by June 30th.
In light of this, the regulator sought a continuance of Sloan's trial date to "no earlier than" July 1st.
On April 4th Judge Gorton partially granted the motion, allowing for a 4 week continuance.
Sloan's new trial date has been scheduled for June 10th, pending a stipulation of dismissal if the SEC's settlement is approved before that date.
Despite being subject to a preliminary injunction that prohibits her from committing further acts of securities fraud, Sloan continues to promote fraudulent investment schemes.
Sloan's latest schemes are WoToken and Super Coding Fly, two crypto bot Ponzi schemes she openly promotes to the public.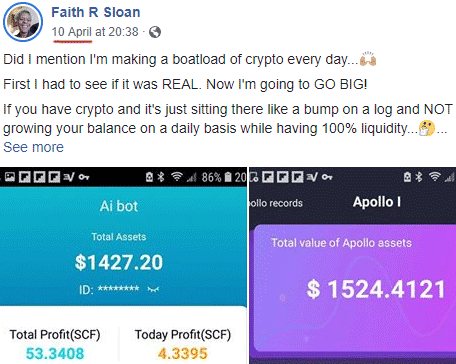 To date the SEC has not addressed Sloan's continued violation of her May 7th, 2014 preliminary injunction.
Update June 5th 2019 – On June 3rd a $778,455 final judgment order was filed against Sloan.