Is RE247365 a pyramid scheme? (Faith Sloan case study)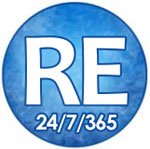 Typically when one reviews an MLM opportunity a general sense of how funds flow in and out of the company can be derived via the compensation plan.
In the case of RE247365, there was significant indication that all that was likely to happen would be the recruitment of affiliates. Bonuses are paid out at certain downline recruitment milestones, culminating at 5000 recruited affiliates paying out $250,000.
A matching bonus paying up to 50% of the recruitment bonuses is also available.
The sole qualification for commission payouts is the ongoing payment of a $34.95 monthly affiliate fee.
RE247365 does have two third-party services hitched to this core commission structure, but they are irrelevant and unlikely to be marketed or sold to non-affiliates.
A quick search reveals dozens of marketing pitches from RE247365 affiliates trying to build their downlines to hit the 50 ($2500), 100 ($5000), 150 ($7500), 500 ($25,000), 2000 ($100,000) and 5000 ($250,000) recruitment qualification amounts.
At this point, I typically publish a review concluding these findings. "Leaders" in the company then dismiss the information as untrue or lies, but don't specifically counter it.
If we're lucky, someone from management might pop by and leave a few paragraphs of derail attempts and strawman arguments in their defense.
Rarely, if ever, is the issue of money flowing in and out of the company addressed. At least not until a compliance attorney is consulted. It's not entirely unusual for me to receive requests to take down reviews because "company A" has changed their compensation plan after copious amount of fraud have already been committed under a now obsolete compensation plan.
But I digress.
Over the last twenty-four hours images have appeared online which allow us to peel back the curtain behind one of RE247365's top affiliates, Faith Sloan.
What's going on in her downline? Is she selling anything to retail customers? How much has she earnt to date? How did she earn it?
Read on for the answers to all of these questions and more.
According to her backoffice information, Faith Sloan currently has three hundred and eighty-two affiliates in her RE247365 downline (click to enlarge).
At the time of publication, this has resulted in Sloan hitting the 50 and 100 affiliates in your downline qualification milestones.
Total payout? $7500.
It's worth noting Sloan isn't all that far off from hitting another $7500 commission at the 150 mark either. The image above shows her to be just 14 recruits away.
Oh and if you're wondering why she hasn't crossed 150 yet with 382 in her downline, that's because of a genealogy rule in place that specifies only a third of counted recruits can come from any one recruitment leg.
Despite her Kevin Robinson leg having 296 recruited affiliates, only a third of her total counted quota (relative to how many affiliates are in the other legs) can be counted. Hence the total sum of recruited affiliates counted currently being under 150.
In addition to her RE Players Club commissions, Sloan has also made just over $1000 in direct recruitment commissions (click to enlarge):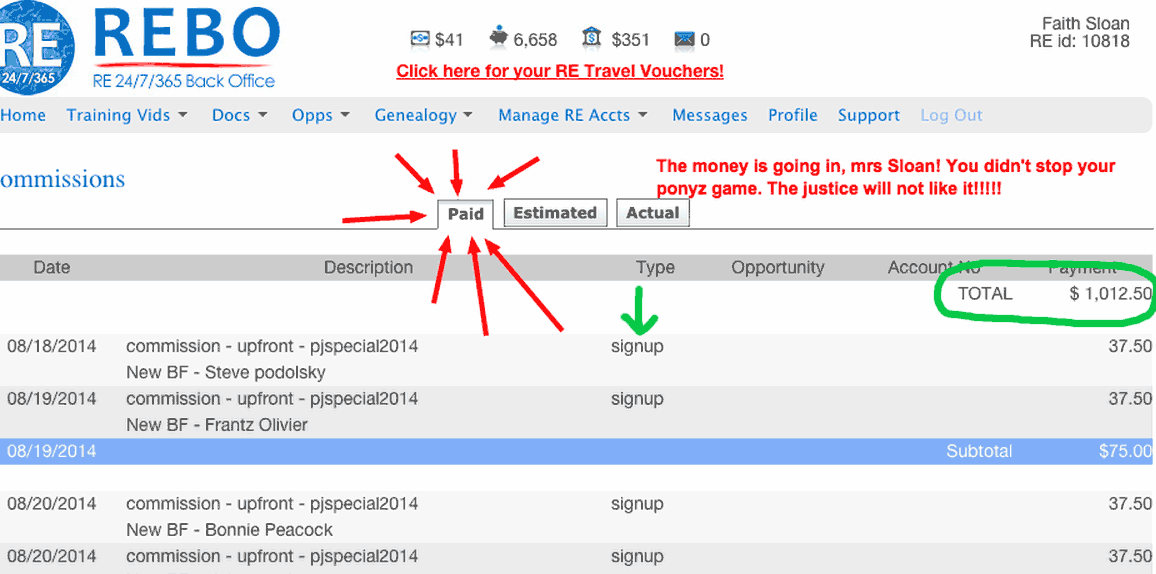 Alright, so we know Sloan has made $7500 off of recruitment of new affiliates alone. And another $7500 payout is just around the corner. What retail sales has she made then?
Surely with hundreds of affiliates in her downline Sloan has had time to market RE247365's third-party offered services to retail customers?
"Residential Opportunities" I believe refers to the third-party power services RE247365 offer access to:

As you can see, Sloan appears to have not sold even one package (to a retail customer or even her personal downline).
Travel?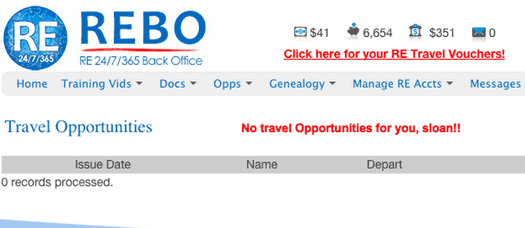 Same story.
Whether or not Sloan has personally sold any loans to retail customers is unclear, but I didn't see any information confirming as much.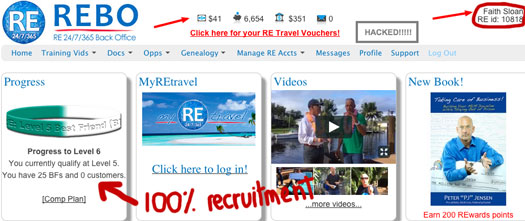 Sloan joined RE247365 on August 17th. Why, over a month later, she appears to have not sold a single service offered through RE247365 to a retail customer is a mystery.
One possible explanation lies in Sloan's recruiter, Michael Van Leeuwen, otherwise known as "Coach Van":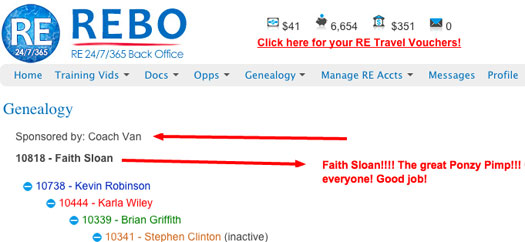 Leeuwen was an investor in the $850M Ponzi scheme Zeek Rewards. He is currently being pursued by the court-appointed Receivership for the stealing of $1.4 million from the Zeek's victims.
Leeuwen has thus far failed to defend himself in the clawback litigation filed against him, with the Zeek Receivership moving for default judgement against Leeuwen a few months ago.
Sloan was also an investor in Zeek Rewards, with both her and Leeuwen's track record post Zeek revealing a penchant for passive investment/recruitment schemes. Simply put, neither are in the slightest interested in selling genuine products or services to retail customers.
Also revealed in the information released by the unknown source is that various members of Sloan's family are also hold accounts in the company.
Downline records of Sloan's reveal positions in the name of Kerry Sloan, Antoinette Sloan and Yvette Sloan.
Photos on Kerry Sloan's Facebook profile indicates that he is a younger relation:
Update October 2019 – Kerry Sloan's post has been deleted as of October 2019 /end update
Who Yvette Sloan is exactly is unclear, but her Facebook feed is littered with photos of a similar-looking Kerry Sloan indicating direct relation:
Anyway, the point isn't mapping out Faith Sloan's personal genealogy, it's that multiple positions under the control of one master affiliate are hallmarks of Ponzi and pyramid schemes.
Affiliates do this in order to effectively double up on commissions and bonuses earnt.
That said, whether or not Sloan controls the four positions within her family herself is unclear. They would appear to be placed quite high up in her downline so it is a possibility she's just using their names for the accounts (and/or cutting them in a percentage of the commissions if she's managing the accounts).
In summation, a snapshot of Sloan's RE247365 account reveals thousands of dollars earnt via recruitment of new affiliates and their continued paying of monthly fees, with zero retail activity taking place.
Given that Sloan's downline is sizeable, one can assume this is a common pattern among RE247365's affiliate-base.
Not that anything different was expected given we'd already gone over RE247365's compensation plan. I mean, if it walks like a duck, quacks like a duck then it's obviously not a zebra now is it.
Where to from here?
Well it seems Sloan has her sights set on migrating RE247365 to Nigeria of all places. Under the ruse of a random "digital product", an email Sloan sent to RE247365's support reveals she is keen to get started on recruited Nigerian affiliates into her downline (click to enlarge):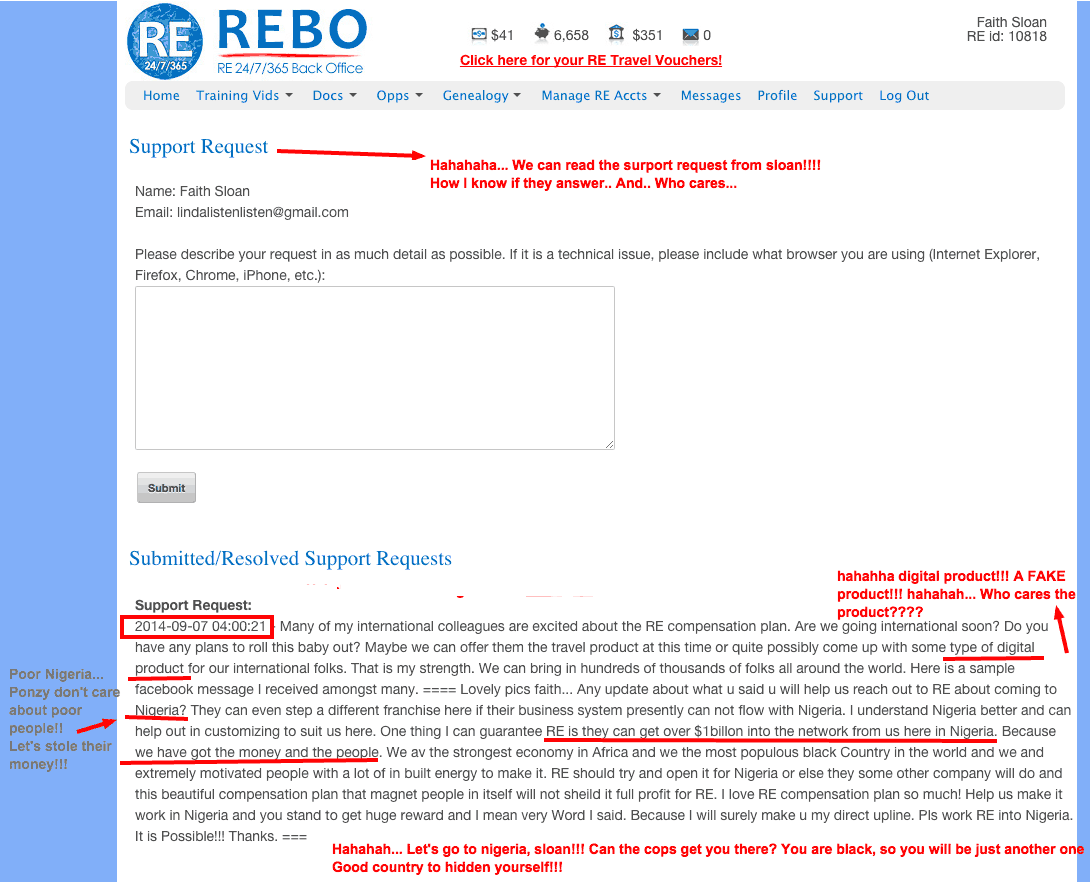 2014-09-07: Many of my international colleagues are excited about the RE compensation plan. Are we going international soon? Do you have any plans to roll this baby out?

Maybe we can offer them the travel product at this time or quite possibly come up with some type of digital product for our international folks.

That is my strength. We can bring in hundreds of thousands of folks all around the world.

Here is a sample facebook message I received amongst many:

Lovely pics faith… Any update about what u said u will help us reach out to RE about coming to help out in customizing to suit us here.

One thing I can guarantee RE is they can get over $1billion into the network from us here in Nigeria. Because we have got the money and the people.

We av the strongest economy in Africa and we the most populous black Country in the world and we and extremely motivated people with a lot of built energy to make it.

RE should try and open it for Nigeria or else they some other company will do and this beautiful compensation plan that magnet people in itself will not shield it full profit for RE.

I love RE compensation plan so much! Help us make it work in Nigeria and you stand to get huge reward and I mean very Word I said. Because I will surely make u my direct upline.

Pls work RE into Nigeria. It is Possible!!! Thanks.
The status of RE247365's international expansion plans, if any, is unclear.
As an aside, Sloan recently filed papers in court advising US regulators that she was "unable to support herself financially". The filing was made in objection to temporarily staying the SEC's civil case against TelexFree, in which Sloan is named as a defendant for her part in promoting and profiting off of the billion dollar Ponzi scheme.
Sloan's claims of being unable to support herself are made against the backdrop of a recent trip to Dubai to attend a Dubli event (affiliate membership to Dubli costs up to $12,000), and the evident thousands of dollars she's making in RE247365 recruitment scheme.
At the time of publication, regulators have yet to respond to Sloan's claims.
Footnote: Some of the captured images that appear in this article contain comments left by the original source of the images.
I myself am not aware of who leaked the images. They were uploaded to a publicly accessible image gallery which an anonymous party then sent me a link to.