QubitLife initiates QDT token Qchain QICO exit-scam

The recently rebranded QubitLife has launched the final stage of its Ponzi scheme: QDT.
QDT is a token QubitLife is selling to the public through a "QICO".
At the time of publication QubitLife is dumping QDT onto its inner-circle of promoters for 0.02 USDT (roughly 2 cents + fees).
From March 21st affiliates and the general public will be offered QDT in a series of rounds.
A round lasts a week and QubitLife will artificially increase the amount QDT is sold at by 10% a week each week.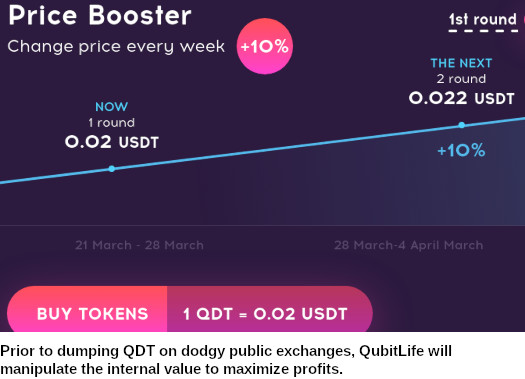 As I write this QubitLife hasn't provided any technical details on QDT. There's is a whitepaper link on the Qchain website however it's disabled.
In any event QubitLife, formerly QubitTech up until a week or so ago, is a Ponzi scheme offering 250% returns.
QubitTech rebranded as QubitLife following regulatory action from several countries; Spain, the Ukraine and Italy.
The QDT end-scam will see QubitLife eventually switch to paying returns in QDT, which costs it little to nothing to generate.
QDT will then at some point be dumped on a public exchange. This will be hyped up by the company and top promoters, allowing them to cash out during the initial hype phase.
After that QDT dumps, leaving the majority of QubitLife affiliates bagholding yet another worthless MLM Ponzi token.
According to QubitLife's Qchain website, 58% of generated QDT will be held by QubitTech (Greg Limon) and their "advisors".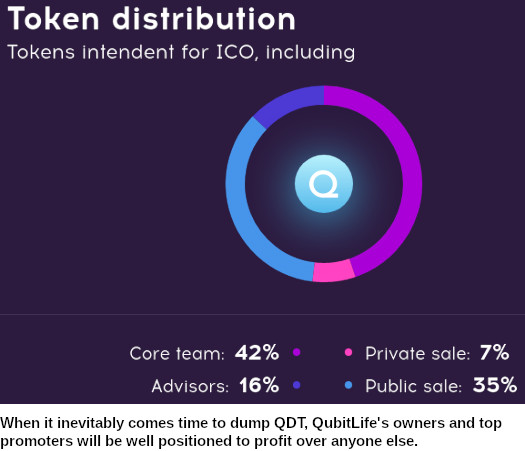 7% of generated QDT is being sold early to QubitLife's top promoters.
Alexa currently ranks QubitLife's top sources of traffic as Venezuela (18%), the UK (12%) and Russia (9%).
QubitLife is also believed to have a sizable affiliate investor base in the US.
In attempt to avoid regulatory action from the SEC, officially QubitLife is banned in the US and Canada.
Getting around this is trivial however, with potential affiliate investors are advised to use a VPN: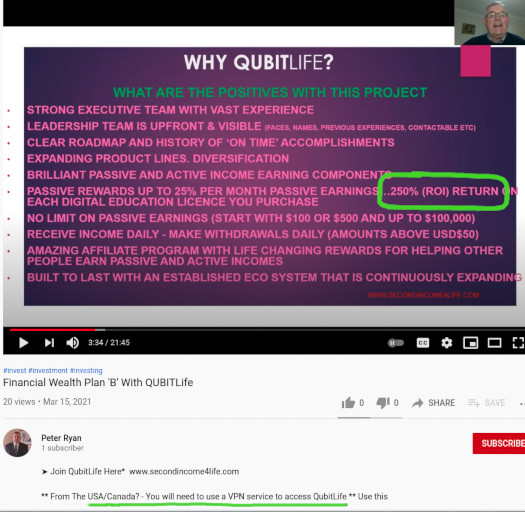 QubitLife of course turns a blind eye to this activity.
Update 26th May 2021 – Following a webinar held on May 25th, QubitLife has disabled withdrawals and initiated its QDT exit-scam.