QubitLife securities fraud warning issued in Bahamas

QubitLife, formerly QubitTech, has received a securities fraud notice from the Securities Commission of the Bahamas.
As per the the SCB's 19th March notice;
It has come to the attention of the Commission that an entity referred to as QUBITTECH may be conducting activities that are either registrable/licensable or illegal under one or more of the Acts.

The Commission hereby advises the public that QUBITTECH and its agents/representatives are not registrants of the Commission and has not made application for registration with the Commission.

Therefore, any conduct of registrable activity by this entity, its agents/representatives, in or from this jurisdiction, is a violation of one or more of the Acts.

If this entity or its agents/representatives alleges to be compliant with the Commission they are committing an offence and are liable for criminal prosecution and/or regulatory sanctions under the relevant laws of The Bahamas.
QubitTech rebranded as QubitLife in early March. Given the March 19th date of the SCB's notice, we've applied it to QubitLife retrospectively.
The QubitLife rebrand is believed to be an attempt to dodge regulators, and to facilitate QubitLife's announced QDT token exit-scam.
As noted by the SCB;
QUBITTECH, which advertised its launch in The Bahamas, is targeting citizens of The Bahamas via Zoom meetings.
The SCB notes a February 6th "Bahamas launch". On February 24th QubitLife uploaded a "First QubitTech office in the Caribbean" video to it's official YouTube channel.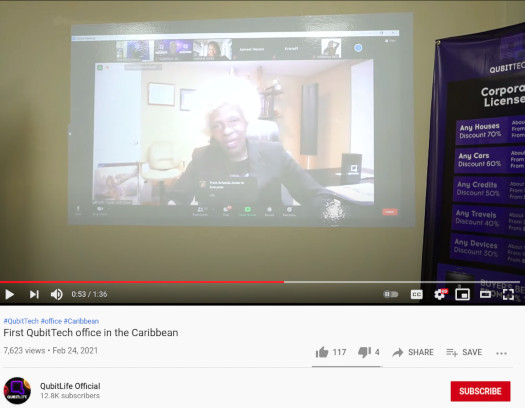 The SCB warns
Individuals currently (or desirous of) conducting business with QUBITTECH and/or its agents/representatives, should be cognizant that they are doing so with an entity and/or individuals who are not authorized or regulated by the Commission.

Members of the public should exercise extreme caution in considering engagement in securities related activities with QUBITTECH or its agents.
QubitLife solicits investment in cryptocurrency on the promise of a 250% ROI.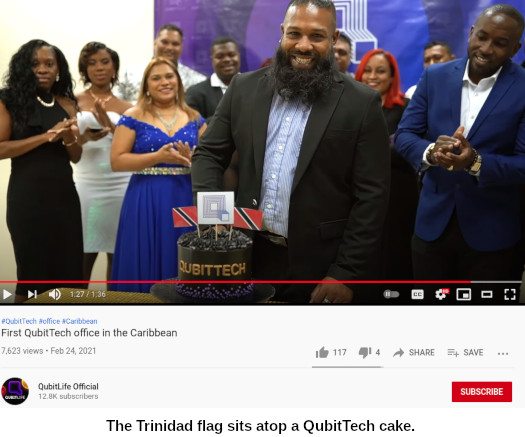 QubitLife is fronted by CEO Greg Limon, who has ties to Canada, Russia and the UK.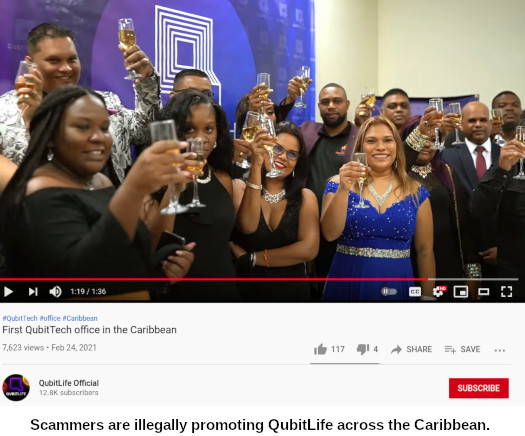 Neither QubitTech, QubitLife or Greg Limon are registered to offer securities in any jurisdiction.
Update 3rd August 2021 – As at the time of this update QubitLife has set the "First QubitTech office in the Caribbean" video to private.
As such I've removed the previously accessible YouTube link.