MOBE shut down by the FTC?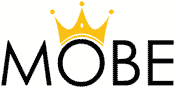 This morning I received intel that two days ago top earners, Michael Williams and Michael Giannulis, informed their MOBE downline they were leaving the company.
The cited reason for Williams' and Giannulis' departure was an FTC investigation into MOBE.
Currently every MOBE corporate website is down.
Here's what we know.
Last month Founder and CEO Matt Lloyd celebrated Michael Williams (aka Mike Williams) and Michael Giannulis (aka Mike Antoni) earning over $23 million dollars as MOBE affiliates.
Lloyd presented the pair with a Rolex watch and platinum ring each for their achievement.
On June 7th, the following message was sent out to Williams' and Giannulis' MOBE downline;
This is a bitter sweet moment for BPO that we must inform you of.  As of now, we are no longer affiliated with MOBE at all.

As we move forward onto bigger and better things we want to let you know where we are with MOBE.

Any members that you were working with to sell them MOBE must stop immediately.

This also means that any sales that we have made that are not paid will have to stay that way.

The FTC has brought the hammer down upon MOBE and we have to cut ties with them 100%.

If we do not we could also find ourselves stuck in a sticky situation.

We know the loss of sales hurts, it hurts all of us as a whole, but we know that BPO is going in a great direction and is making this move to protect us.

Thank you for your understand in this moment and thank you for making BPO great.
"BPO" refers to BPO USA LLC, a company set up by Giannulis in Florida.
Around twenty-four hours ago MOBE's corporate website went down and the domains are now parked.
The MOBE domain registration details are private but we can tell you the registration was last updated on June 6th, 2018.
Other MOBE corporate website domain registrations were also updated, some within seconds of each other – all on June 6th.
mobe.tv was modified at 17:16:27
askmattlloyd.com was modified at 18:10:50
mobe.com was modified at 18:11:35
homebusinesssummit.com is completely unresponsive and was modified at 18:11:41
mobeaffiliatesupport.com was modified at 18:11:14
mobetrack.com was modified at 18:12:00
mobemarketplace.com was modified at 18:12:12
mattlloydsblog.com was modified at 18:14:02
imfreedomworkshop.com was modified at 18:14:21
Matt Lloyd's MOBE spin-off, the Turnkey Business System, is also offline (18:14:39).
On social media MOBE corporate has acknowledged their website is down.
When asked about it, MOBE corporate responded "tech is working on it".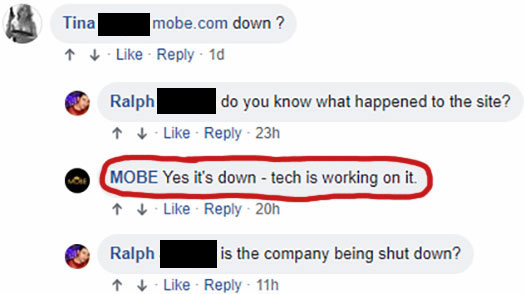 As of yet there's been no official confirmation by the FTC. If a sealed lawsuit and an injunction has been granted, it's yet to show up on Pacer.
I have seen some MOBE affiliates claiming this is a data migration issue (WordPress to some other platform), however this makes little sense.
First thing you do with a migration is take a backup to revert to if it screws up. And for a business you're going to want to stage a migration before applying it to your live site.
Not withstanding MOBE corporate websites have been down for almost 24 hours now.

MOBE had scheduled a Home Business Summit event in Seattle across June 8th to 10th, which I'm hearing was abruptly cancelled.
Note that at this time an FTC investigation and shutdown of MOBE is unconfirmed.
Normally I'd wait for deeper confirmation but top earners leaving, citing an FTC investigation and the corporate websites going down – all within the last 48 hours was pretty significant.
We'll keep you posted of any updates. Stay tuned…
Update 10th June 2018 – Following announcements by the tech team, top earners and social media admins, we can now confirm an FTC investigation into MOBE.