FTC shuts down MyEcom Club MOBE reboot scam
After the FTC shut down MOBE, promoters Michael Giannulis (aka Mike Antoni) and Michael Williams launched their own clone scam.
It's taken a year and a half, but the FTC has finally moved to shut My Ecom Club down.
The FTC sums up Giannulis' and Williams' internet marketing career as nearly a decade of promoting
fraudulent business coaching schemes in order to peddle sham investment opportunities and bilk over $30 million from consumers.
The marketing duo made a name for themselves with MOBE, praising founder Matt Lloyd McPhee as a "visionary founder".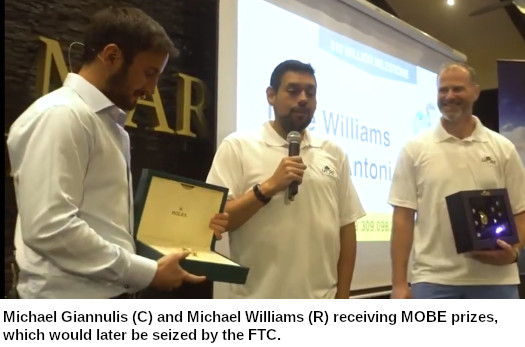 In their private correspondence however, Giannulis and Williams stated
Matt is blinded by greed and doesn't really care, it's a money grab while the money is still there.
Evidently after MOBE was shut down, Giannulis and Williams wanted their own piece of the "money grab" action. Which brings us to My Ecom Club.
My Ecom Club was launched in 2018 and offered "coaching programs" in the same vein as MOBE. Ecommerce (dropshipping) was also part of the business.
Through My Ecom Club, Defendants purported to supply consumers with e-commerce stores and a series of related coaching programs, costing between $2,000 and $40,000.
$40,000 for a course from scammers whose only claim to fame was ripping people off for millions through MOBE?
Ouch.
Worse still, My Ecom Club's stores were just rebranded Shopify stores.
Shopify sells stores starting at $29 a month. My Ecom Club was reselling these same stores for thousands of dollars.
Like MOBE, Giannulis and Williams pitched My Econ Club on the basis consumers would be able to "generate substantial income".
And when I say "like MOBE", that's not an exaggeration.
Giannulis and Williams used the same team of coaches and sales scheme as they used for MOBE, replete with similarly false or unsubstantiated earnings claims, to bilk millions of dollars more from consumers in just under two years.
Again, just as they had with MOBE, My Ecom Club's coaches pressured consumers into using credit to finance membership fee payments.
As a result of Giannulis' and Williams' deception, many consumers have lost their retirement funds or life savings, lost their homes, and ended up with insurmountable credit card debt.

Defendants' coaches referred My Ecom Club members to outside "credit advisors," like Seed Consulting LLC, which proceeded to "guide" consumers by filling out applications to obtain credit cards and submitting requests to raise borrowing limits on existing credit cards.
My Ecom Club was literally MOBE 2.0 with ecommerce.
Key to Giannulis' and Williams' marketing efforts was a $500 money back guarantee.
In one particular example, a victim recruited into Giannulis' and Williams' MOBE downline spent $90,000 yet was unable to make a single sale.
The victim attempted to claim a $500 money back guarantee she had signed up under, only to receive pushback.
Williams purportedly told Giannulis;
I don't want to create an issue by fighting her, but I also don't want to create an issue by accepting responsibility.
Giannulis and Williams saw referred to victims who took them up on their $500 money back guarantee as "occasional customer(s) who take this [guarantee] to annoying extremes".
Behind the scenes Giannulis and Williams
used straw signers and shell companies and provided banks and payment processors with "dummy" websites to evade scrutiny by bank underwriters and obtain multiple merchant accounts to process credit card payments from consumers.
Williams also assisted Digital Altitude with setting up shell companies to deceive payment processors with.
Gianullis and Williams used fake customer testimonials to promote MOBE and My Ecom Club too.
Despite their efforts however, as time went on negative reviews began to accumulate with the Better Business Bureau.
In an attempt to manage victim claims, Giannulis and Williams sought BBB accreditation.
They did so by lying to the BBB about ownership of various marketing campaigns.
Giannulis and Williams were aware that "Countdown to Profits" was generating negative online reviews and concealed their association with this ad campaign when responding to the BBB.
All in all, Giannulis and Williams used My Ecom Club to scam consumers out of $8 million.
Citing "a long track record of deploying and profiting from deceptive coaching schemes and sham investment opportunities", the FTC's complaint accuses Giannulis and Williams of
misrepresenting earnings;
unfairly injuring consumers through credit card laundering; and
causing substantial injury to consumers.
The FTC sought an injunction against Giannulis and Williams, which seems to have been bundled with their MOBE fraud settlement.
The stipulated injunction settlement provided in the FTC's My Ecom Club case was signed by Giannulis and Williams on January 7th, 2020.