Eyeline Trading Review: 0.66% daily ROI bitcoin investment fraud

Eyeline Trading claims Jean Paul Ramirez is the founder of Eyeline Business & Development.
Apparently Ramirez 'has been a leader in the financial industry for many years'.
Eyeline Trading provide a bunch of financial positions Ramirez has purportedly held, culminating in his getting started 'in the Crypto industry in late 2015'.
Eyeline Trading claims Ramirez
now has a cutting edge mining facility, research center, wallet, exchange, peer to peer exchange, debit cards, trading platform, and a coin working on alternative power.
None of this is publicly verifiable, leaving a question mark on whether Ramirez even exists.
In a marketing video presented on the Eyeline Trading website, the company claims to be "based in Colombia" with a "marketing arm based in the USA".
As at the time of publication, Eyeline Trading also claims to have offices in
Ogden, Utah
Salt Lake City, Utah
Orange County, California
Las Vegas, Nevada
Medellin, Colombia
San Salvador El Salvador
Mexico City,  Mexico and "many more to come"
No evidence of any of Eyeline Trading's claims with respect to its business operations are provided.
The Eyeline Trading website domain ("eyelinetrading.io") was privately registered on June 8th, 2018.
Update 3rd July 2018 – A video has emerged in which serial scammer Rodney Burton introduces Dan Putnam as owner of the company.
Putnam first appeared on BehindMLM in 2012 as the owner of EPX Body.
Putnam has since gone on to launch numerous scams, including Let Us Close (2015),  The Elite Networker (2015), O2 Worldwide (2016), One80 and Modern Money Team.
Modern Money Team offered cryptocurrency mining investment ROIs, making Eyeline Trading Putnam's second cryptocurrency related company launch.
In addition to neither Putnam or any of his companies being registered to offer securities in the US, Modern Money Team collapsed a few months after launch. /end update
Read on for a full review of the Eyeline Trading MLM opportunity.
Eyeline Trading Products
Eyeline Trading has no retailable products or services, with affiliates only able to market Eyeline Trading affiliate membership itself.
The Eyeline Trading Compensation Plan
Eyeline Trading affiliates invest in $40 bitcoin trading packages, on the promise of a daily ROI of up to 0.66% for 365 days.
Affiliates who don't invest earn a 10% direct referral commission on funds invested by personally recruited affiliates.
Eyeline Trading affiliates who invest in at least one $40 bitcoin trading package are paid a 20% direct referral commission.
Residual Commissions
Eyeline Trading pays residual commissions via a 3×12 matrix.
A 3×12 matrix places an affiliate at the top of a matrix, with three positions directly under them: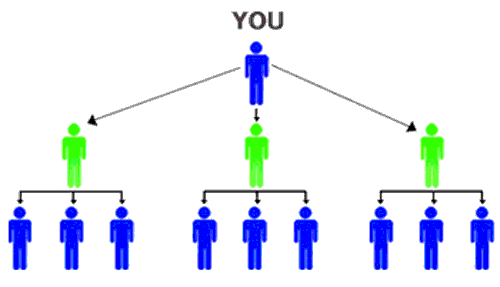 These three positions form the first level of the matrix. The second level of the matrix is generated by splitting these first three positions into another three positions each.
Levels three to twelve of the matrix are generated in the same manner, with each new level housing three times as many positions as the previous level.
Positions in the matrix are filled via direct and indirect recruitment of Eyeline Trading affiliates.
Residual commissions are paid as a percentage of funds invested by matrix team members:
levels 1, 3, 5, 7, 9 and 11 pay a 1% residual commission
levels 2, 4, 6, 8, 10 and 12 pay a 5% residual commission
How many matrix levels an Eyeline Trading affiliate can earn on is determined by how much they can convince others to invest.
invest $40 or more in bitcoin trading packages and earn on matrix levels 1 and 2
maintain a minimum $40 investment, recruit at least one affiliate investor and earn on matrix levels 1 to 3
maintain a minimum $40 investment, recruit at least two affiliate investors and earn on matrix levels 1 to 4
maintain a minimum $40 investment, recruit at least three affiliate investors and earn on matrix levels 1 to 5
maintain a minimum $40 investment, recruit at least four affiliate investors and earn on matrix levels 1 to 6
maintain a minimum $40 investment, recruit at least five affiliate investors and earn on matrix levels 1 to 7
maintain a minimum $40 investment, recruit at least six affiliate investors and earn on matrix levels 1 to 8
maintain a minimum $40 investment, recruit at least seven affiliate investors and earn on matrix levels 1 to 10
maintain a minimum $40 investment, recruit at least eight affiliate investors and earn on all 12 matrix levels
Global Bonus Pool
Eyeline Trading claims it takes 2% of company-wide invested funds and places it into the Global Bonus Pool.
The Global Bonus Pool is distributed to qualifying affiliates monthly based on shares.
Eyeline Trading affiliates qualify for shares in the Global Bonus Pool each month by having invested and recruiting five affiliate investors (5 new affiliates generates 1 share).
Note that shares expire and must be qualified for monthly on an ongoing basis.
Joining Eyeline Trading
Eyeline Trading affiliate membership is free. Free affiliates however can only earn direct referral commissions.
Full participation in the Eyeline Trading MLM opportunity requires a minimum $40 investment.
Conclusion
Despite only coming into existence earlier this month, Eyeline Trading claims it
introduced our trading packages August 1st, 2017 for USA & Worldwide markets.
Quite obviously that's baloney. And unfortunately that's only the tip of Eyeline Trading's baloney iceberg.
There's the bogus testimonials the company is using to dupe investors into signing up: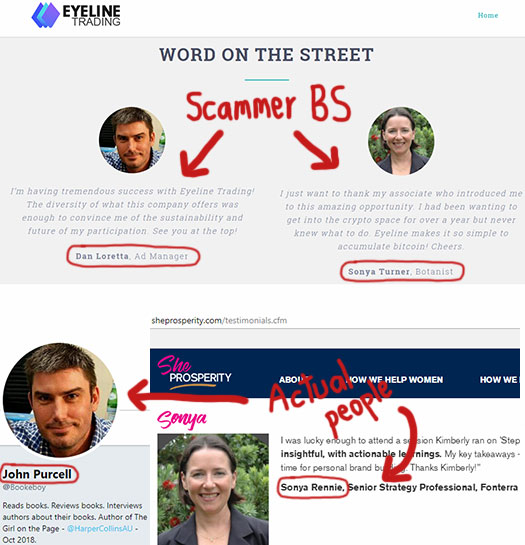 Then of course there's Eyeline Trading's founder, Jean Paul Ramirez.
Starting in 2001 when he became licensed broker certified by the CCS stock exchange. He recieved the commission to buy and sell gold from 2003-2006 and set up an escrow account in 2007 for $70,000,000.00 with Banco Mercantil S.A..

In 2014 he got his license with Goldman Sachs, and managed accounts worth more then $2,300,000.00!

In 2015, he was licensed with TD Ameritrade in the USA, managing accounts of over $1,500,000.00.
So after all that, Ramirez wakes up one day and decides to launch his own cryptocurrency Ponzi scheme. Riiiiiiiiiiiiiight.
Moving onto the business model, which even that Eyeline Trading can't keep its story straight when explaining.
According to the Eyeline Trading website, the company generates external revenue via an "A.I. based trading system".
Read through Eyeline Trading's official compensation plan however, and the story changes.
Eyeline Trading does not rely on gimmicks or bots to trade for us; we rely on our relationships and buying power.

We have negotiated prices with large miners and other large holders of BTC and ETH, 2-10% under the current market rate so we are able to purchase large quantities at a discount.

The difference between what we buy it for and what we sell it for, creates the profits and we share those profits with our Eyeline Trading members.
Naturally there's no proof of any of Eyeline Trading's claims in any event, so the question of external revenue is ultimately a moot point.
Still, this is a large number of lies to be caught out in – even by MLM underbelly standards.
The fundamentals of Eyeling Trading is your typical fraudulent bitcoin investment scheme.
Affiliates invest in $40 bitcoin packages, Eyeline Trading then use that money to pay existing investors a daily ROI.
A percentage of invested funds are also set aside to reward the company's top investors, adding an additional pyramid layer to the scheme.
There's also mention of an EYC ICO on the Eyeline Trading website, suggesting the company's anonymous owners are planning their exit-scam well in advance.
On the regulatory side of things Eyeline Trading's claim it has offices in the US is of particular interest, given the company is quite clearly offering a security.
You will be able to participate in a large trading operation earning crypto daily on autopilot.

Once your package starts paying out you would earn approx. 13 cents per day for 365 days or approx. $48 (approx .0066 BTC) and then at the end of the contract you would also get your $20 that was in your trading account back for a total of $68.

Earn regardless of what's happening in the market.
As I write this neither Eyeline Trading or Jean Paul Ramirez are registered with the SEC.
This means the company is operating illegally in the US, not withstanding Ponzi schemes are illegal the world over.
The gist of the ICO exit-scam model will see Eyeline Trading solicit investment and pay ROIs until new investment dries up.
While Eyeline Trading is still afloat EYC might be traded internally at an inflated made-up value.
EYC itself is likely some script altcoin bought off the shelf on the cheap.
While or after Eyeline Trading collapses, ROI liabilities will be converted into EYC points.
By that stage EYC will have been launched on some dodgy exchanges, with Eyeline Trading's owners claiming affiliates can make back their losses by trading EYC.
None of this happens before top investors and management offload EYC tokens at the inflated internal value mind.
After which the public value of EYC plummets and investors realize they've been duped.
The closest example I can give you of all of this playing out is USI-Tech, which combined the same bitcoin package bullshit to a "TechCoin" ICO.
Once regulators in the US closed in, USI-Tech collapsed and its owners went into hiding. TechCoin never even made it past the Ponzi points stage.
Bottom line?
The majority of USI-Tech investors lost money. Eyeline Trading using the same business model isn't going to play out any different.
Update 30th March 2020 – Since publication of this review, the Rodney Burton video referenced in the introduction has been removed.