USI-Tech Review 2.0: Forex auto-trading dropped for bitcoin Ponzi

USI-Tech's original business model saw the company charge affiliates €600 EUR for access to an automated forex trading platform.
USI-Tech claimed their bot had made ROIs of up to 150% annually in the past, but provided no proof of past or present trading taking place.
The problem with USI-Tech's original model, at least as far as scamming people goes, is that euro is easily traceable.
This prompted USI-Tech's anonymous owner(s) to relaunch as a cryptocurrency opportunity.
According to one USI-Tech affiliate, "Hardly anybody is interested in the forex side" of the business".
In the interest of keeping up appearances and appeasing those who did hand over €600 EUR however, the company continues to offer and support to forex robot.
Whereas before the €600 EUR fee was mandatory, now it's optional.
As the affiliate quoted above puts it, USI-Tech's new bitcoin package offerings are "much more lucrative".
USI-Tech's new plan is simple:
Affiliates invest €50 EUR worth of bitcoin on the promise of a 1% daily ROI for 140 days (140%).
That's it.
The ruse behind USI-Tech's daily ROI is bitcoin trading, somewhat of a cliché in MLM cryptocurrency Ponzi circles.
As with the forex trading bot, USI-Tech of course provide no proof of any bitcoin trading taking place.
Affiliates simply invest €50 EUR of bitcoin and passively receive €70 EUR after 140 days.
The original USI-Tech compensation plan also included elements of a pyramid scheme, which have been retained with bitcoin investments.
To qualify a USI-Tech affiliate must pay the €600 forex bot fee and recruit three affiliates who also pay €600 EUR, or three affiliates who together invest a minimum of €600 EUR in bitcoin.
Recruitment commissions are paid out via a 3×12 matrix.
A 3×12 matrix places an affiliate at the top of a matrix, with three positions directly under them: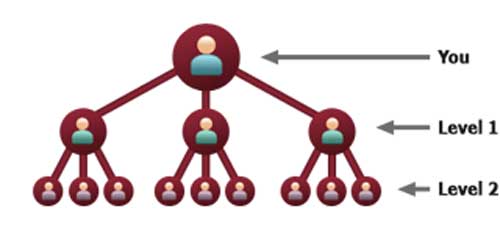 These three positions form the first level of the matrix. The second level of the matrix is generated by splitting each of these three positions into another three positions each (9 positions).
Subsequent levels of the matrix are generated in the same manner, with a complete 3×12 matrix housing 797,160 positions.
Positions in the matrix are filled via direct and indirect recruitment of new USI-Tech affiliates.
Commissions are tied to recruitment and fees and/or investment by recruited affiliates as follows:
level 1 – 10%
levels 2 to 8 – 3%
levels 9 to 12 – 1%
That USI-Tech is a Ponzi scheme is confirmed by affiliate investment remaining the only verifiable source of revenue entering the company. That and the illogical nature of USI-Tech's owners being able to legitimately generate a daily 1% ROI in bitcoin and sharing it with affiliates.
Trading of any currency is not tied to a fixed daily ROI. The only type of business model that can provide that level of consistency with such a high rate of return is that of a Ponzi scheme.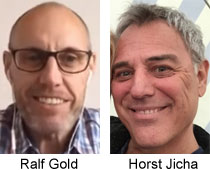 Speaking of USI-Tech's owners, since BehindMLM published its original USI-Tech review in late 2016, they've been outed as Joao Severino, Horst Jicha and Ralf Gold.
Severino is from Portugal, Gold is hiding out in Brazil and Jicha appears to be in Europe.
A PO Box corporate address in Dubai is provided by USI-Tech. However beyond laundering investor funds, it's doubtful USI-Tech has any physical operations in Dubai.
What's particularly interesting is the claim "USI-TECH NOW IN USA" on the USI-Tech website.
Alexa estimate the US is the top source of traffic to the company's website, meaning USI-Tech is and always has been "in the USA".
With its MLM offering clearly a securities offering, that nothing comes up for "USI Tech" or any derivatives in the SEC's Edgar database should be of concern.
A legitimate company cannot offer securities to US residents without SEC registration.
Hardly surprising though, considering USI-Tech aren't registered to offer securities in any jurisdiction they operate in.
With promises of magic 1% daily ROIs, it's easy to forget that USI-Tech launched less than a year ago.
Two years on average is about the tipping point for online Ponzi schemes, with USI-Tech arriving at this point a lot earlier.
The introduction of bitcoin investment to resuscitate the business will only prop up reserve funds for so long.
At 1% a day and with referral commissions to pay out, it takes approximately two to three months for USI-Tech to start losing money.
From what I was able to ascertain, USI-Tech introduced bitcoin investment in late May. This means we're coming up on almost two months, or approximately 60% of initially invested funds paid out.
The Ponzi veterans trying to recruit you now need you to invest so they can collect their 140% ROI at 140 days.
When your own 140 days comes up, unless an endless stream of gullible idiots continue to invest, there's going to be nothing for you to withdraw.
It's not quite as harsh as the 200% model in 90 days bitcoin scams like GladiaCoin and JetCoin pushed, but the inevitable collapse of USI-Tech is still going to leave the majority of investors out of pocket.
Unfortunately by the time you realize there's no money left, those who recruited you will have stopped responding to your emails and moved onto promotion of the next Ponzi scam.
Good luck…