One80 v2.0 Review: Dan Putnam launches an adcredit Ponzi scheme

One80 began life as a spinoff from EPX180, a weight-loss MLM opportunity launched by Dan Putnam in late 2011.
Whereas EPX Body was a legitimate MLM opportunity with a retailable product, One80 marked Putnam's transition towards online marketing tools.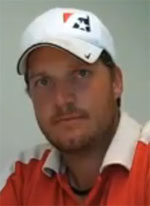 One80 flopped and a year later was followed up by Let Us Close, a short-lived recruitment scheme tied to an "advanced marketing system".
A few months after launch Let Us Close was hitched to The Elite Networker, another monthly-fee based recruitment scheme.
The Elite Networker also flopped and was abandoned shortly after launch.
Now Putnam (above right) has resurrected the One80 website domain, with what appears to be an adcredit Ponzi scheme.
The One80 Product Line
One80 has no retailable products or services, with affiliates only able to market One80 affiliate membership itself.
The One80 Compensation Plan
The One80 compensation plan sees affiliates sign up and invest in $50 Ad Packs.
Ad Packs are invested in on the promise of a $55 ROI:
Ad packs have a profit sharing option, that allow you to earn a $1 bonus for up to 55 days.
Note that in order to qualify for a daily ROI, One80 affiliates must click ten company-supplied ads every 24 hours.
Paid One80 affiliates earn a referral commission on funds invested by personally recruited affiliates via a unilevel compensation structure.
A unilevel compensation structure places an affiliate at the top of a unilevel team, with every personally recruited affiliate placed directly under them (level 1):

If any level 1 affiliates recruit new affiliates, they are placed on level 2 of the original affiliate's unilevel team.
If any level 2 affiliates recruit new affiliates, they are placed on level 3 and so on and so forth down a theoretical infinite number of levels.
One80 cap payable unilevel levels at five, with commissions paid out as a percentage of funds invested.
How much of a percentage is paid out is determined by what level of the unilevel team funds are invested on:
level 1 (personally recruited affiliates) – 5%
level 2 – 4%
level 3 – 3%
level 4 – 2%
level 5 – 1%
Joining One80
Affiliate membership with One80 is available at two price-points:
Pro – $14.95
Ultimate – $29.95
Pro One80 affiliate membership is bundled with access to a "replicated website" and "VIPDealsDirect Membership".
Ultimate membership is bundled with access to additional online marketing services.
Conclusion
Despite the SEC sending a loud and clear message a fornight ago reaffirming the legal status of adcredit Ponzi schemes, it appears Dan Putnam didn't get the message.
One80 affiliates invest $50 on the promise of a $55 ROI. The ROI is paid out of subsequently recruited affiliates, making One80 a Ponzi scheme.
In light of this, whatever else is attached to One80 is irrelevant.
Dan Putnam has been involved in the MLM industry since at least 2005. The truly sad thing about One80's relaunch, is that an adcredit Ponzi scheme is now the culmination of Putnam's decade-long involvement in the industry.
As with all Ponzi schemes, once recruitment of new One80 affiliates dries up so too will new funds entering the scheme.
This will see One80 unable to meet its ROI obligations, prompting an eventual collapse.
At that point anyone who hasn't made back more than they invested loses out. As we saw with the recent SEC shutdown of Traffic Monsoon, this is mathematically guaranteed to be the majority of affiliates.