Eyeline Trading collapses, to reboot as WealthBoss in March

Following non-payment to its affiliates, Eyeline Trading has announced it will be rebooting as WealthBoss next month.
Dan Putnam and Jean Paul Ramirez launched Eyeline Trading in mid 2018. The company advertises a 0.66% daily ROI, paid in bitcoin.
The ruse behind Eyeline Trading's ROI payments is bitcoin trading. To date however no evidence of bitcoin trading being used to fund Eyeline Trading ROI payments has been provided.
Neither Eyeline Trading or its owners are registered to offer securities in any jurisdiction they operate in, meaning the company operates illegally in any country that regulates securities.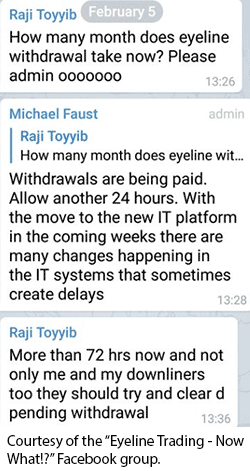 Rather than acknowledge that barely half a year out from launch they've run out of money, Eyeline Trading claims its changing its name to WealthBoss because
Eyeline" is a friendly name (literally "line of sight" …) but does not really evoke the purpose of the company (enriching its customers by generating a regular income and perennial).

In English, "eyeline" is a common name which complicates marketing efforts (SEO on search engines, etc.).
The above excuse was part of a series of explanations, sent out to Eyeline Trading affiliates in late January.
There was a desire to remove the word "Trading" in the trademark.

First, to allow the future to generate earnings from other activities than trading, and also because it might suggest that customers have to trade themselves, but this is not the case.

The brand "WealthBoss" has already been filed 3 years ago by the marketing manager Dan Putnam, and removes the risk of dispute of anticipation by a potential future competitor.
In an attempt to smooth over concerns of a collapse, Eyeline Trading compared themselves to Nike, Pepsi, eBay, Pepsi and Google, who they claim all initially operated under different names.
 In short, the name does not matter.
Long-time participants and observes of the MLM underbelly meanwhile will see Eyeline Trading's collapse for what it is.
WealthBoss is expected to launch in early March.
Reboot schemes rarely last as long as their predecessors, so expect WealthBoss to go under even faster than Eyeline Trading has.