Daniel Tay admits uFun Club illegal, 11th arrest in Thailand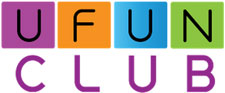 The arrest of Rathawit Thiti-arounwat last month continues to pay off, with two new warrants issued for investors in the "same network" of uFun Club investors.
The network refers to the affiliate downline genealogy Thiti-arounwat belonged to which, given the attention its receiving from police, appears to be one of the largest groups promoting uFun Club in Thailand.
One of the suspects has been apprehended, with police hunting down the other.
The duo were "two-star" members of UFUN, who allegedly have hundreds of other members down the line (in their downline).
A Two-star affiliate membership with uFun Club costs $1150, which sees the investment converted into 850 uToken Ponzi points (see uFun Club compensation plan breakdown for more info).
Udomchai Imrattanarak's wife Lampan Imrattanarak and Boonsong's wife Chananya Konsing were also taken into custody for questioning, while technological devices and financial documents were seized for further inspection.
Boonsong Jeungthanes is the second wanted suspect, still at large.
Thai police also revealed that the names of 8706 Chinese uFun investors who held accounts with UDBP Bank, have been shared with Chinese authorities for further investigation.
On Sunday it was announced that China had officially joined what is now a coordinated international investigation into the uFun Club Ponzi scheme.
In other uFun Club news a thirty-five minute audio recording from Daniel Tay has surfaced.
In it, a flustered-sounding Tay delivers what are believed to be the most recent updates from the uFun Club corporate team.
The single-most important takeaway from Tay's recording is that uFun Club, in its current state, is illegal.
Note that Tay's original recording is in Chinese (Mandarin), so we're relying on a cliffnotes translation from BehindMLM reader Kasey Chang:
Tay denied he's the founder, he "joined midway" 半路出家 he admits that most of UFUN is illegal, but he's trying to convert the whole thing to legitimate enterprise (black convert to gray, gray convert to white).

uToken itself is a bubble now and there is no value behind the virtual currency
We've been saying as much since we first reviewed uFun Club earlier this year. There was quite obviously nothing backing the perceived value of uToken Ponzi points, other than the rate of newly invested funds and what hasn't been withdrawn yet.
As all Ponzi schemes eventually do, it appears uFun Club has run out of invested funds. To that end Tay makes up
a bunch of excuses about how the huge profits did not get realized, but (how) some people earned up to 300% profit.
This is typical of a Ponzi scheme, where a fractional minority of early investors steal funds invested by later participants. Dollar for dollar, if everybody in uFun Club tried to "withdraw" the value of their uTokens, the scheme would collapse.
Not helping uFun Club's cash flow crisis are ongoing reports of funds and assets seized in Thailand and China, along with the UDBP Bank raid last week.
uFun Club used UDBP Bank to launder stolen Ponzi funds out of China and Thailand.
To remedy uFun Club's lack of funds, Tay claims uFun "will have to restart / reboot" and that the scheme will no longer accept deposits of less than $5000.
Tay urges existing uFun Club investors to 'put in (more) money to prove the viability of the Utoken', and focus on recruiting "people who really have money, who (will) invest $100,000 at a time". Recommendations Tay suggests include "lawyers and researchers".
Just tell them NOT about UToken's rise in value, but tell them about how they're getting protoshares in real enterprises like retail stores, Utoken exchange, mine, and more.
This message doesn't appear to have carried through to uFun Club investors just yet, who were only yesterday celebrating a fictional rise in value of uToken to 18 cents a point.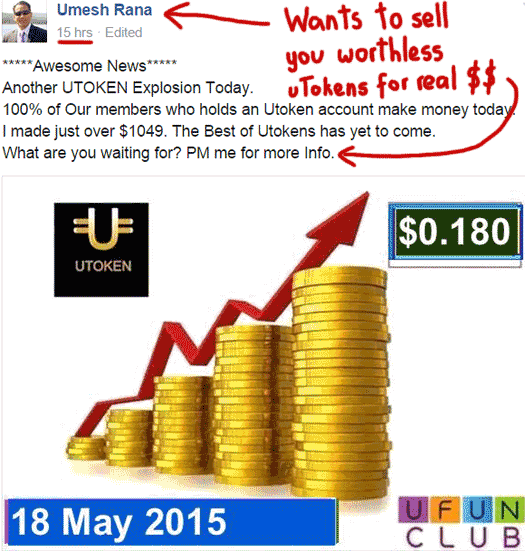 uTokens at this point are monopoly money, with uFun Club affiliates unable to convert them to cash for months. Currently the only people profiting from uTokens are existing uFun investors who mange to offload the worthless points onto unsuspecting new victims (who pay them real cash in exchange).
To those uFun Club investors who realize they've been had, Tay tells them leave.
Let the unbelievers leave. There will be believers who will join us. That's just the way things are. We will face the setbacks and come back stronger.

Don't worry about the detractors, we only do business with people who believe in us.
Naturally those who choose to leave won't be offered refunds (there's no money left).
Looking to the future, Tay reveals plans to list uFun Club on the Australian Securities Exchange (stock market). The uStore project in China is apparently also going ahead, albeit under a different company name (uMatrin?).
What with Chinese authorities actively investigating uFun Club since September 2014, how that's going to pan out remains to be seen.
It goes without saying that any uFun Club executives set foot in China (assuming they don't falsify travel documents) will be promptly arrested.
Using a different company name is unlikely to fool regulators for long.
Meanwhile over the weekend we reported on what appeared to be plans to shift uFun Club's operations out of Malaysia and into the Pacific.
With uFun Club investor Nicolas Giannos giving "successful" uFun presentations to Samoan Prime Minister Tuilaepa Aiono Sailele Malielegaoi, his deputy Prime Minister and the Governor of the Central Bank of Samoa, it looked like the pacific nation of 200,000 was a contender for uFun's new home.
Now we're not so sure, with Tay referring to Samoa in the recording as "比較落後的國家" (a relatively backward nation).
Bitter words following a decision by Samoa not to welcome uFun Club with open arms? We'll have to wait and see.
Daniel Tay and the rest of uFun Club's executives who have not yet been arrested are currently in hiding. They are wanted by authorities in Thailand and now China, with Malaysia their last known whereabouts.
Malaysia have yet to officially commit to investigating uFun Club, with reports linking the $1.17 billion dollar Ponzi scheme to Malaysian politicians and members of the royal family.
Stay tuned…