uFun Club to ditch Malaysia for Samoa?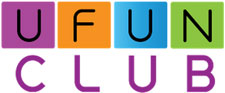 Following the announcement yesterday that Daniel Tay, uFun Club's Marketing Director, was going into hiding, we speculated on where he might flee to.
At first glance Vanuatu emerged as a likely candidate, given it's increasingly looking like uFun Club has laundered millions of dollars through the country's UDBP Bank.
Now new information has emerged, suggesting the pacific nation of Samoa might also be a contender.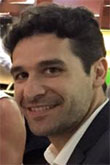 Our source for this story is Nicolas Giannos (right), a UK-based uFun Club investor who claims uFun Club's uToken scheme 'is by far the best opportunity that I've seen in my life'.
After attending the Gateway Klang gala in Malaysia towards the end of April, Giannos then took a trip to Samoa in early May.
On the 4th of May, Giannos had 'a successful meeting with the deputy prime minister of Samoa', who Giannos claims expressed 'major interest in Utoken and Ufun group':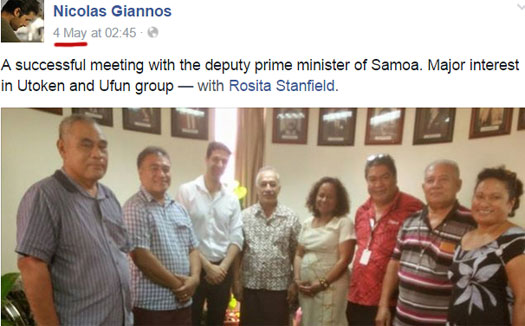 Wrote one commentator on one of Giannos' Samoa updates;
I really have to get British Passport.. i missed this special business trip and holiday.
On the 6th of May, Giannos then claims to have had a 'meeting with the central bank of Samoa':

According to the Central Bank of Samoa's website, they are
the nation's reserve bank and, as such, act as banker to the Government and the commercial banks.
Giannos' meeting with the bank was followed up by a dinner with the Samoan deputy-prime minister on May 14th: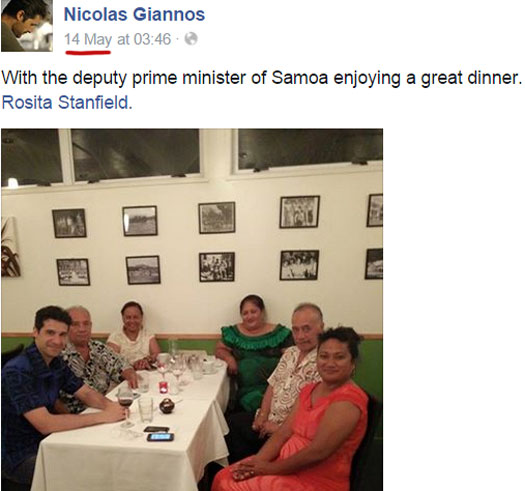 That same day, Giannos purportedly met with Samoan Prime Minister, Tuilaepa Aiono Sailele Malielegaoi:

The purpose of the meeting?
To make a presentation to "introduce" uFun Club and uToken to Prime Minister Malielegaoi: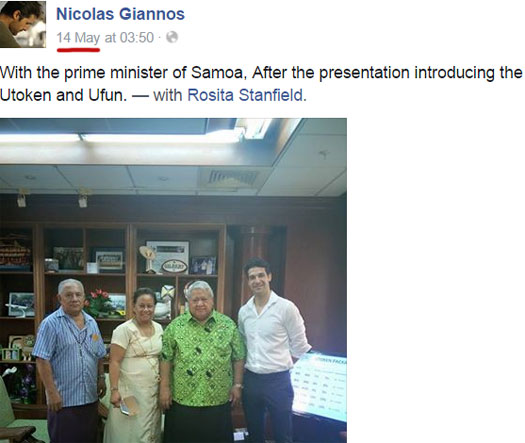 The day after on the 15th of May (last Friday), Giannos then made a similar presentation to the Governor of the Central Bank of Samoa: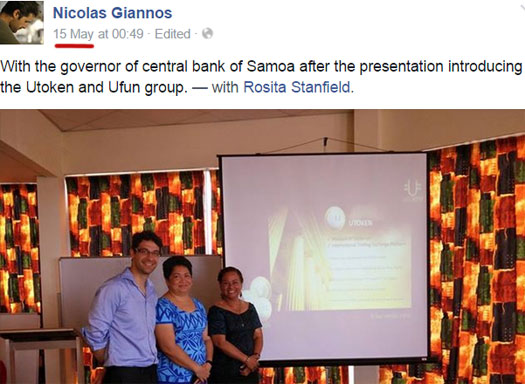 On whose authority Giannos is making these presentations is unclear. Ditto the explicit nature of talks between Giannos, Prime Minister Malielegaoi and the Central Bank of Samoa.
What we do know is that on May 11th, fellow uFun investor Lyn Summers posted the following on Facebook:
I had a meeting with Dato Danial today (but) the secret content of that meeting I cannot share just yet.

I have seen the video of the next project which I was told the video alone cost $100kUSD to produce.

The project is one of the biggest in that country. It will blow you away as it did me when it's ready to be announced!

I had to sign a non disclosure agreement not to reveal any of the secrets of the next project.
Summers claims to have invested $500,000 in uFun Club and regularly shares Giannos' updates on her Facebook timeline (he does the same with hers).
On May 15th, while Giannos was presenting uFun Club to the Governor of the Central Bank of Samoa, police raided a UDBP Bank branch in Thailand.
uFun Club and UDBP Bank signed an agreement in 2014, with the scheme believed to have used the Vanuatuan bank to launder millions of dollars out of Thailand through Vanuatu and Malaysia.
Yesterday Casey Tan, another prominent uFun investor, issued the following statement on behalf of uFun Club management:
A new township being developed in a Third World Country… I cannot revealed the country for now but we have seen the $100,000 to produced video of this Gigantic project… we will be there at the MOA of this project and will be rubbing shoulders with the Prime Minister and Generals on stage..
Tan also revealed that Daniel Tay, the face of uFun Club for many investors, didn't 'want to be remembered as a Ponzi Pimp or a scammer' and would have to "disappear from the surface of this earth".
Is uFun Club looking to abandon Malaysia and establish a base of operations in Samoa? Nicolas Giannos' Facebook updates, coinciding with Lyn Summers and Casey Tan's posts certainly seem to suggest so.
Daniel Tay had to have known it was only a matter of time before Thai police knocked on UDBP Bank's door.
Now with two UDBP executives and three staff under arrest and a mountain of evidence seized, it won't be long before police have a detailed roadmap of exactly how and where uFun Club laundered its Ponzi proceeds to.
I wouldn't at all be surprised if later this week it's revealed Tay has fled Malaysia, if he hasn't already, only to turn up in Samoa at some point in the future.
Meanwhile for those unfamiliar with the pacific nation, Samoa has a population of just under 200,000 people (2012) and an estimated GDP of $955 million USD (2014).
Needless to say a global $1.17 billion Ponzi scheme integrating itself into the local economy and central bank infrastructure would be devastating once uFun Club collapses.
Can authorities in Thailand, China, Vanuatu and Malaysia stop Daniel Tay in time and prevent uFun club from wreaking catastrophic economic destruction across the pacific?
Stay tuned…
Update 4th of June 2015 – On May 26th Samoan police arrested Nicolas Giannos for scamming locals out of over $100,000.
At the time of publication, Giannos remains in custody pending the outcome of a regulatory investigation.