Malaysian royalty involved in uFun Club Ponzi scheme?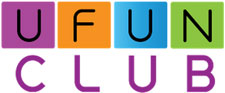 Amid mounting evidence that he was heavily involved in uFun Club, yesterday saw the Prime Minister of Malaysia's son deny any involvement in the uFun Club Ponzi scheme.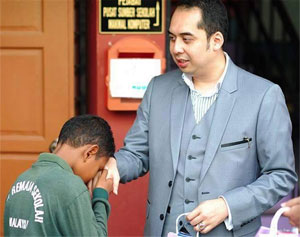 In a post published Wednesday afternoon, Mohd Nazifuddin (right) wrote
It has come to my attention that my name has been linked to UFunStore Co. Ltd since the raid at the company's headquarters in the Bang Na district in Bangkok recently.

UFun have used my name to deceive buyers in order to encourage them to enrol in their Ponzi Scheme. I have no involvement with the group.

A number of online media publications reported my involvement in UFun Store through the collaboration with Sagajuta Sdn. Bhd. I have resigned from the post of Director and Chairman of Sagajuta on 18 Dec 2012.
Sagajuta (Sagajuta (Sabah) Sdn Bhd) are a Malaysian construction firm, who have been working with uFun Club since its apparent inception in 2013.
Last month saw the firm sign a memorandum of understanding with uFun Club, which will result in an undisclosed amount of stolen Ponzi funds flowing into Sagajuta's Gateway Klang construction project.
Cracks in Mohd Nazifuddin's denial almost immediately began to appear, with it taking all of an hour for a photo of him with several uFun Club executives to surface: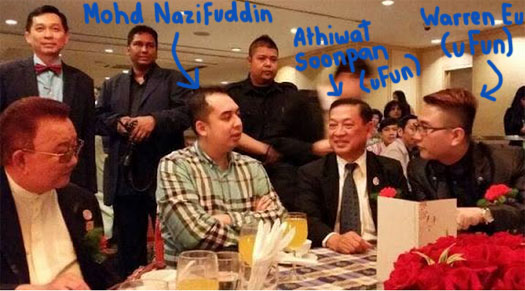 Sitting next to Nazifuddin is Athiwat Soonpan, uFun Club's International President and Warren Eu, credited as a Founder of the scheme: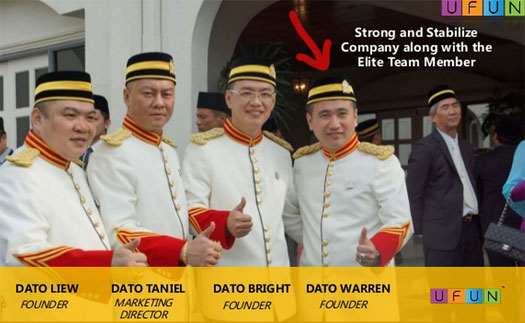 Overnight further information has cemented Nazifuddin's ties to the $1.17 billion dollar Ponzi scheme.
Nazifuddin might have very well resigned from his post as Chairman of Sagajuta in 2012, however he remains a major shareholder in the firm.
As per the Sarawak Report;
It seems strange therefore that, in the context of all these denials, Nazifuddin neglected to mention that he remains a substantial shareholder of Sagajuta, of which he was previously the Chairman.

Nazifuddin is both a direct investor in Sagajuta (Sabah) SdnBhd and is also a shareholder of the company with the largest amount of shares.
Through the company Generasi Cipta Sdn Bhd (of which Nazifuddin is a shareholder in), Nazifuddin is tied to some 6,270,000 shares in Sagajuta. Combined, the other shareholders together hold only 3.7 million shares.
That Nazifuddin (through Generasi Cipta) is running the show over at Sagajuta via major shareholder stake is painfully obvious (nobody else seems to be sitting down for meals with uFun Club executives).
Yet despite his company having been tied to uFun Club since its inception and still, to this day, signing agreements to facilitate the laundering of Ponzi funds through Malaysian construction projects, Nazifuddin yesterday had the gall to deny involvement.
At the time of publication no further comment has been issued by Nazifuddin.
In the meantime, it's increasingly looking like not only is the Prime Minister's son neck-deep in Ponzi fraud, but so might members of Malaysian royalty.
Linking the uFun Club Ponzi scheme to Malaysian royalty are Tengku Sulaiman Shah, Warren Eu and his company uMatrin.
Eu, as we've previously mentioned, is a Founder of uFun Club. uMatrin is a side-project of his, likely used to launder funds out of uFun Club under a veil of feigned legitimacy.
You've all heard UFUN? Yes UFUN has produced many millionaires who have income above 1 million per month with utoken program !!

The good news .. One UFUN founder, Dato Dr Warren who has created utoken system has created a new program called UMATRIN of course with the experience you have in UFUN, in UMATRIN to be more steady again !!
Tengku Sulaiman Shah meanwhile is
a Malaysian corporate figure and a member of the Selangor Royal Family.

He is the son of eighth Sultan, Sultan Salahuddin Abdul Aziz Shah.
Shah also just happens to be the Chairman of uMatrin: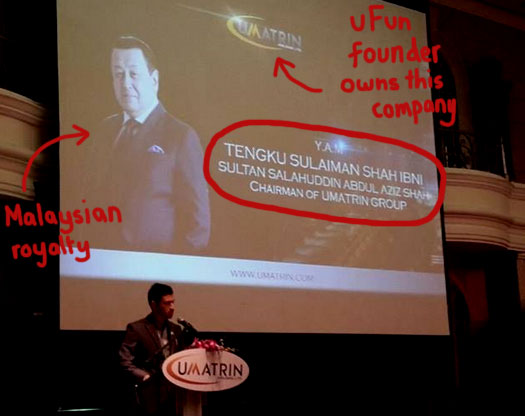 Selangor, the Malaysian state Shah's father is the sultan of, is where Sagajuta's Gateway Klang project is being built.
And if that wasn't murky enough for you, uMatrin is also working closely with the an individual named Tan Sri Jojo: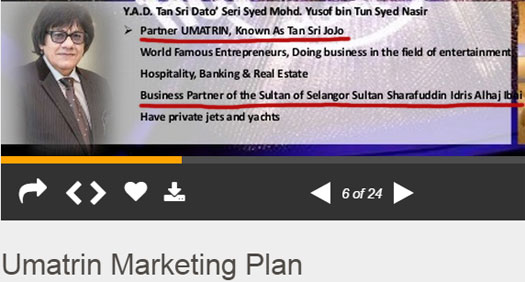 According to uMatrin marketing material, Tan Sri Jojo is a "good friend" and "business partner" of the Sultan of Selangor, Tengku Sulaiman Shah's father.
Jojo (whose actual name is Datuk Syed Mohd Yusof Syed Tahir), is credited with having connections in entertainment, hospitality, banking and real estate. Those last two go hand in hand with the laundering of ill-gotten funds obtained through a global Ponzi scheme.
Imagine the connections Jojo might bring to the table.
And just how close is Jojo to the Malaysian royal family?
uMatrin is backed by the construction and property management companies of Dato Sri Jojo, who is a childhood friend and close confidant and business partner of the Sultan of Selangor.

Together they own several large hotels and properties, and also:

Recently, the Sultan and him [dat jojo] teamed up with hotel magnate Ong Beng Seng and Singapore's Capital Land Ltd to build a US$265mil Four Seasons hotel and apartment complex in Kuala Lumpur via Venus Assets Sdn Bhd.

Four Seasons Place Kuala Lumpur was launched by Prime Minister Dato' Sri Najib Tun Razak at the project's site next to KLCC, with the attendance of the Sultan of Selangor, Sultan Sharafuddin Idris Shah.
Circumstantial that the Prime Minister of Malaysia cut the ribbon on a construction project brokered by a firm with direct tied to a uFun Club Founder, who also just happen to work closely with Sajaguta, another construction firm the Prime Minister's son is heavily involved in?
Maybe. But on some level, it's increasingly apparent that uFun Club Ponzi funds are readily flowing into the Malaysian construction industry, in which the royals of the state of Selangor are heavily involved in and profiting from.
With uFun Club's political connections all but confirmed, how far up the chain of command does this go?
Worst case scenario, if uFun Club has a royal seal of protection in Malaysia, is it even possible for police to investigate the scheme and arrest those responsible?
I get the feeling that it's not that Malaysian police don't know any of this (if we, a collection of randoms can figure this all out, so can they), but rather they are secretly hoping Thai police conclude the same.
That way they can point to the Thai investigation and claim they themselves had no idea as to the extent Malaysian politics and royalty are apparently intertwined with uFun Club.
In the alternative, I imagine a Malaysian police officer standing up and declaring his country's own royalty and politicians to be involved in a $1.17 billion Ponzi scheme probably won't bode well for his future career prospects.
That aside, my question then is, is it even possible to hold the Sultan of Selangor and his family accountable?
We previously thought Mohd Nazifuddin was an "untouchable", and likely responsible for the lack of action being taken by Malaysian regulators against uFun Club.
Now with it looking like Malaysian royalty are also involved, how does that play out?
Or does uFun Club simply continue to operate out in the open, to the benefit of Malaysian politicians and royal figures, with everybody there pretending to be none the wiser?