Plotting the Mohd Nazifuddin uFun Club timeline…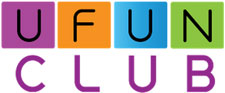 After it was revealed that Mohd Nazifuddin had likely profited from uFun Club, he took to Facebook to issue a denial.
This was met with the revelation that Nazifuddin was a primary shareholder in Sagajuta, a Malaysian construction uFun Club affiliates first began claiming was working with uFun Club back in 2013.

The two companies signed a Memorandum of Understanding last month at a gala bash, which will see an undisclosed amount of funds flow into Sagajuta's Gateway Klang project.
Now, in an increasingly desperate bid to distance himself from the $1.17 billion dollar Ponzi scheme, Nazifuddin has been issuing statements of denial to the Malaysian media all day.
There's just one problem… the timeline accompanying Nazifuddin's denials doesn't add up.
As reported by the Malaysia Chronicle, Nazifuddin claimed yesterday that
he first heard of the group (uFun Club) when he received an invitation to the launch of a joint-venture between Ufun and reputable developer Bina Puri Holdings Bhd.

"At first I thought of going but then I heard they were selling my name, saying that the prime minister's son is coming to officiate the development and therefore people should invest in Ufun's Utokens.
uFun Club and Bina Puri held the event Nazifuddin refers to above on the 11th of November, 2013: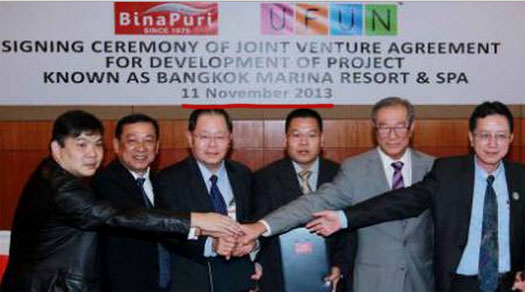 Nazifuddin was not in attendance.
Three and a half weeks earlier however, this happened: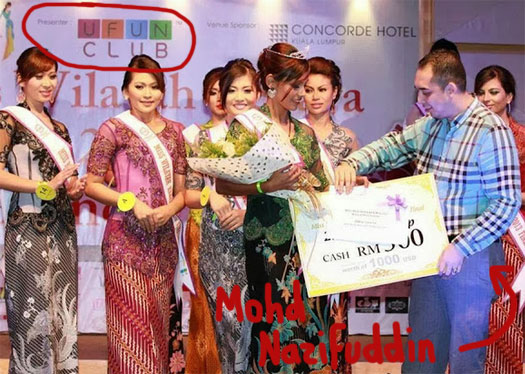 What you're looking at there is Nazifuddin on stage, handing a winners check over to a Miss Wilayah Kebaya winner on October 18th, 2013.
Here he is on stage at the event, all smiles and standing next to uFun Club Founder, Warren Eu: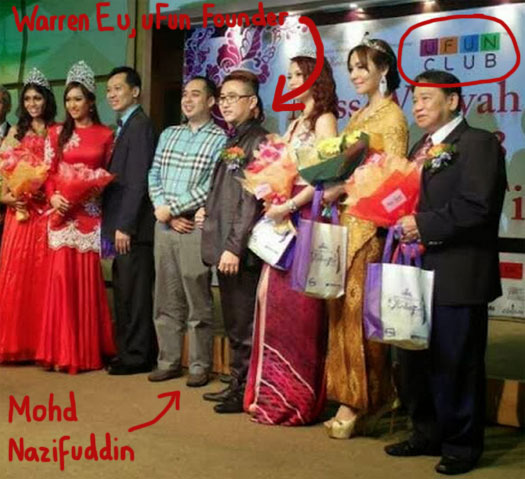 Despite claiming to have not been aware of uFun Club prior to receiving an invitation to the Bina Puri event, Nazifuddin was wined and dined by uFun Club executives almost a month earlier: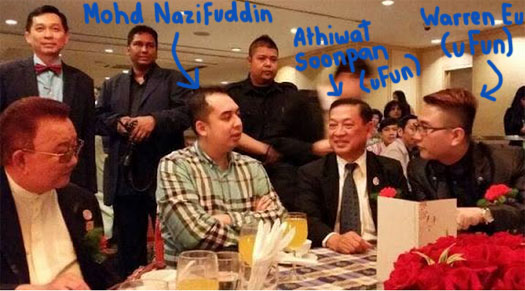 Athitwat Soonpan is uFun's International President. He and Warren Eu are prominent uFun Club executives: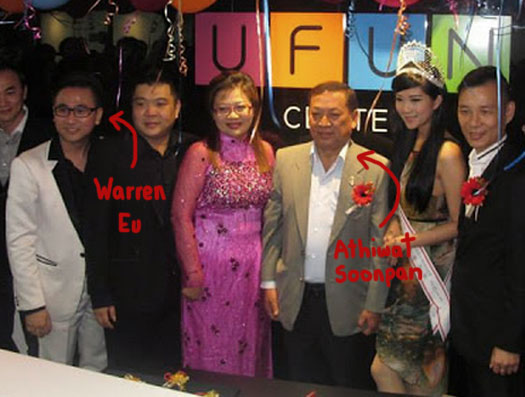 Rather than address any of the above, Nazifuddin instead is claiming this all to be some sort of political conspiracy targeting his father.
Mohd Nazifuddin is the son of Malaysian PrimeMinster, Najib Razak.
"They are trying to defame everybody involved with the prime minister, including the children and all, they are attacking everybody."

"This is really uncalled for and I hope action will be taken against whoever is involved," (Nazifuddin) told Malaysiakini when contacted.

"The person who is defaming me is putting this fabrication of information in video content and spreading it throughout Malaysia."

"It is to smear my reputation and trying to attack me and probably my family," he said.
So politically explosive is Nazifuddin's connection to uFun Club, that we've also seen anyone even remotely connected to the scheme in Malaysia publicly denounce involvement.
Despite Nazifuddin being Sagajuta's largest shareholder, yesterday saw the firm issue the following statement:
Sagajuta (Sabah) Sdn Bhd has never sold any property to UFun Club nor sold any UFun tokens. Any insidious link created by anyone is pure malice.
Whether or not Sagajuta consider Nazifuddin's links to uFun Club "insidious" or not was not clarified.
Meanwhile the latest denials regarding the Nazifuddin political scandal has come from uFun Club itself.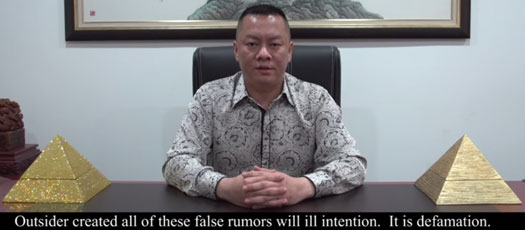 In a video published a few hours ago Daniel Tay, credited as uFun Club's Marketing Director, issued the following statement:
My main message for recording this video message tonight is to respond to the misleading news that was broadcasted by some of Thailand's TV networks a few days ago.

In that inaccurate news it falsely reported that uFun Group and Malaysia's Prime Minister's second son, Mr. Mohb (sic) Nazifuddin Najib have business relationship together.

I would like to clarify that uFun Group has never appointed Mr. Mohb Nazifuddin Najib any position within uFun.
Tay does not clarify whether or not uFun Club funds have flowed between the scheme and Sagajuta. Nor does he elaborate on whether Nazifuddin has personally directly or indirectly received funds from the scheme.
This is something Nazifuddin himself has yet to issue a statement on (he's too busy playing the political persecution card and hoping nobody asks).
Meanwhile I don't recall any Thai media reporting that Nazifuddin was appointed a position in uFun Club directly, so why Tay felt it needed clarification is unclear.
Did the Office of the Prime Minister tighten the screws on uFun Club once the links between Razak's son and uFun Club were made public?
No idea.
But what we do know is that uFun Club has been openly operating in Malaysia since at least July 2013. We also know that Malaysian police were made well aware of the $1.17 billion dollar Ponzi scheme on April 16th, 2015.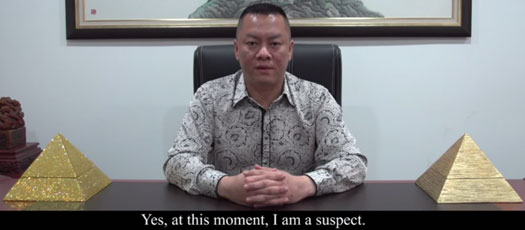 One month later to the day, Malaysian authorities are still yet to take any action against uFun Club, those running it, insiders who have assisted its operations or any of the scheme's investors.