TelexFree laundered funds through shell companies

Where there's smoke, there's fire.
The connection between money-laundering and TelexFree has been a long-standing one.
A lot of the time Ponzi schemes launder stolen funds through offshore jurisdictions, that's par for course. But with TelexFree, it always felt a bit more organised – cartel'esque even.
We first learned of the links above and beyond what you'd normally expect to find in a Ponzi scheme, when back in June 2013 Brazilian police announced they'd
opened an inquiry into whether the management of Telexfree committed crimes against the economy and money laundering.
That was a very specific inquiry that appeared to above and beyond that of TelexFree being an obvious Ponzi scheme.
That same month TelexFree was effectively shut down in Brazil, by way of a crippling injunction granted in the state of Acre. As Acre's money laundering investigation continued, specific details as to what they'd found remained elusive.
In the interim, the Rwandan government would announce they'd found money laundering links to local cartels. And once TelexFree was shut down in the US, i-Payout then hinted at the scheme's money laundering ties.
That TelexFree was being investigated for money laundering was frequently mentioned, but we never really knew just what investigators in Acre were up to, or what they'd thus far found.
The recent filing of a police report in Espirito Santo now changes that, with light being shed on the inner-workings of TelexFree's Brazilian money laundering operations.
The main mechanism TelexFree laundering stolen investor funds in Brazil was through shell companies. These companies were registered in the names of family members of TelexFree management along with certain individuals belonging to a trusted inner-circle.
Note: In Brazil, the term "orange" is used to describe people or companies that are used as shills.
There is evidence that directors of (these) companies (are) likely (to be) oranges (and) are (recruited) affiliate leaders (investors (in) Telexfree), (these companies) squandered millions (through) the internet.

The (individuals) are identified as important to the formation of the (TelexFree) pyramid (scheme) and illegal activity (via) the sale of mobililários values ​​without authorization from the federal government.

Initially, (the) investigation target(ed) a Telexfree group of five companies and eight people, as members of the company Carlos Wanzeler and Carlos Costa, (and related) entrepreneurs.

However, (with) the new (evidence that will be presented) at the end of the criminal investigation, the number of people and companies indicted for participating in the alleged scheme of fraud (will rise).
The recent evidence collected was part of "Operation Orion", which saw Brazilian feds conduct raids on TelexFree offices and related properties back in July.
Pursuant to search warrants (issued) and (evidence) seized during Operation Orion, agents found documents such as social contracts, invoices and statements (relating to) Telexfree's banking-related businesses.

These businesses have headquarters in various cities (in) the state (of Espirito Santo) and were hitherto unknown to the police.
Further details will be forthcoming, with the criminal investigation required to be 'finalized in mid-November'.
In the meantime,
the names and the number of companies (acting as) oranges and (co-conspirators) of probable fraud can not be revealed (so as) not to disrupt the progress of the investigation.
That said, police have revealed that
(in order to investigate) how these companies may have been used for money laundering and concealment of assets (by) members of Telexfree, Judge Ayton Junior Bonomo, (of) the 1st Federal Criminal Court of Victoria has decreed (that the) financial assets and any attempts at bankruptcy proceedings of at least two companies be blocked.
And some details regarding a few of the companies have been made public. Not suprisingly, Carlos Costa's family appear to be neck-deep in TelexFree's money laundering operations:
Two companies, registered in the name Leticia Costa, the daughter of partner and director of Telexfree, Carlos Costa, are among those suspected of acting erratically to cover up fraudulent financial transactions.

These companies are very different branches of Telexfree that claim to engage with multilevel marketing and the sale of VoIP. One is Agrofruta of Brazil Foods, a corporation (S/A), headquartered in Jaguaré in northeastern Espirito Santo, a candy production sector.

A police report filed in court points out that the company has suspect banking operations, benefiting "companies related to investigated and related persons."

According to investigations, the wife of Carlos Costa, Jozélia Sangali, is part the supervisory board of the S/A along with other members identified by police as affiliates of Telexfree.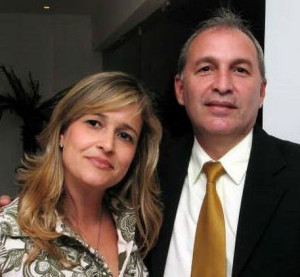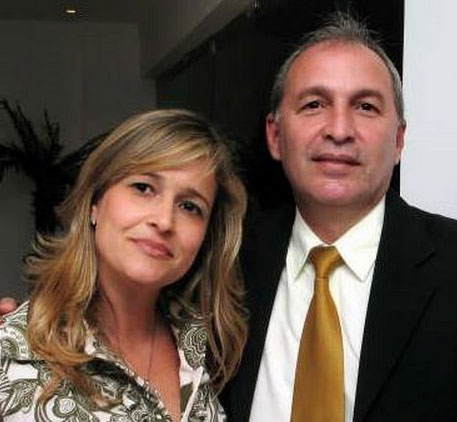 When TelexFree attempted to escape Ponzi liability by filing for bankruptcy in the US, Costa's wife (right with husband Carlos) was named as the top affiliate creditor.
The company had hoped, through bankruptcy, to settle $1.2 million USD in outstanding ROI payouts owed to Costa's wife.
Carlos Costa's daughter, Letícia Costa, is also implicated through various investments made in her name:
Minutes of a meeting of the company also revealed that twins Flávio and Fabio Arraz, led a TelexFree related construction company network.

Integrated (into this network was) employees of Agrofruta and office interns working at the legal firm Costa & Fuchs, who defended TelexFree from financial pyramid scheme accusations.

Agrofruta was formed in early 2014 with a capital of £10 million. Leticia Costa, the daughter of Carlos Costa, initially invested £200,000, despite (already) being the owner of R $4.9 million in stock.

The other partner in the firm, João Armando Caixeiro de Assis initially did not have any kind of application, despite having £ 5.1 million in shares.

Another company suspected of being related to Telexfree is "Brazil Factoring", whose office address is the same as that of Coast & Fuchs. According to police however, there is no reference to Brazil Factoring on the Coast & Fuchs website.

Brazil Factoring, which has capital of £300 000, is involved in alleged payments made by Ympactus (TelexFree's Brazilian arm).

Leticia Costa (daughter) and Jozelia Sangali (wife) joined the company on 25 November (2013). By February (2014) the company only belonged to Leticia.

Police say that despite being a partner of the companies in 2012, Leticia had declared an available income of just £60 000, despite having been paid millions of dollars in capital by the two businesses.
Whether or not these revelations will have any impact on Carlos Costa's fledgling political career remain to be seen. Co-inciding with the release of the police report, Costa suffered a heart attack earlier this week.
Flávio Arraz, one of the men behind the construction company network implicated in TelexFree's money laundering operations, is currently managing Carlos Costa's political campaign.
Whether or not any TelexFree Ponzi funds have been used to bankroll Costa's bid for a seat in congress remains unclear.
Approached for comment regarding his family's direct involvement with TelexFree's money laundering operations, TelexFree's lawyers
downplayed the fact that relatives of Carlos Costa and promoters of the company are listed in the body corporate of two of the companies under investigation.

(The lawyers) also denied that Agrofruta and Brazil Factoring are orange companies used to launder money by Telexfree.
When questioned specifically about the Brazil Factoring company having the same registered corporate address as TelexFree's attorneys Coast & Fuchs (who perhaps not so co-incidentally also represent the other company, Agrofruta), attorney Antonio Carlos de Almeida Castro replied,
Our client is indeed the company you mention and has nothing secretive in this situation. I can not give more details. I was not subpoenaed.
Right. Obviously nothing secretive going on there then.
One particular interesting aspect of the yet-to-be-released report will no doubt be the cataloguing of TelexFree's apparent subjugation of their assets despite a nationwide injunction being in place.
The businesses involved in the scandal may have received resources, as indicated by research, after TelexFree accounts were frozen, as per the June 2013 Acre injunction.
What that will ultimately mean for Carlos Wanzeler, Carlos Costa and others involved should be a corker to watch play out. If for anything other than the constant denials and assertions of legitimacy Costa has repeatedly on his TelexFree YouTube channel.
Looking forward the report also touches on the continued co-operation between US and Brazilian regulators, as both work to put together the finishing touches on their respective cases against TelexFree.
(The) global nature of TelexFree's financial fraud has resulted in the Brazilian and American governments coming to an agreement on the sharing of (collected) evidence.

(The) exchange of information began last week with the journey of two (PF) agents and a delegate from the Federal Police to Boston.

Evidence collected by the PF will possibly be used by prosecutors in the US to bolster the case involving the criminal actions of TelexFree and its owners, the Brazilian Carlos Wanzeler and the American James Merrill.
On the Brazilian side, there's also a larger focus on the financial shenanigans used by TelexFree investors to continue to recruit despite the Acre injunction:
Brazilian agents will focus mainly on the evidence raised by the investigations in the United States showing the financial transactions originating from Brazil.

According to Rodrigo De Lucca of the Federal Police, the objective is to ascertain the number of TelexFree affiliates residing in Brazil who were registered,after the blocking injunction was granted in Acre .

Such people, according to lawyer Alexandre Fiorotti, will have increased difficulty recovering amounts invested over affiliates who have contracts directly with Telexfree in Brazil. "Repatriating this money is not something simple."
Those who continued to invest in TelexFree in Brazil despite the injunction will likely be waiting years before they realise any payouts. The criminal case against the company and it's owners must play in full before any seized funds can be distributed out to Brazilian net-losers.