Brazilian feds launch "Operation Orion" against TelexFree

Less than 24 hours after indictments were handed down against owners Carlos Wanzeler and James Merrill, Brazilian federal police have launched a new operation against TelexFree.
Codenamed operation Orion, supposedly because the constellation Orion aligns with "the three largest pyramids of the Giza pyramid complex" in Egypt (Wikipedia), the operation has thus far resulted in nine search warrants.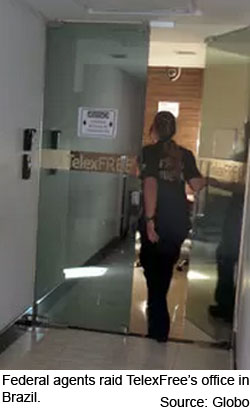 Issued by the 1st Federal Criminal Court in the Brazilian state of Vitória in the Brazilian state of Espírito Santo, the warrants were executed on properties linked to Ympactus.
Formally Ympactus International, the company serves as a money laundering front for TelexFree's Brazilian operations.
In addition to the warrants, the court also
prohibited Ympactus' owners from leaving the country under penalty of imprisonment, (ordered the) monthly attendance (of the owners) at the Federal Court, as well as the seizing of real estate as a precautionary measure, (along with) the freezing of bank accounts and the suspension of economic activities Telexfree in Brazil.

In addition, the Federal Court authorized the participation of tax auditors (from the) Internal Revenue Service of Brazil (as part of an) overt phase of the operation.
One TelexFree owner, James Merrill,  is currently under house arrest in the US and is facing charges in both a civil and criminal case against him. The other two, Carlos Costa (a defacto silent partner through Ympactus) and Carlos Wanzeler, are currently both residing in Espírito Santo.
Costa is currently trying to run for office in the hope he will escape criminal charges and Wanzeler is hiding from US authorities. Wanzeler is a wanted fugitive in the US, with prosecutors issuing a federal arrest warrant against him yesterday.
I believe Costa and Wanzeler were, at least on paper, the legal owners of Ympactus.
Under Operation Orion and as owners of Ympactus, Wanzeler and Costa may have to
answer for crimes referred to in Articles 7 and 16 of Law 7492/86, which defines crimes against the national financial system, besides the crime under Article 2, Paragraph IX of Law 1.521/51, which defines crimes and misdemeanors against the economy.
Currently Operation Orion has 50 federal police officers and 18 auditors from the IRS working the case.
My take?
I'm not too sure what there might be left to find given that by all accounts Costa shut down Ympactus' offices months ago, but they might find something yet. As for freezing bank accounts and suspending the activities of TelexFree in Brazil, that seems wholly redundant.
The introduction of tax auditors might signal irregularities found by Ernst & Young, who had been charged to audit Ympactus as part of the Acre case.
Ernst & Young were due to hand in their audit report but, citing the "complexity" of TelexFree's business operations, requested an extension. Whether or not Ernst & Young are cooperating or working with the IRS though is unclear.
Meanwhile, given the timing of Operation Orion, I'm having a hard time believing this is anything but the direct co-operation of US and Brazilian regulators.
We haven't heard anything for a while now on the criminal side of things in Brazil. And then all of a sudden early morning the day after Merrill and Wanzeler are indicted for fraud and conspiracy in the US, Brazilian federal police launch their own crackdown operation?
As I understand it Ympactus/TelexFree has been under criminal investigation in Brazil for some time now. With this latest action appearing to coincide with the indictments in the US.
That noose is getting tighter, can you feel it Mr. Wanzeler? 
And pray that Carlos Costa is using towels, not tissues, to keep himself dry. Lord knows there aren't enough trees in the Amazon to keep that man from sweating at the best of times.
Update 24th July 2014 – Globo are reporting that
more information will be released by the Federal Police still on the morning of Thursday (24).
Stay tuned…